Q&A with County Coordinators Sheryl Prentice & David Ober
What do you consider the key accomplishment(s) of your county's bicentennial celebration?
All-In Block Party, Indiana Bicentennial Torch Relay, "Bison-tennial" public art project with the most bison on display of any county, and the Noble County Bicentennial Mural.
What Legacy Project do you most like to tell people about, and why?
Noble County had 22 as of November 2016. Gene Stratton-Porter State Historic Site had eight projects relating to the famous author. Projects were diverse, with the Kendallville Apple Festival and Stone's Trace Pioneer Festival depicting pioneer life, historical books by local authors, and the Tombstone Trail guide book, sharing stories of Noble County people with connections to local and state history who are buried in the county's historical cemeteries.
Describe a highlight or most memorable moment related to your county's bicentennial celebration.
For Sheryl, it was riding in the lead police car during the torch relay and seeing people's faces light up with joy when the saw the torch for the first time. Another great memory is collecting 317 autographs on Noble the Bison at the All-In Block Party. A clear coat protects the signatures and the bison is on display near the historic Albion Opera House. Also seeing a large crowd attend the unveiling of the county mural and their excitement in seeing it for the first time.
How/where are you preserving information and artifacts related to your county's celebration?
Noble County Convention & Visitors Bureau, 8983 N. 350 E., Rome City, IN 46784. A large scrapbook contains documents and a permanent display case and framed photographs will be created for Torch No. 75.
Total number of volunteers who participated.
Steering committee, 12, torch relay drivers, 11, hundreds for the block party and 12 for the mural project.
Estimated total attendance.
Estimated dollar amount raised.
Noble County Legacy Projects
Photos from Noble County's Bicentennial Activities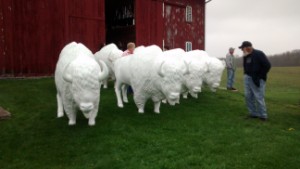 Noble County Facts
Noble County was formed in 1836. It was named for Governor Noah Noble, the fifth Governor of the U.S. state of Indiana from 1831 to 1837. His two terms focused largely on internal improvements, culminating in the passage of the Mammoth Internal Improvement Act, which was viewed at the time as his crowning achievement.
Did you know that Sand Hill, the second-highest point in Indiana, is located in Noble County? It is 1076 feet/328 metres tall.
County Seat: Albion
Year Organized: 1835
Square Miles: 410.84
Noble County Steering Committee
Sheryl Prentice
David Ober
Beth Shellman
Leigh Pranger
Joy LeCount
Mick Newton
Sara Hobson
Dave Fox
Tiffany Conrad
Sam Boggs
Bill Ley
Suzanne Handshoe
Patty Fisel
Chad Kline