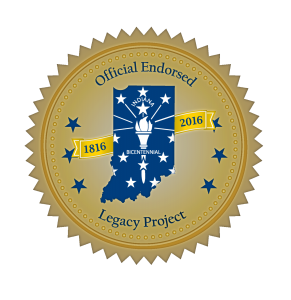 A note from Indiana Bicentennial Commission Member Ellen Rosenthal, Legacy Project Committee Chair:
As the chair and an originator of the Bicentennial Legacy Project Committee, I witnessed creativity and state pride blossom in all of Indiana's 92 counties when non-profit and government groups applied for endorsement from the Bicentennial Commission. 1,650 projects were endorsed; organizations found distinct ways to celebrate the state's history and prepare Hoosiers for the future.
Some projects such as The Quilt Gardens along the Heritage Trail in Elkhart County actually "bloomed" with regional pride. Others such as Indiana African American Heritage Trail Project in Harrison County used the Bicentennial as an opportunity to highlight less well-known aspects of our history.
Projects for young people were among the most numerous, as organizations produced plays, books and programs for school children and children themselves undertook research, special events and exhibits. Intended to combat high rates of infant mortality, Sweet Dreams Baby Bundles in Greene County looked ahead to the next century. Upon successfully completing prenatal care, new mothers were given a generous supply of infant care items and received post-partum training.
No one project tells the entire story of this state, but together these 1,650 projects create points in a picture of our past, what we are today and begin to reveal what Indiana might look like in the next 100 years.
It has been a once in a lifetime thrill to serve on Indiana's Bicentennial Commission.
About Legacy Projects
To realize the Indiana Bicentennial Commission's challenge to make the Bicentennial celebration a grassroots initiative, widespread throughout Indiana, staff developed a formal endorsement program for local projects.
An outline application form allowed local agencies, associations, schools, museums and organizations to submit proposals for projects highlighting the four pillars of the Bicentennial effort: youth and education, historical celebration, community involvement and nature conservation.
Only not-for-profit projects were allowed. Letters of support from the community were required to demonstrate local interest.
Working with a goal of 200 total projects set in 2014, at the end of 2016, the tally stood at 1,650 endorsed Bicentennial Legacy Projects.
These projects were large and small, local and far-reaching, serious and humorous. Many were one-time activities, and many more left lasting legacies for communities across the state. The average county had 17 projects, with 13 counties having more than 30. Only two counties had less than five projects.
More than 350 local communities have projects; 66 counties have both Legacy and Bicentennial Nature Trust Projects. You can view all of the projects by clicking the "Search Legacy Projects" tab in the left navigation.
To promote and support these community projects and programs, the Commission accepted Applications for Endorsement [State Form 55624 (R/9-14)] — upon approval those projects became official Indiana Bicentennial Legacy Projects.
* Please note: If you are using Google Chrome as your browser and you have the PDF viewing plugin enabled, please right click on the application link and select "Save link as" and then save the form to your computer.

Legacy Project Application Deadlines


| Application Deadline | Approval Date |
| --- | --- |
| January 31, 2016 | February 19, 2016 |
| March 15, 2016 | April 8, 2016 |
| April 30, 2016 | May 20, 2016 |
| June 15, 2016 | July 8, 2016 |
| July 29, 2016 | August 19, 2016 |
| September 2, 2016 | September 30, 2016 |
| October 14, 2016 | November 4, 2016 |
| November 30, 2016 | December 11, 2016 |

Bicentennial Sign Initiative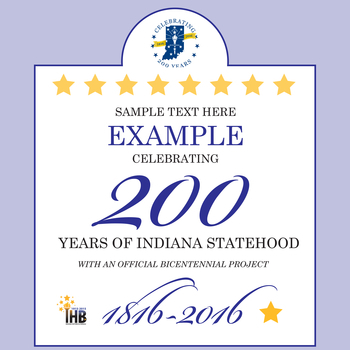 The Indiana Historical Bureau's Bicentennial Signage program was endorsed by the Indiana Bicentennial Commission.

Working with the Commission and its Endorsements Committee, the Indiana Historical Bureau aimed to help communities and organizations mark their Bicentennial activity in a lasting way.

You can learn more and apply for a Bicentennial sign for your endorsed Legacy Project by visiting: http://in.gov/history/4081.htm