Q&A with County Coordinator Shondra Barrett
What do you consider the key accomplishment(s) of your county's bicentennial celebration?
The key accomplishment of our county was to bring the community together to celebrate Indiana's 200th Birthday. The entire county came together to plan and celebrate the Indiana Bicentennial. There were people of all ages and backgrounds to represent Clay County and its various small towns in the Torch Relay.
What Legacy Project do you most like to tell people about, and why?
Clay County Historical Society Bicentennial Memorial Legacy Park. To celebrate Indiana's 200th Birthday, the Clay County Historical Bicentennial Memorial Park not only will pay tribute to the history of Indiana, Clay County and the city of Brazil, it also pays tribute to some of the people who have dedicated much of their life to the teaching and preserving of our county's history. There are old Brazil pavers in the walkways, interurban rails from US 40, a gazebo, landscaping with some native Indiana plants, park benches and the first "Little Free Library" station in Clay County. This park will help enhance the overall historic appeal of our Clay County Museum.
Describe a highlight or most memorable moment related to your county's bicentennial celebration.
The most memorable moment of the Bicentennial Celebration was when Colonel Kip Clark introduced Brazil resident and WWII veteran Harold Plunkett before the fly-over by his grandson Jordan Brown.




Col. Kip Clark honored local veteran and hometown hero Harold Plunkett, whose grandson Jordan Brown performed a fly-over in a vintage plane to honor the greatest generation of heroes from World War II. After the fly-over Harold Plunkett was able to meet Charles B. Hall's son. Charles B. Hall was the first Africa America fighter pilot to down an enemy aircraft in WWII. Charles B. Hall was also a World War II veteran. Harold Plunkett credits Charles B. Hall for saving his life by taking down enemy aircrafts.
How/where are you preserving information and artifacts related to your county's celebration?
Do you have a website and/or social media presence?
Total number of volunteers who participted.
Estimated total attendance.
Estimated dollar amount raised.
Estimated dollar amount spent.
Clay County Legacy Projects
Photos from Clay County Bicentennial Events / Activities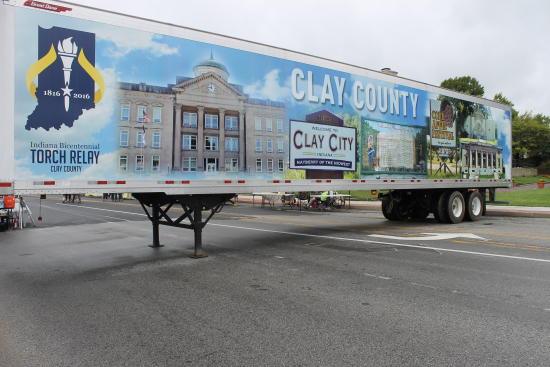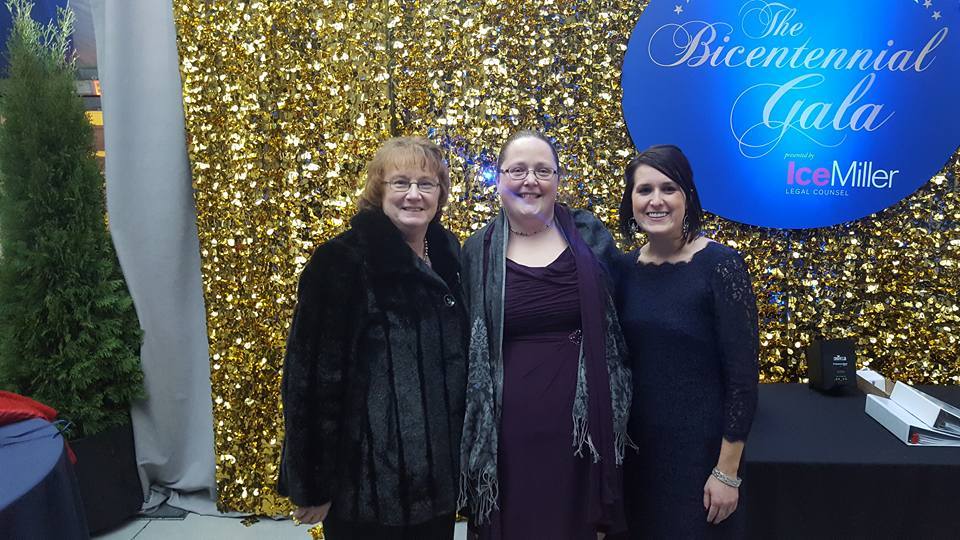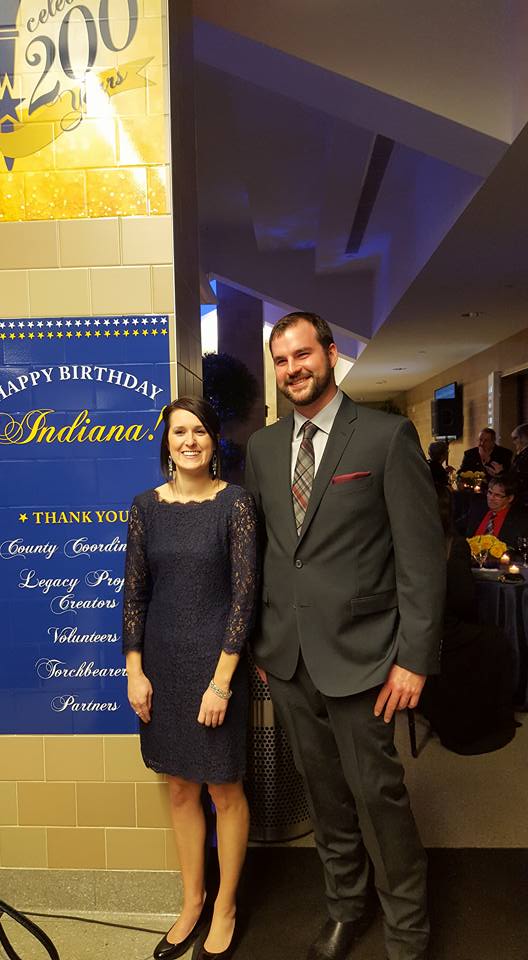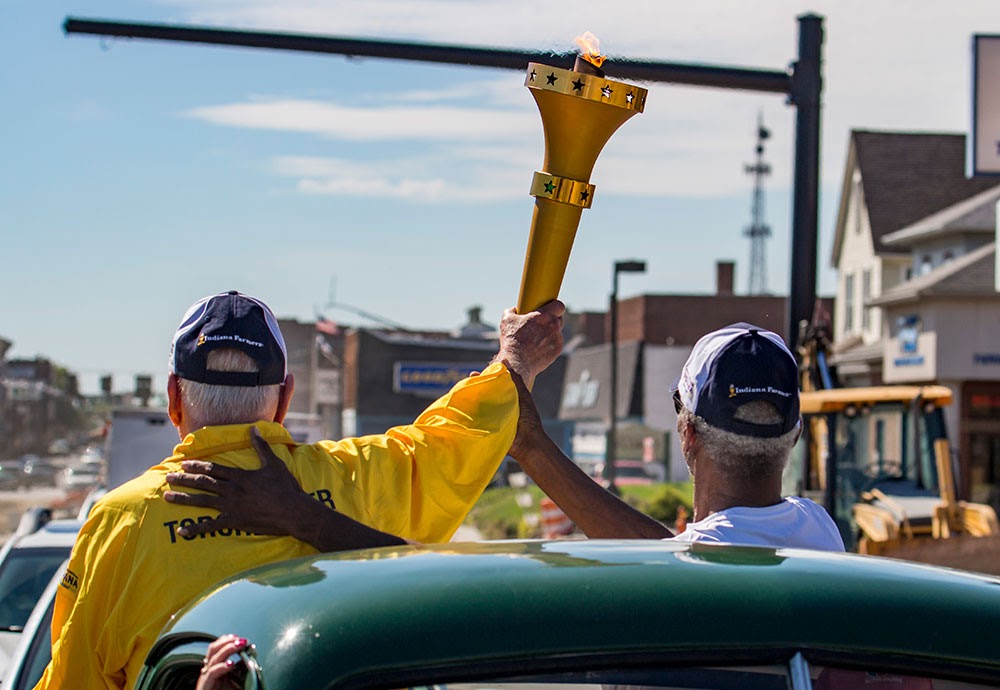 Clay County Bicentennial Committee
Shondra Barrett, County Coordinator
Melissa Hicks, Assistant County Coordinator
Jim Bowman
Jill Scarbrough
Jo Ann Pell
Jeff Koehler
Robert Hostetler
Vickie Mace
Clay County Facts
Clay County was formed in 1825. Its name is in honor of Henry Clay, a famous antebellum American statesman.
About the courthouse: John Gaddis was the architect and the building was completed in 1914.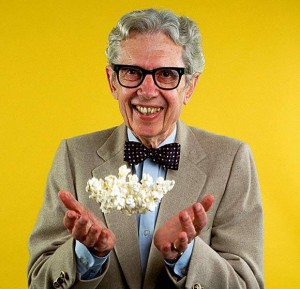 One of Clay County's favorite sons, is Orville Redenbacher. He was born on July 16, 1907, in Brazil, Indiana and studied agronomy at Purdue University. After graduation, he ran a profitable fertilizer company and in his free time focused on creating the perfect popcorn. He sold the kernels from the back of his car and eventually appeared on television selling what is now known as Orville Redenbacher Popcorn.
The Brazil Concert Band
Organized in 1858, it is one of the nation's longest continuing bands. It still performs"Concerts Under the Stars" during the summer months in the open band shell located in Forest Park in Brazil.
Earlier known as the "Brazil Cornet Band", the band played for the Lincoln-Douglas debates, and many members served together as musicians during the Civil War.
The large apple orchards near Cory, which were started from seeds brought to the area by "Johnny Appleseed" Chapman, created the annual Cory Apple Festival in September to honor the event.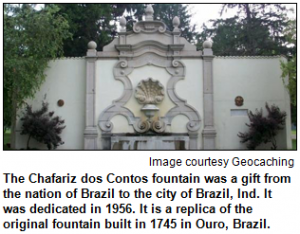 Brazil was highly honored in 1956 when the Republic of Brazil, South America, sent it's ambassador and other officials here to help dedicate the Chafaris Dos Contos fountain (Fountain of Tales). It is a duplicate of a famous watering trough monument in the historic city of Auro Preto, Minas Gereas, Brazil.
Brazil, along the National Road, was a stopping point for the covered wagon trains of the thousands of persons trekking west. The first industry here was established by John Hendrix, Sr., who set up a blacksmith, wagon, and plow shop.
Clay City: Once known as the 'Athens of the Wabash Valley'
Located in Clay County, in south central Indiana, Clay City is often described by visitors as "a town in a time capsule" and "a throwback to the days when people waved to friends, knew neighbors on a first name basis and took time to enjoy visitors." It has rightly deserved the nickname "Mayberry of the Midwest". The Today Show (audience of 16 million viewers) broadcast the "Mayberry of the Midwest" story live on February 4, 2000 with locals Daryl Andrews and Jo Beth Haviland being interviewed.
The city began as a railroad town supported by farming, sawmills, mining, brick and flour factories, several schools and a pottery. Today some of those businesses have been replaced by industrial leaders, such as Great Dane Trailers, Hancore Inc., and Indiana Oxide.
Clay City Pottery is one of the few family potteries still making traditional stoneware. Still In production after more than 100 years, the fifth and sixth generations of the Griffith family are now working the pottery.
The original Griffith family way of making the glazes, processing the local clays, and producing utilitarian stoneware is still in use today.
Tour the pottery and ask them what "jiggering" is all about.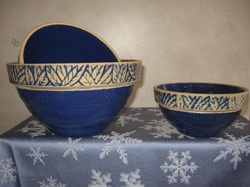 Before World War I, it appeared that Clay City might even become a college town. At the time, the town had a renowned baseball team, a literary society, many college graduates, numerous inventors, and was considered so progressive it was dubbed "the Athens of the Wabash Valley."
County Seat: Brazil
Year Organized: 1825
Square Miles: 357.54