Q&A with County Coordinator Anna Dungan
What do you consider the key accomplishment(s) of your county's bicentennial celebration?
What Legacy Project do you most like to tell people about, and why?
Describe a highlight or most memorable moment related to your county's bicentennial celebration.
The Indiana Bicentennial Torch Relay.
Total number of volunteers who participated.
Estimated total attendance.
Fayette County Legacy Projects
Fayette County Facts
Fayette County was named for then Marquis de la Fayette, a French hero of the Revolutionary War.
Connersville in Fayette County has an automotive legacy — the McFarlan was an American automobile manufactured there from 1909 to 1928. Alfred Harry McFarlan (1881-1937) conceived the idea for the McFarlan motor car and ran the McFarlan Motor Corporation throughout its nineteen years.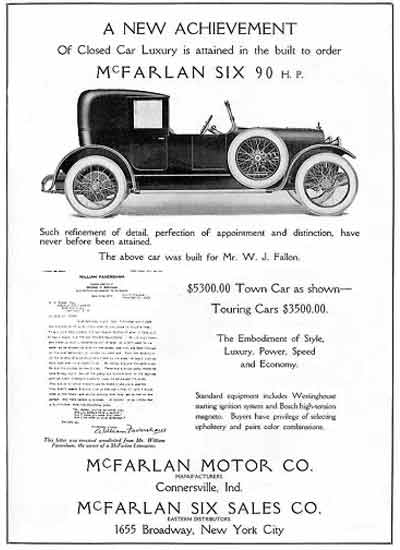 The first model year was 1910 and two of the company's cars were entered in events at the Indianapolis Motor Speedway that year. McFarlans driven by Mel Marquette were also entered in first two Indianapolis 500 races (1911 and 1912) in which they finished 25th and 19th, respectively.
The McFarlan was a luxury automobile owned by celebrities such as Fatty Arbuckle Jack Dempsey Virginia governor E. Lee Trinkle Al Caponebought a McFarlan for his wife, Mae, in 1924 and bought a second one in 1926.
Enormous models of the 1920s gave the company the reputation as being the "American Rolls Royce." 1928 was the final model year and the company went into bankruptcy that year.
Today, a few McFarlans are owned in private collections and important automobile museums, including the Indianapolis Motor Speedway Hall of Fame Museum.
County Seat: Connersville
Year Organized: 1818
Square Miles: 215.01