Q&A with County Coordinators Pam Beneker and Mikel Beck and Torch Relay Coordinators Melody Gault and Dave Cook
What do you consider the key accomplishment(s) of your county's Bicentennial celebration?
The Torch Relay wsa very successful.
What Legacy Project do you most like to tell people about, and why?
Describe a highlight or most memorable moment related to your county's Bicentennial celebration.
How/where are you preserving information and artifacts related to your county's celebration?
Total number of volunteers who participated.
Franklin County Legacy Projects
Franklin County Facts
Franklin County was named for Benjamin Franklin.
About the courthouse: Elmer Dunlap was the architect, and the building was completed in 1912.
You can take a ride on a horse-drawn canal boat in historic Metamora. The Ben Franklin III, launched in 1989, was designed and constructed in Pascagoula, Mississippi. Designed as a freighter, the vessel is 75 feet long and has a beam (width) of 12 feet. Constructed of wood and fiberglass, it holds approximately 75 passengers and crew. May to October is canal boat season.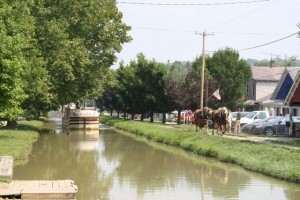 Also, tour the Grist Mill; learn how to make corn meal with the use of water power. Shops vary from antiques to fine European lace, from candles to fine hand-made cherry furniture at the Sampler. Grist Mill admission is free.
Some of the early Franklin County settlers were Primitive Baptists. Elder William Tyner and others organized the Little Cedar Grove Baptist Church, the first church in the Whitewater Valley. The members built a log church as early as 1805, about two or three miles southeast of Brookville, Indiana.
In 1812 they built a large brick church, with balcony and rifle ports. They held the first meeting in it on August 1, 1812. It is the oldest church building standing on its original site in Indiana. It is open as a historic site.
County Seat: Brookville
Year Organized: 1810
Square Miles: 384.43