Q&A with County Coordinator Shan Sheridan
What do you consider the key accomplishment of your county's bicentennial celebration?
I think awareness, first of all. We had the opportunity of presenting it in all of our local media, and being able to share that this was our 200th birthday. Folks were interviewed on the radio station about our state and Clinton County. It all culminated in our brunch and fashion show on Sat., Sept. 17. We had close to 300 folks who showed up for that – the fashion show from 1816. Boys Scouts presented the colors, we had public officials, the mayor and his wife, and local leaders who participated in showing the fashions from 1816 to the present day. They did a special tribute to Indiana weddings, modeling wedding gowns from different eras. It also featured music and dancing from the different eras. It was just a fantastic Saturday morning.Sept. 17. It was sponsored by the Bicentennial Committee and coordinated by the Clinton County Extension Office and Homemakers and the Clinton County Chamber of Commerce.




The final thing was on Dec. 30 we recognized all the torchbearers and had a video presentation of the year's events. About 60 people attended.
What Legacy Project do you most like to tell peopl eabout, and why?
"Old Stoney," the Frankfort City Building, was completely restored during bicentennial year in a $3.5 million project. It has such heritage and history to us because it was our old high school and it represented four state basketball championships under Coach Everett Case. The opportunity to being that back to life as a Legacy Project, we wanted it to be something that will stick around for a long time. That's where the torch will end up living – it's now on tour to our schools.




In honor of the bicentennial, Frankfort Main Street sponsored the Legacy Project "Hot Dog Homecoming" at part of its annual Frankfort Hot Dog Festival to celebrate the town's high school basketball history. Former Frankfort residents were invited to return for a reunion and concert, where they were recognized.
Describe a highlight or most memorable moment related to your county's bicentennial celebration.
We brought all fourth-graders from all the schools in our county together on the courthouse square. We had drones that were taking video. Two of our schools presented music, sang Back Home Again in Indiana and a variety of Indiana tunes and read James Whitcomb Riley poetry. The 250-300 students on the north courthouse lawn sang Happy Birthday to Indiana as the drone flew overhead. It was videoed and broadcast live, and grandparents even tuned in from Texas and Florida. That was a great day. The fourth-graders will have great memories.
How/where are you preserving information and artifacts related to your county's celebration?
Do you have a website and/or social media presence?
Total number of volunteers who participated.
Estimated total attendance.
Estimated dollar amount raised.
Everything was donated or sponsored.
Estimated dollar amount spent.
Clinton County Legacy Projects
Clinton County Facts
Clinton County officially came into existence on March 1, 1830, and was named in honor of DeWitt Clinton, the seventh Governor of New York and architect of the Erie Canal.
The act forming the county was approved by the Indiana General Assembly on January 29, 1830, and created Clinton from the eastern parts of neighboring Tippecanoe County.
About the courthouse: George Bunting was the architect and the building was completed in 1884.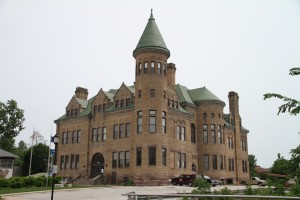 "Old Stoney" was built in 1892 in the Romanesque revival style Silverwood Sand Stone from Ohio by architect Arthur La Belle.Total cost of the building was $50,000.00, this included the furnishings and the Smead Heating System (steam heat.)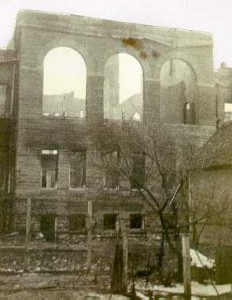 February 24,1922 Old Stoney had a fire, only leaving the stone intact.
Old Stoney was re-constructed and January 26,1926 was open, at a cost of $147,000.00. The price included the tunnel connecting Howard Hall and the Central Building, now the County Jail on Walnut Street. Now the property is owned by the City of Frankfort, Ind.
Camp Cullom offers a multitude of activities for old and young alike – camping, hiking, Nature Center, Lodge, 24-hole disc golf course, a playground, and a world-class observatory. 6815 West County Road 200 North Frankfort, Indiana 46041 765-296-2753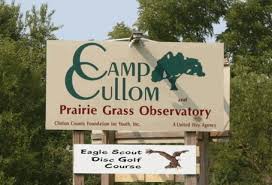 County Seat: Frankfort
Year Organized: 1830
Square Miles: 405.07County Courthouse