A 2016 Signature Event: A 92-County Torch Relay
Join the Festivities: Celebrate "One" Indiana
"Everlasting Light: The Story of Indiana's Bicentennial Torch Relay" is a 37-minute documentary produced by the Department of Telecommunications at Ball State University. The documentary serves to commemorate the Torch Relay for future Hoosier generations. You can purchase a DVD of the documentary here.
Carrying the Torch: A Once-in-a-Lifetime Opportunity
The torch was primarily transported by people, passing the flame from torch bearer to torch bearer. The relay also employed other modes of conveyance that are symbolic of the history and heritage of Indiana, including watercraft, farm equipment, a racecar, horse and wagon, antique automobile, and others.
Patterned after the Olympic Torch Relay, Indiana's version passed through all 92 of the state's counties, covered 3200 miles over a five week period, averaging 90 miles per day.
View Photos From the Relay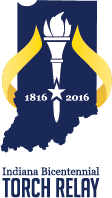 Photos and media from the Torch Relay can be found on Facebook, Instagram, Twitter and at IndianaTorchRelay.com.
For questions regarding the Bicentennial Torch Relay, email INTorchRelay@gmail.com
Torch Relay: Facts
3,200 mile journey across the state traveling through 92 counties
The Torch Relay began in Corydon, the state's first capital, and culminated in Indianapolis on the Statehouse Grounds.
The relay was designed to inspire Hoosiers and promote unity across the state by connecting people, communities, and regions.
Started on September 9, 2016 and ended October 15, 2016.
The torch traveled 6 days per week (Mondays rest day) for 5 weeks/32 days.
Walkers, runners and torch bearers employing modes of transportation that are representative of Indiana culture and heritage moved the torch along its route.
Torchbearers were chosen by their counties from submitted nominations.
The torch were accompanied by a caravan that included the Indiana Bicentennial Experience.
The Torch Relay concluded on the Statehouse Grounds with a grand celebration for all Hoosiers.