Q&A with County Coordinator Kevin Manley
What do you consider the key accomplishment(s) of your county's bicentennial celebration?
What Legacy Project do you most like to tell people about, and why?
How/where are you preserving information and artifacts related to your county's celebration?
Total number of volunteers who participated?
Estimated total attendance?
Dubois County Legacy Projects
Dubois County Facts
Dubois County was formed on December 20, 1818, from Orange, Pike and Perry counties. It is named for Toussaint Dubois, a Frenchman who fought in the Revolutionary War, the Battle of Tippecanoe and the War of 1812. DuBois was a merchant who lived mainly in Vincennes. He drowned in 1816 while crossing the Little Wabash River near Lawrenceville, Illinois.
In 1818, as many as half of the residents of the county died of milk sickness.There is one view that the mother of Abraham Lincoln, Nancy Hanks died of this disease at that time. It was caused by settlers drinking the milk or eating the meat of cows that had eaten the white snakeroot. The plant contains the potent toxin temetrol, which is passed through the milk. The migrants from the east were unfamiliar with the midwestern plant and its effects.
The movie "Hard Rain" was filmed in Huntingburg, Indiana.
The Hoosier National Forest is partially located in Dubois County. Part of it is protected — the forest is over 200,000 acres located across nine counties of south-central Indiana.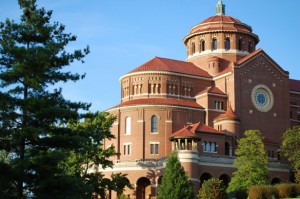 Known as the "Castle on the Hill", Ferdinand's Monastery was founded in 1867. It is home to one of the nation's largest communities of Benedictine women. The distinctive, recently-restored Romanesque dome, rises majestically over the town of Ferdinand, standing at 87 feet from the floor and 32 and a half feet in diameter.
Throughout the church, 89 angels are present, 16 of which are depicted on the stained glass windows surrounding the dome. The church is listed on the National Register of Historic Places and has been designated an Official Project of Save America's Treasures.
County Seat: Jasper
Year Organized: 1817
Square Miles: 427.27