Q&A with County Coordinator Imojean Dedrick
What do you consider the key accomplishment(s) of your county's Bicentennial celebration?
What Legacy Project do you most like to tell people about, and why?
Describe a highlight or most memorable moment related to your county's Bicentennial celebration.
While we celebrated with 34 Bicentennial events in our county, the nine "Slices of Orange" episodes were most memorable. Also, our three school corporations combined all their high school band members for one fabulous concert celebrating the music of Indiana. Of course the Torch Relay was memorable as well.
How/where are you preserving information and artifacts related to your county's celebration?
The Torch, along with some relative items are stored at the Orange County Historical Society. Additionally, an eight inch binder that includes every news article, printed materials and photographs is currently being housed in my office at the Orange County Community Foundation in Paoli. Also, several items are located at the Town Hall in Orleans.
Total number of volunteers who participated.
Estimated total attendance.
Estimated dollar amount raised.
Estimated dollar amount spent.
Orange County Legacy Projects
Orange County Facts
Orange County was formed from parts of Knox, Gibson and Washington Counties by an act approved on December 26, 1815; it took effect on February 1, 1816. The same year, the county seat was established in Paoli, which was named after Pasquale Paoli Ash, the 12-year-old son of the then-governor of North Carolina.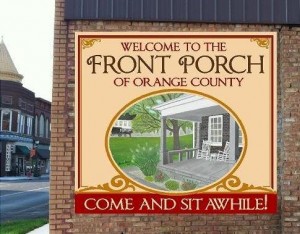 Orleans — The oldest city in Orange County celebrated its 200th birthday in 2015.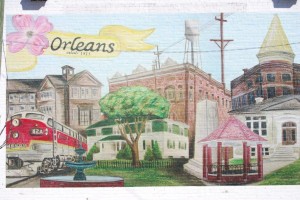 One of a series of historic themed murals created for downtown Orleans. Platted in 1815, Orleans was founded two months after Andrew Jackson's famous victory over the British at New Orleans — this was nearly a year before Indiana entered into statehood. The settlers named their new town to honor this event. Samuel Lewis, one of the founders, later became a prominent figure in Texas after he fought for Texas independence from Mexico and served as a senator in the first two congresses of the Republic of Texas under Sam Houston's presidency.
Orleans' Mural Project Underway
This community art project features original mural artwork supplied by local art students. Three murals have been completed and installed to date in and around the historic town square. There are more murals to come in the very near future as part of the town's celebration of its 2015 Bicentennial. Sponsors for the mural project are the Orleans Chamber of Commerce and Orange County CVB.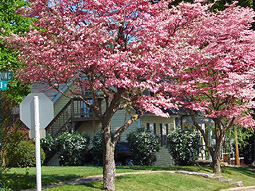 Orleans – Dogwood Capital of Indiana
Dogwood trees line Ind. 37 in northern Orange County. The dogwood is the trademark of Orleans. "Operation Dogwood," launched in the mid 1960s, has succeeded in its goal of having hundreds of the trees planted along roads, in the historic town park square and in yards. The annual Dogwood Festival is held in late April.
West Baden Springs Hotel — anything but ordinary.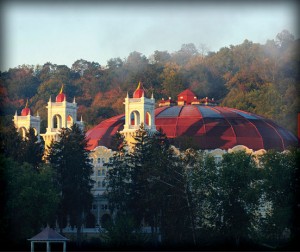 Built in 1902, this one-of-a-kind domed atrium spans 200 feet and was once called the "Eighth Wonder of the World." Rooms rise six floors around the dome and balcony rooms provide a panoramic view of the atrium
Larry Bird was born in West Baden Springs, Orange County. He grew up in both West Baden and the adjoining town of French Lick.
A strong basketball player, Bird enrolled at Indiana State University and went on to pursue a 13-year career in the NBA with the Boston Celtics. In 2003 Larry Bird assumed the role of the Pacers' President of Basketball Operations.
French Lick Scenic Railway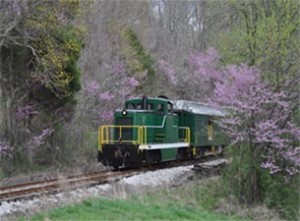 Spend a day with us and ride on one of our historic trains through the beautiful Hoosier National Forest and Burton Tunnel. Perhaps visit the gift shop and buy a piece of history to take home that will delight train enthusiasts.
Strassenfest
Take the train to Jasper for this traditional German-themed festival. Upon arrival, the train will have a 4.5 hour layover, allowing you to enjoy hours of food, fun and festivities. Sample German cuisine, frolic in the "beer garden" and experience live music & entertainment, then hop on board again for a leisurely train ride back to French Lick.
Much of the south part of the county, south of Paoli and French Lick, is part of the Hoosier National Forest. Patoka Lake is within the national forest; the majority of the lake lies in Orange County, with parts extending into neighboring Dubois and Crawford counties.
Patoka Lake lodging options include houseboat and floating cabin rentals. Adventures involve fishing, tubing, skiing or simply enjoying the day observing native wildlife, including Bald Eagles and Osprey.
County Seat: Paoli
Year Organized: 1815
Square Miles: 398.39
Orange County Bicentennial Committee
Imojean Dedrick, Orange County Coordinator
Sarann Weeks, Secretary
Cathy Hardin, Treasurer
Jeff Lane, Orange County Historian
Miles Flynn, Newspaper Media
Nancy Wright, Newspaper Media
Roger Moon, Newspaper Media
Dave Dedrick, Radio Media
Bill Willis, Radio Media
Carolyn Clements, Town of Paoli
Robert Henderson, Town of Orleans
Ron Taylor, Military Contact
Joe Daeger, Chamber of Commerce
Martha Nice, School System
Pat Atkins, T-Shirt Committee
Elizabeth Faulkner, T-Shirt Committee
Valerie Moon, First Chance Center
Lauren Goodman, Special Events
John Noblitt, Orange County Council
Don Brewer, Orange County Commissioner
Jenna Holsapple, Historic Research & Creative Writing