Q&A with County Coordinator Lynn Lucas
What do you consider the key accomplishment(s) of your county's bicentennial celebration?
Countywide partnerships, activities and events that resulted in 102 torchbearer nominations, three celebration events during the Indiana Bicentennial Torch Relay and 27 endorsed Bicentennial Legacy Projects.
What Legacy Project do you most like to tell people about, and why?
"Columbus Indiana Bicentennial Mural" celebrated the legacy of art and design in Columbus/Bartholomew County. Ivy Tech students used the history of our community to design a 70-foot mural for downtown Columbus. After students presented design concepts to a selection committee, they installed/painted the mural by the arrival of the Bicentennial Torch Relay in September, 2016.
Describe a highlight or most memorable moment related to your county's bicentennial celebration.
The Torch Relay Celebration event at the Bartholomew County Public Library on September 18, 2016, from 2-8:30 p.m. was attended by 1,500 people. Entertainment included family-centered booths, food booths and a program featuring local officials and torchbearers. 900+ people also visited the Bicentennial Experience mobile exhibit throughout the afternoon and evening.
How / where are you preserving information and artifacts related to your county's celebration?
Bartholomew County Historical Society

County Government - Bicentennial Torch

The Republic newspaper archives.

Video produced by local radio station, WCSI.
Total number of volunteers who participated?
Estimated total attendance?
Bartholomew County Legacy Projects
Photos from Bartholomew County Bicentennial Events / Activities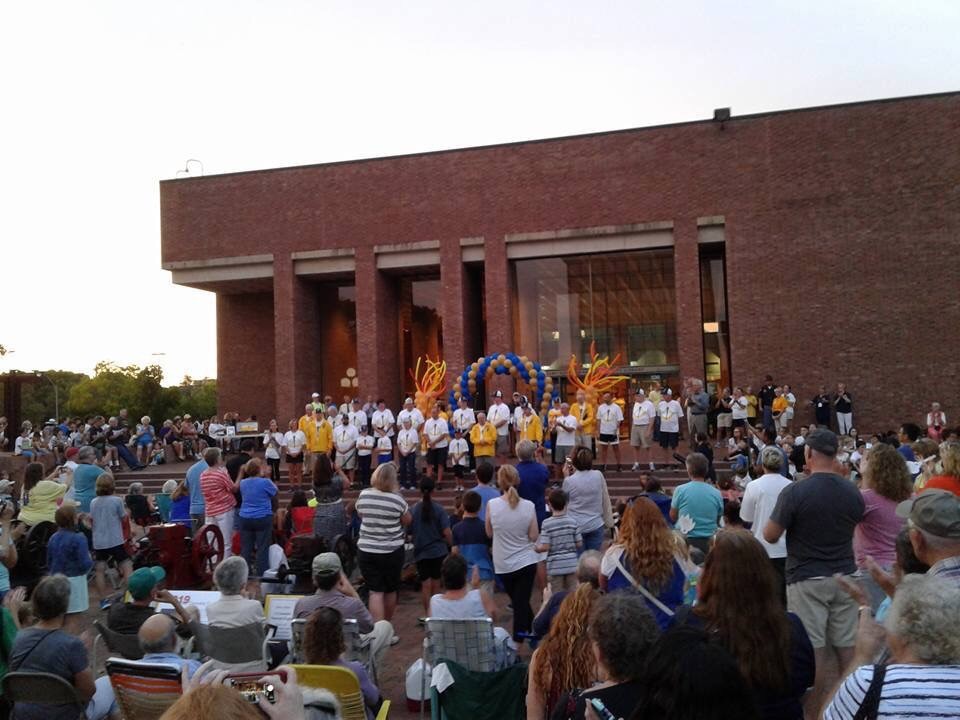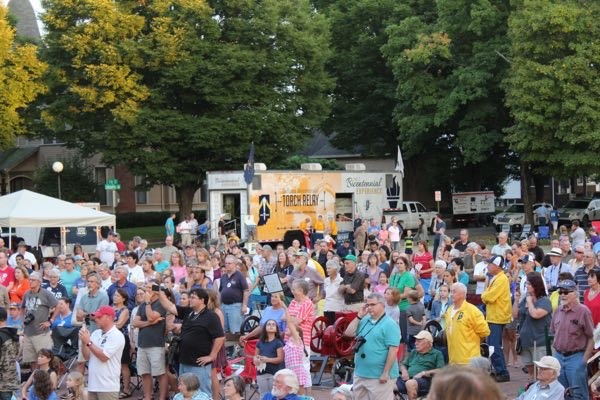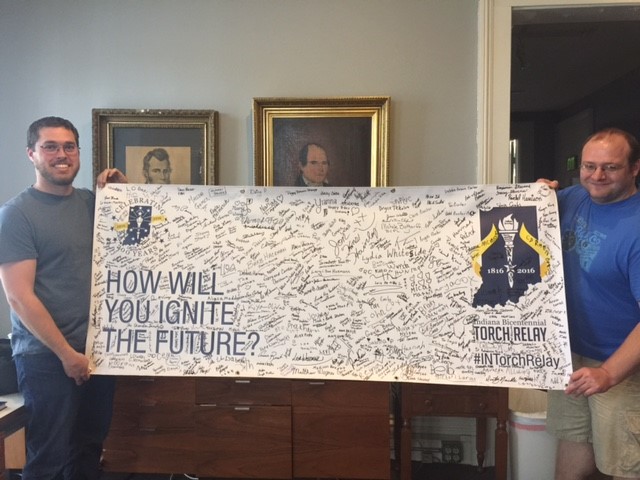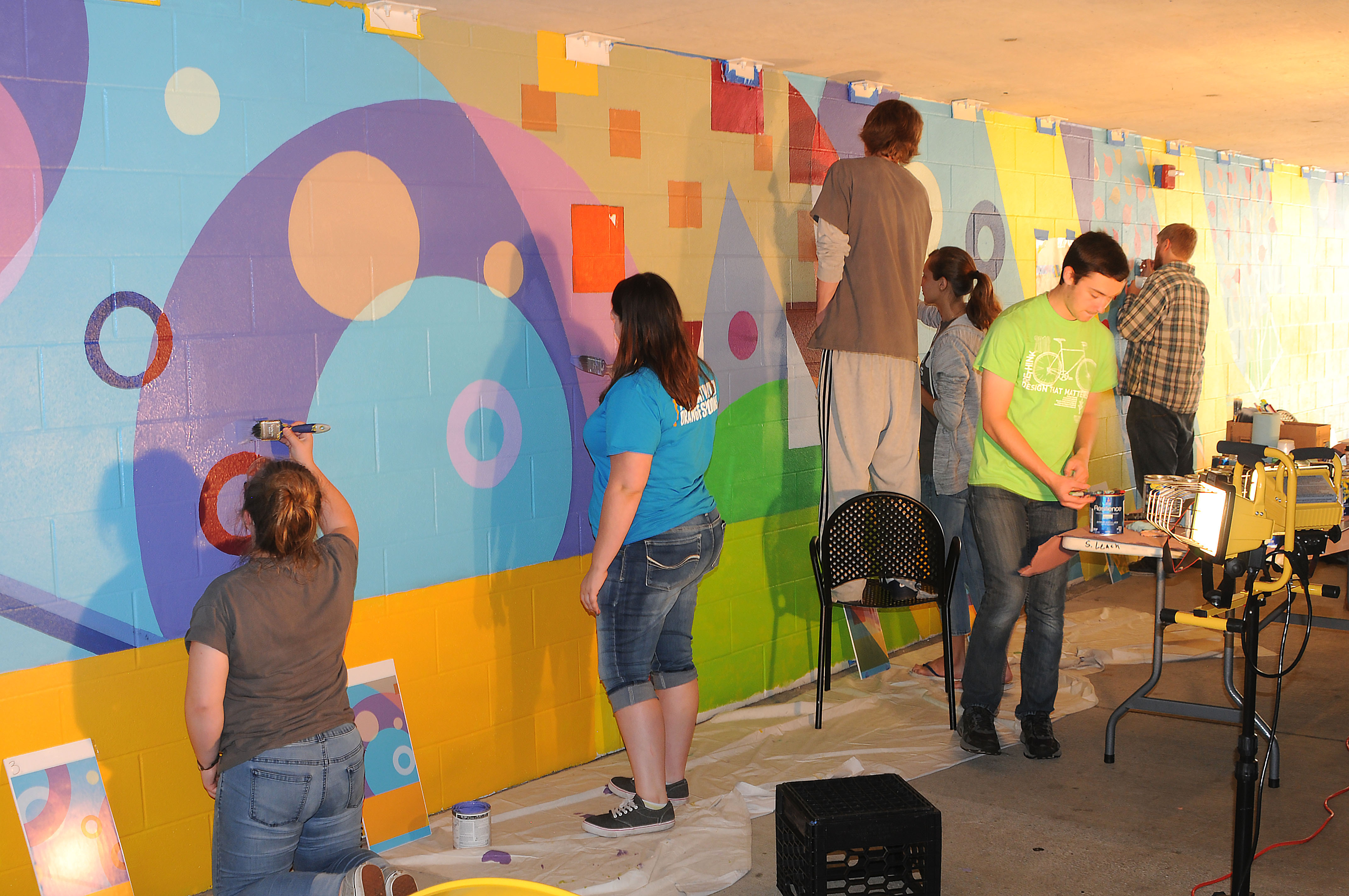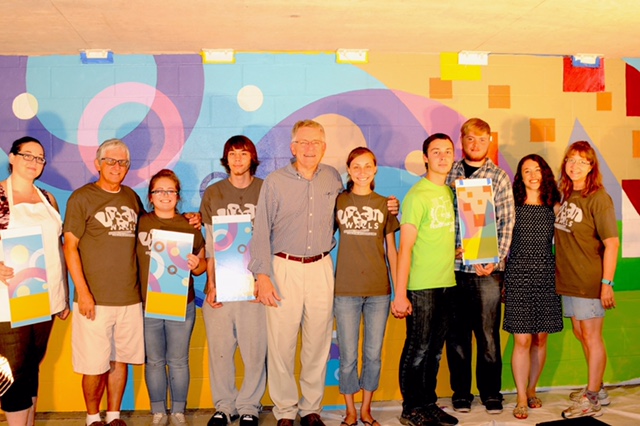 Bartholomew County Facts
Bartholomew County was formed on February 12, 1821 and was named for Lt. Col. Joseph Bartholomew, wounded at the Battle of Tippecanoe.The site of the county seat was chosen on February 15, 1821 by a team of commissioners, who suggested the name Tiptona, in honor of John Tipton; on March 20, the name Columbus was adopted.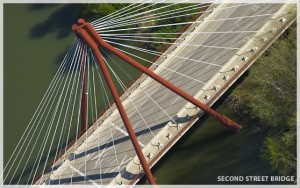 In 1991, the American Institute of Architects rated Columbus sixth on its list of the top 10 American cities for architectural quality and innovation, right up there with Chicago, New York and San Francisco. That's pretty amazing for a town of just 44,000 residents.
Seventy of the county's buildings and structures were designed by world-class architects/designers. Seven of the city's modern buildings have also been designated as national historic landmarks, and enough people travel from nearby towns and states — and even other countries — to see them that the local visitors center gives bus and walking tours.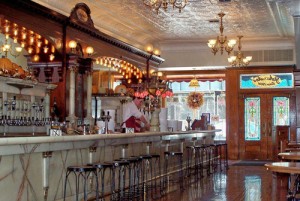 Tourists may come to Columbus for the modern architecture, but they can't leave without stopping at Zaharakos, an ice cream parlor that was built in 1900 and restored in 2009. It's full of brass chandeliers, dark woodwork, marble counters and listen to Welte orchestrion, a self-playing organ.
County Seat: Columbus
Year Organized: 1821
Square Miles: 406.91


Bartholomew County Bicentennial Committee
Michelle Bottorff
Barbara Johnson
Mary Rigsby
Mark Jones
Brian Payne
David Steinkoenig
Pam Lienhoop
Mayor James Lienhoop
County Commissioner Larry Kleinhenz
Rick Weinheimer
Lloyd Brooks
Harry McCawley
John Clark
John Foster
Brian Blair
Kyle Hendricks
Joyce Orwin
Taffy Schroer
Marilyn Brackney
Julie Aton
Rebecca Speaker
Christina McCord
Dan Wallace
Tracy Fugate
Tony Moravec
Diane Robbins
Hutch Schumaker
Kevina Schumaker
Don Harvey
Dody Harvey
Sara Kuhns
Tim Grimm
Robin Hilber
Ali Crimmins
Randy Simms
Melina Fox
Anuja Gupta Chandra
Bonnie Boatwright
Curtis Hartwell
Jason Hatton
Mary Claire Speckner
Dan Hollander
Dick Boyce
Robin Gray
Don Nissen
Erin Hawkins
Barbara Garton
Norma Flores
Keith Maddox
Peter King
David Hayward
April Williams
Ann Hedrick
Margaret Powers
Paula Herlitz
Barb Hackman
Andy Young
Karen Niverson
John Kestler
Lynne Hyatt
Jen Morrill
Samantha Aulick
Brenda Vogel
Katia Hatter
Karen Shrode
County Commissioner Rick Flohr
County Commissioner Carl Lienhoop
Jan Banister