Q&A with County Coordinators Charlie Sparks and Sherry Matlock
What do you consider the key accomplishment(s) of your county's bicentennial celebration?
​

A key accomplishment was hosting the closing ceremony and community celebration in Downtown Kokomo after the Indiana Bicentennial Torch Relay in our community. Howard County torchbearers were recognized and community leaders and local residents celebrated both Howard County and Indiana heritage with over 300 people in attendance.
What Legacy Project do you most like to tell people about, and why?
"Kokomo Salutes Indiana's Automotive Heritage: 1894-1964"





This legacy project and community celebration was hosted by the Kokomo Automotive Museum on September 9-11, 2016, and included the Grand Indiana Bicentennial Motor Muster. National members of the Classic Car Club of America, Stutz Club, and the Marmon Automobile Club all came to Kokomo to take part in car show events, as well as holding their regional and/or national car meets in Kokomo during the event. Visitors from 18 states were represented in helping Howard County celebrate Indiana-built automobiles.
Describe a highlight or most memorable moment related to your county's bicentennial celebration.
The highlight of celebrating Indiana's bicentennial was our county's participation in the Torch Relay. 22 torchbearers representing Howard County ran, walked, and rode in a 1923 Haynes automobile (which was originally built in Kokomo.) The relay ended with a closing ceremony and community celebration on the Courthouse Square with live music, kid's activities, a chicken and noodle dinner, antique automobiles built in Kokomo, and the Bicentennial Experience. It was an unforgettable day and experience.
How/where are you preserving information and artifacts related to your county's celebration?
We are preserving information, program books, and items related to the Indiana Bicentennial Torch Relay at the Greater Kokomo Economic Development Alliance office at 325 North Main Street, Kokomo.
Total number of volunteers who participated.
Estimated total attendance.
Howard County Legacy Projects
Photos of Howard County's Bicentennial Activities and Events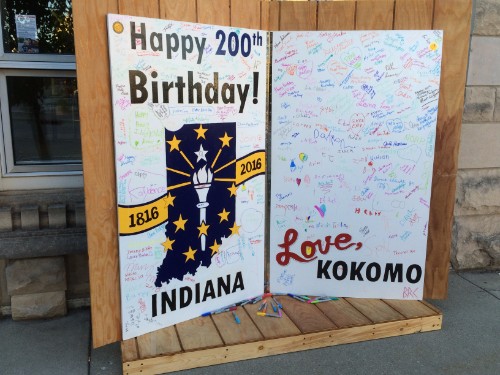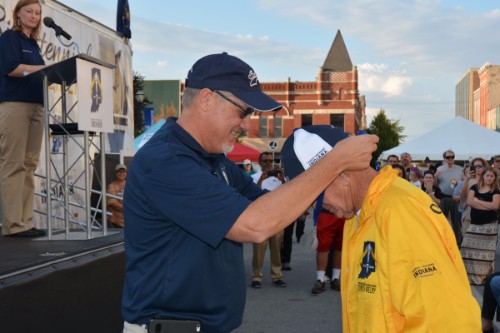 Howard County Facts
Originally named Richardville County, Howard County was rechristened in 1844 to commemorate General Tilghman Ashurst Howard.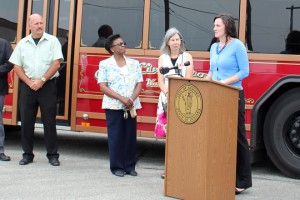 Kokomo has "green" transportation serving residents – buses that are different forms of a trolley. The original two buses are wooden decked out on the inside, and has wooden benches all facing classroom style.
The newer buses have some seats up against the wall, new standing places along the seats, and an easier cord to pull to tell the driver when to stop. Both buses have bike racks, and wheelchair ramps equipped on them. The newer buses are said to be in San Francisco trolley style
Skaters' paradise: Kokomo Pipeline Skate Park is located in Jackson Morrow Park and consists of 9,800 square feet of concrete and contains a 90 degree bent full pipe (16 foot in diameter). There are also three independent bowls of varying sizes for all skills, ages, and abilities. Open for boards, bikes, and blades.
Kokomo/Howard County: On the Indiana Glass Trail.
Experience amazing glass tours, demonstrations, and glass blowing at Kokomo Opalescent Glass. Purchase unique, hand-made glass items at The OP Shop and Crystal Wand Creations.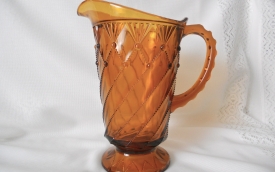 Visit Greentown Glass Museum and Seiberling Mansion which features beautiful stained glass windows.
The county seat, Kokomo is known as the "City of Firsts" due to the many products invented there and a history of technological discoveries made. Many can be attributed to the automotive industry, which traces its roots back to "America's First Car" that Elwood Haynes first tested in 1894 on Pumpkinvine Pike.
Others firsts include:
First Pneumatic Rubber Tire Invented by D.C. Spraker, President of Kokomo Rubber Tire Company, in October, 1894. The tire was made of strips of three-ply rubber, canvas, and other wrappings of vulcanized rubber wound around a slender pole.
First Aluminum Casting Invented by William "Billy" Johnson at the Ford & Donnelly Foundry in 1895.
First Carburetor Developed by George Kingston in 1902.
First Stellite Cobalt-based Alloy Discovered by Elwood Haynes in 1906 while searching for a metal to make tableware.
First Stainless Steel Invented by Elwood Haynes in 1912 to satisfy Mrs. Haynes' demand for tarnish-free dinnerware.
First American Howitzer Shell Used in actual warfare, was made by the Superior Machine Tool Company in 1918.
First Aerial Bomb with Fins Developed in 1918 by the Liberty Pressed Metal Company.
First Mechanical Corn Picker Developed by John Powell in the early 1920′s.
First Dirilyte Golden Hued Tableware Invented by Carl Molin in 1926.
First Canned Tomato Juice Developed by Kemp Brothers Canning Company in 1928 at the request of a Saint Louis physician searching for baby food to use in his clinic.
First Push-Button Car Radio Developed in 1938 by Delco Radio Division of G.M.
First All Metal Life Boats and Rafts Manufactured by Globe American Stove company, the lifeboat was developed in 1941. The life raft was developed in 1943 and was nicknamed the Kokomo Kid.
First Signal-Seeking Car Radio Developed in 1947 by Delco Radio Division of G.M.
First All Transistor Car Radio Developed in 1957 by Delco Radio Division of G.M.
County Seat: Kokomo
Year Organized: 1844
Square Miles: 293.06