County Coordinator
Jackson County Legacy Projects
Jackson County Facts
Jackson County was named for Andrew Jackson, who defeated the British in 1815 at the Battle of New Orleans in the War of 1812. President Jackson then signed the Indian Removal Act sending all Native Americans in Indiana west.Jackson County Celebrations
A sesquicentennial time capsule reveal takes place in April, 2014.
Jackson County bicentennial: Officially Jackson County became a territorial county in January 1, 2016 with legislation and organization in 1815.
Brownstown, the county seat, also has a 200th birthday as the plat was recorded on April 8, 1816.
On Jan. 14, 1816 — almost a full year before Indiana would become a state — Jackson County became the 14th county organized in the Territory of Indiana.
About the courthouse: Elmer Dunlap was the architect completed in the 1870s. The building was remodeled in 1911.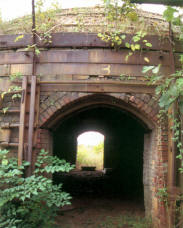 The Medora Shale Brick Company, founded in 1904, began producing brick in 1906 from a site adjacent to the Baltimore & Ohio Railroad line. Surrounding hills contained a ready supply of clay for the bricks.
The company built 12 domed bricks kilns. There were several ponds of the property – the plant used 10,000 gallons of water a day – drawn from the ponds.
Originally plant produced street pavers, but later produced wall brick for facing buildings included college campus buildings at Purdue University, University of Kentucky and the University of Louisville — and beyond.
John Mellencamp's past is planted firmly in Seymour and Jackson County. That past comes alive with an audio driving tour, created by the Jackson County Visitor Center. "The Roots of An American Rocker," offers a glimpse of Mellencamp that most people have never seen.
There are Southern Indiana Geodes and invertebrate fossils in the Medora area. They are on private property and search permission must be granted.
Muscatatuck National Wildlife Refuge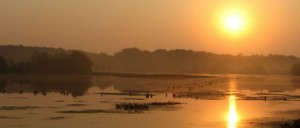 Established in 1966 as a refuge to provide resting and feeding areas for waterfowl during their annual migrations. The refuge includes 7,724 acres near Seymour, and a 78-acre parcel, known as the Restle Unit, near Bloomington. The refuge mission is to restore, preserve, and manage a mix of forest, wetland, and grassland habitat for fish, wildlife, and people.
Visitors can hunt, fish, photograph flora and fauna and do other activities such learn about nature at the interpretive center.
Jackson County is home to the longest 3-span covered bridge in the world; The Medora Covered Bridge. It is the longest historic covered bridge in the USA. It took nine months to build at a cost of $18,142.00. The Triple Span Burr Arch Multiple King Posts with Lateral Braces truss design was built in 1875 by Joseph J. Daniels.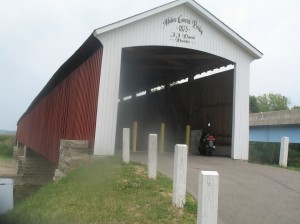 Jackson County was the site of the first recorded train robbery of a moving train in the United States. On October 6, 1866 the Reno Gang robbed an Ohio and Mississippi Railway train making off with between $12,000 and $18,000.
(An earlier train robbery took place in May 1865 in Ohio when several armed men who had derailed the train boarded and robbed 100 passengers.)
County Seat: Brownstown
Plat was Recorded: 1816
Square Miles: 509.31