Q&A with County Coordinator Nancy Carlson
What do you consider the key accomplishment(s) of your county's Bicentennial celebration?
We brought together a lot of people to celebrate Indiana's Bicentennial with a real spirit of cooperation.
What Legacy Project do you most like to tell people about, and why?
The original cantata "Middletown Stories" was commissioned, composed and performed by Hoosiers to an audience of 1,000, many of whom had never attended a classical music performance before. This is a lasting product of the celebration.
Describe a highlight or most memorable moment related to your county's Bicentennial celebration.
The Indiana Bicentennial Torch Relay was the most memorable event and touched the most people in Delaware County.
How/where are you preserving information and artifacts related to your county's celebration?
Total number of volunteers who participated.
Estimated total attendance.
Estimated dollar amount raised.
Estimated dollar amount spent.
Delaware County Legacy Projects
Delaware County Facts
Delaware County was formed in 1827. It was named for the Delaware, a Native American people who then still inhabited the area. The Delaware were moved to new lands west of the Mississippi River in the 1840s. The county was once home to The Prophet, a brother of Tecumseh who instigated a major Indian uprising in 1811.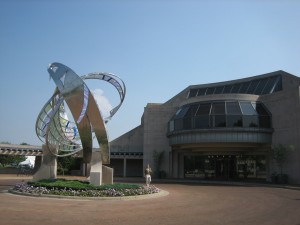 Did you know that Minnetrista means "a gathering place by the water"? This museum and cultural center takes its name from the original F.C. Ball home that once stood on this site. The name applies to themed gardens, native plants and more than 10,000 square feet of space devoted to the preservation of the artifacts and archival material that document the history of East Central Indiana.
Muncie's Ball State University was built mostly from funds contributed by the founders of the Ball Corporation, a company that made glass canning jars.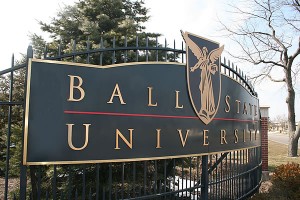 Today, Ball State's entrepreneurial spirit continues to shine — igniting the future of the Hoosier state. Through numerous degree offerings, technological resources, immersive learning opportunities, community outreach projects, and state-of-the-art facilities, the university is preparing students to take advantage of current and emerging job opportunities, meet society's most pressing needs, and serve in our communities.
The Gas Boom in Delaware County: The first discovery of natural gas in Indiana occurred in 1876 in the town of Eaton. A company was drilling in search of coal, and when they had reached a depth of 600 feet, there was a loud noise and foul smelling fumes began coming from the well. After a brief investigation, it was decided they had breached the ceiling of Hell, and the hole was quickly filled in.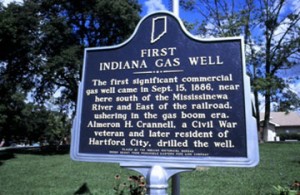 In 1884, when natural gas was discovered in nearby Ohio, people recalled the incident and returned to the spot, opening Indiana's first natural gas well. The gas was so abundant and strong that when the well was lit, the flames could be see from Muncie.
County Seat: Muncie
Year Organized: 1827
Square Miles: 392.12
Delaware County Bicentennial Committee
Nancy Carlson
Jim Mansfield
Shonda Kane
Rebecca Gilliam
Sherry Riggin
Kelli Huth
Chris Flook
Mark Kreps