Q&A with County Coordinator Deann Talley
What do you consider the key accomplishment(s) of your county's Bicentennial celebration?
Sully was in all but one county parades in 2016, and he has been to eight of the 11 schools in the area for history lessons (usually stayed overnight.)

The Art Gallery sponsored the Bicentennial Quilt and displayed it for three or four days.

The torch went through Sullivan.
​What Legacy Project do you most like to tell people about, and why?
The school project. We have a booklet that tells the history of each of the icons on Sully (painted by five of our local artists.) Even the teachers commented that they have learned things they didn't know about Sullivan County.

The state flag is one of the icons.
​Describe a highlight or most memorable moment related to your county's Bicentennial celebration.
​How/where are you preserving information and artifacts related to your county's celebration?
The Historical Museum has the Bicentennial flag. Tatanka, the Tourism Commission bison, is being displayed in the History Museum. Sully is displayed at the Art Gallery (for this month, in the Courthouse.) I asked about the replica torch we are supposed to get, but no one seems to know anything about it.
Sullivan County Legacy Projects
Sullivan County Facts
Sullivan County was named for Daniel Sullivan, said by some sources to have been a Revolutionary War general killed by Native Americans while carrying a dispatch between Fort Vincennes and Louisville.
A log courthouse in Merom served as Sullivan County's first county seat from 1819-1842. Merom was an important river port and a stop on the stage route known as The Old Harrison Trail. William Henry Harrison's troops camped near here on their 1811 march to the Battle of Tippecanoe.
Carlisle, Sullivan County, celebrates its Bicentennial in 2015. Join in an "event to remember" in a small town with a big history. June 10 to 14, 2015.
A recreational haven for campers, hikers and fisherman, Sullivan County Park and Lake contains a 468-acre lake constructed in 1968 for swimming, boating and fishing. The lake is well stocked with crappie and hybrid saugeye, as well as bass, bluegill and channel catfish. Water skiing is also very popular on Lake Sullivan.
Sullivan County was on the Chautauqua Circuit – a national "phenom."
Theodore Roosevelt called Chautauqua "the most American thing in America," Woodrow Wilson described it during World War I as an "integral part of the national defense."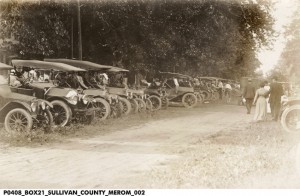 Organized nationally to bring culture to rural communities, Merom's 10-day religious and educational Chautauqua event featured concerts, debates, plays, and lectures. Carrie Nation, William Jennings Bryan, William Howard Taft, Warren G. Harding, and Billy Sunday were among the speakers here.
County Seat: Sullivan
Year Organized: 1817
Square Miles: 447.14