Q&A with County Coordinator Ken Kosky
What do you consider the key accomplishment(s) of your county's Bicentennial celebration?
What Legacy Project do you most like to tell people about, and why?
Describe a highlight or most memorable moment related to your county's Bicentennial celebration.
How/where are you preserving information and artifacts related to your county's celebration?
Our records were given to the state, and our torch and banner are going to be exhibited in the Porter County Museum in the first quarter of 2017, then will be part of their permanent collection.
Total number of volunteers who participated.
Estimated total attendance.
Estimated dollar amount spent (if applicable).
Porter County Legacy Projects
Porter County Facts
The people of Porter County welcome their fellow Hoosiers to experience a truly unique part of the state – Indiana Dunes Country. The Indiana Dunes area features a 15-mile Lake Michigan coastline, sandy beaches, towering sand dunes and wooded hiking trails.
Even more treasures lie just beyond the dunes, including unique downtowns, great historical museums, a nationally-renowned arboretum, one-of-a-kind restaurants and more. Porter County is a destination for hiking, birding, fishing, fall drives and more.
From 1832 to 1836, the area that was to become Porter County was part of LaPorte County. Porter County was formed in 1836. It was named for Capt. David Porter, naval officer during the Barbary War and the War of 1812.
Porter County is one of three Hoosier counties with a Lake Michigan shoreline. Indiana's shoreline with Lake Michigan is only 40 miles long, but Indiana is still considered a Great Lakes State.
While Porter County's northern border is Lake Michigan, its southern border is the scenic Kankakee River, which was a top vacationing spot for past United State presidents like Theodore Roosevelt, Grover Cleveland and Benjamin Harrison.
Porter County's top attractions include: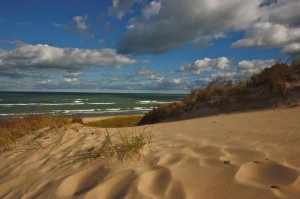 *Chesterton's European Market. Find farm produce, local honey, jewelry, art, pastries and more in historic downtown Chesterton on Saturdays from May to October.
*Valpo Velvet. Names of the Top 10 Places for Ice Cream in Indiana, people who have traveled the world say there is no finer ice cream than the old-fashioned kind at Valpo Velvet, located in historic downtown Valparaiso.
*49er Drive-In Theatre. One of only about 300 drive-ins in the country, the 49er has been chosen as one of the ten best.
*Great events like the Valparaiso Popcorn Festival and the Sand Sculpture Contest at Indiana Dunes State Park in Chesterton.
Chesterton was once home to "Littleville," a "town" of more than 125 miniature buildings. During its heyday in the 1930s, it attracted 110,000 visitors a year from as far away as Japan. It closed when World War II broke out.
A small baseball bat manufacturer in Valparaiso — Hoosier Bat Company — is actually the third-oldest bat company in the nation, making 35,000 bats annually for players in Little League up to the major leagues.
Strongbow Inn in Valparaiso is famous for turkey dinners, and the birds once roamed the grounds. Each Turkey Day, the restaurant serves 3,500 people. That means cooking 130 turkeys weighing 30 pounds apiece.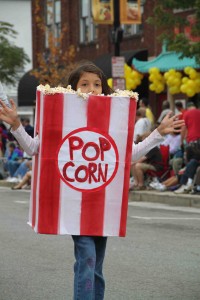 Entrepreneur Orville Redenbacher launched his first gourmet popcorn product from a farm near Valparaiso in 1971. Valparaiso's popcorn heritage is celebrated each September with the Popcorn Festival. And year round, people can get their photo taken with a life-size statue of popcorn legend Orville Redenbacher at downtown Valparaiso's Central Park Plaza.
Do you have what it takes to climb the three highest sand dunes at Indiana Dunes State Park? Then take The 3 Dune Challenge! To complete The 3 Dune Challenge, you must run or hike a special 1.5-mile course at Indiana Dunes State Park , climbing Mt. Jackson (elevation 176 feet), Mt. Holden (184 feet), and Mt. Tom (192 feet).
The Century of Progress Homes on Lake Michigan in Beverly Shores were originally constructed for the 1933 Chicago World's Fair to demonstrate new design and materials, and new technology like air conditioning. People can walk past the homes year round, or sign up for the annual tour in October.
Legend has it that steel salvaged from the world's first Ferris Wheel, which was at the 1893 World's Columbian Exposition in Chicago, was salvaged and used to build Dunn's Bridge in Kouts. See the bridge from Dunn's Bridge County Park.
Two men were vying to have the Porter County seat near their land, when one of them decided to donate the land to sweeten the deal. His site was chosen, and the courthouse in Valparaiso supposedly rests on that donated land.
The story goes that railroad speculators who came to southern Porter County approached the Trinkle residence, but the woman of the home was too busy making apple butter to help them. They went down the road and were helped by the Kouts family — leading to the town eventually being named for them.
The historic Civil War-era Memorial Opera House in Valparaiso was said to be a favorite venue of "The March King" conductor John Philip Sousa, who led a concert there in 1898. The Opera House also hosted the famous Marx Brothers vaudeville comedy trio in 1919 and actress Beulah Bondi.
In 1927, the top of the dune now known as Ski Hill Road in Ogden Dunes (a northern Porter County town) was billed at that time as the site of the United State's highest ski jump. International competitions were held at that site until 1932. Three years later the jump was dismantled and removed.
Mastodon remains have been found in Indiana Dunes Country, and the evidence is that either the retreating glaciers caused a flood that killed them, or a meteorite is to blame.
A farm in Porter County was a stop along the Underground Railroad, a secret network of escape routes for 19th century fugitive slaves. Slaves were delivered in grain sacks, which the farmer would accept as long as the sheriff wasn't around.
The Indiana Dunes was the intended site of a macabre plan by Chicago counterfeiters to hide the remains of President Lincoln until they received a ransom of $200,000 and the release of their star engraver from prison. Legend has it that the Indiana Dunes are haunted by Alice Gray, the woman who reportedly skinny-dipped in Lake Michigan and on whom the Diana of the Dunes legend is based.
Porter County's mansions that can be visited include Wolf Mansion, Brown Mansion and Furness Mansion (now DunesWalk Inn). The county is home to museums which include the Alton Goin Museum, Bailly Homestead & Chellberg Farm, Brauer Museum of Art, Depot of Beverly Shores Museum, Hour Glass House Museum, Porter County Museum, Stagecoach Inn & Panhandle Depot, Westchester Township History Museum and Valparaiso Fire Museum.
Valparaiso University is home to the renowned Chapel of the Resurrection, an inspiring place to visit or experience an event. It has been named one of the 30 most beautiful college cathedrals in the world. The University also welcomes visitors to the Brauer Museum of Art and has a full schedule of performing arts performances and sporting events. Its men's basketball team captured the nation's attention with a run to the Sweet 16 of the NCAA basketball tournament in 1998. Valparaiso University has grown through a unique community partnership into an educational jewel.
Founded by Methodists in 1859 as an institution pioneering coeducation, the Valparaiso Male and Female College was forced by the reverses of the Civil War to close its doors in 1871. It was revived in 1873 by an enterprising educator, Henry Baker Brown, as the Northern Indiana Normal School, renamed Valparaiso College in 1900, and rechartered in 1906 as Valparaiso University. During the next 20 years, it established business and law schools and won national recognition as a low-cost, no frills institution of higher learning. Many alumni of this period achieved distinction in their fields as governors, legislators, scientists, business leaders, and other professionals.
Porter County's cities and towns include Beverly Shores, Burns Harbor, Chesterton, Dune Acres, Hebron, Kouts, Ogden Dunes, The Pines, Portage, Porter and Valparaiso.
County Seat: Valparaiso
Year Organized: 1835
Square Miles: 418.15