Q&A with County Coordinators Sue Scholer and Mike Piggott
What do you consider the key accomplishment(s) of your county's Bicentennial celebration?
What Legacy Project do you most like to tell people about, and why?
Describe a highlight or most memorable moment related to your county's Bicentennial celebration.
The day of the Torch Run is a day people still talk about as being very special.




I think as our Gateway Sculpture, Tree of Hope at the Courthouse, Riverwalk and State Street project continue to develop and grow -- we may have several memorable things that will be associated with the Bicentennial.
How/where are you preserving information and artifacts related to your county's celebration?
Total number of volunteers who participated.
Tippecanoe County Legacy Projects
Tippecanoe County Facts
Tippecanoe County was named for the translation of "Kethtippecanoogi," a Miami term meaning "place of the succor fish people." (Kriebel, Robert C. – Tippecanoe at 2000: A Hoosier County Recalls Its Past).
The county is best known for the Battle of Tippecanoe and Purdue University.
The Tippecanoe County Courthouse was built in 1881. The "architect" was Elias Max. The building is on the National Register of Historic Places. Elias Max was a local contractor in Lafayette. When he was selected in 1880 by the county commissioners to design the courthouse, there were objections because he was not an architect. His plans were accepted, however, and work was begun in 1881. The cornerstone was dedicated on October 26, 1882, and the building was finished two years later. That same year Mark Twain visited Lafayette and commented: "A very striking courthouse, very striking indeed. It must have struck the taxpayers a very hard blow." (Source: ArtSmart: Indiana Resource Catalog, p.47)
Also, in the Resource Catalog, learn about more historic Tippecanoe artists such as George Winter, who painted wonderful native American paintings, and John Tinney McCutcheon, who did front page cartoons for the Chicago Tribune for 40 years.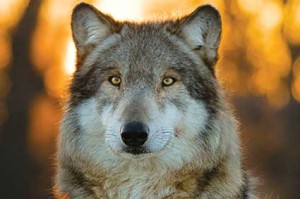 Visitors to Tippecanoe County can learn about wolves at Wolf Park
Wolf Park's staff has studied wolf behavior and educated the public, school groups, and people of all ages along with many dog enthusiasts about wolf conservation and behavior. The park offers prearranged guided tours to learn about this endangered and misunderstood species. Visitors can see wolves, coyotes, foxes, and bison. Howl Nights offer visitors a chance to howl, ask questions, and to hear the lovely tones of the wolves in reply while watching the wolves interact with the staff and each other just three feet away. Wolf Park sits on 78 acres and is just 15 minutes from Lafayette/West Lafayette. http://wolfpark.org/
ArtSmart: Indiana at the Art Museum of Greater Lafayette AND online!
This video provides an overview of what the ArtSmart: Indiana program has to offer.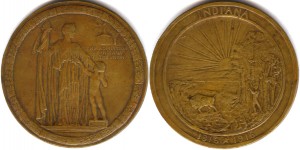 Games include creating one's own "centennial coin" such as sculptor Janet Scudder designed for Indiana's 1916 centennial celebration.
ArtSmart teaches the history of Indiana from 1800 to present day as shown through the works of its artists and is designed as a flexible starting point for integrating Indiana's visual arts tradition into classroom instruction with application for all Hoosiers.
Igniting Indiana's future: Education in Tippecanoe County – known internationally.
President Lincoln supported public lands to create a new educational institution teaching agriculture and the "mechanic arts." Indiana legislators chose the Lafayette area for such a school. Funding included a $150,000 gift from John Purdue, as well as $50,000 from Tippecanoe County and 100 acres of land from local residents. And Purdue University was founded. Classes began with six instructors and 39 students. Purdue's first graduating class had 14 students.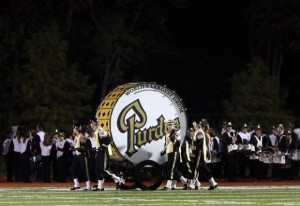 Purdue Tradition — Big Bass Drum
Known as the "world's largest drum," it stands 10 feet tall on its field carriage and is handled by a crew of four band members with two beaters. The drum draws attention wherever it goes from fans who want their picture taken with the instrument. It still has its original 1921 frame, which is eight feet in diameter and nearly four feet between its two heads.
Enjoy the great outdoors. Indiana's Prophetsown State Park offers camping, swimming, hiking, biking, birding, wildlife observation, and more. Explore a mix of habitats including tall grass and wildflower prairies, woodlands, wetlands, and rivers.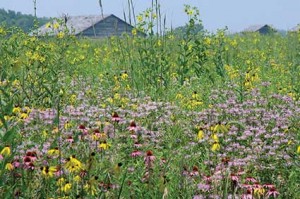 Walk around the Native American village and attend one of the many public programs about nature or history. Recently added are two new hiking trails and an aquatic center. This water attraction offers a tube slide, lazy river, splash zones and zero-entry swimming pool.
The Feast of the Hunters' Moon – festival guests savor a bygone era. They are treated to a re-creation of the annual fall gathering of the French and Native Americans. The site is Fort Ouiatenon, originally a fur-trading outpost in the mid – 1700s.
Festival location: Primitive country setting on South River Road, four miles southwest of West Lafayette Indiana — 30 acres along the banks of the Wabash River.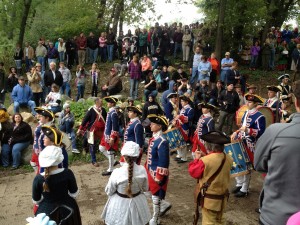 Battle of Tippecanoe: Where two cultures clashed
It seems hard to believe that a wooded area seven miles north of Lafayette, Indiana, played such a major role in American history. Yet it was on this spot the Native Americans lost their grip on the fertile Midwestern lands they had roamed for thousands of years. It was also on this spot some years later that a gathering took place that helped launch the modern political campaign. That wooded area is the Tippecanoe Battlefield, a National Historic Landmark that attracts tens of thousands of visitors annually to northern Tippecanoe County.
Explore the site of The Battle of Tippecanoe. Explore the grounds where the conflict occurred.
Visit vivid museum displays and discover the history of a time when two Shawnee brothers, Tecumseh and The Prophet, had a dream of uniting many tribes into an organized defense against the white settlers. Walk the battle ground where Native Americans and settlers clashed and a conflict of cultures was resolved.
Tecumseh, a Native American Shawnee leader over a large tribal confederacy known as Tecumseh's Confederacy. Tecumseh has become an iconic folk hero in American, Aboriginal and Canadian history.
County Seat: Lafayette
Year Organized: 1826
Square Miles: 499.81