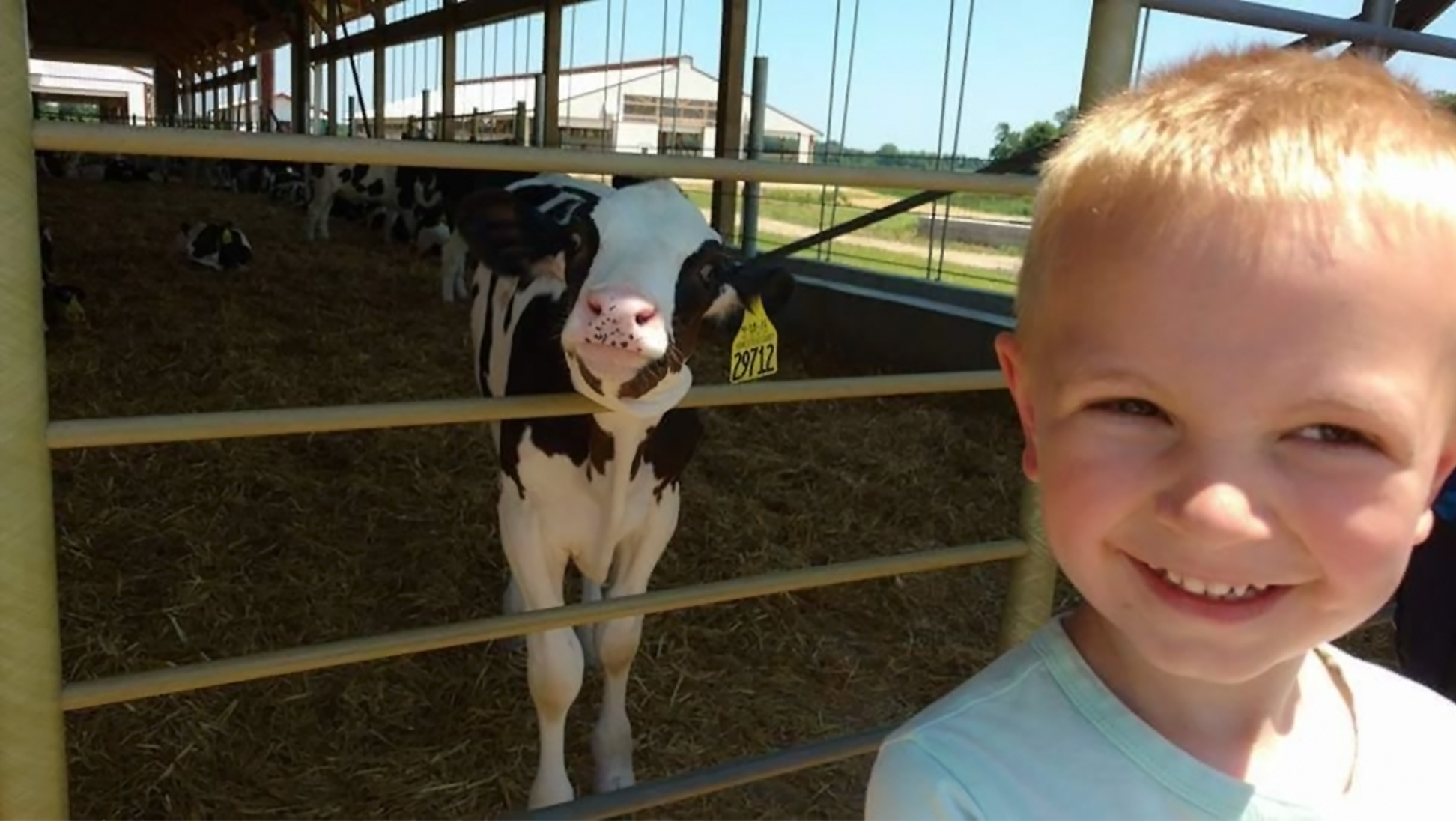 The Northern Indiana Dairy Trail will feature educational open houses at 12 modern dairy farms during June and October of 2016. The dairy trail will help consumers draw the connection between farms and food, while highlighting the important role of technology in producing safe, nutritious dairy products for the public. Activities will include dairy product tastings, milk promotions, farmer-led tours, historical displays relating to the dairy industry, fundraising for the "Great American Milk Drive," and bicentennial celebrations like the statewide Torch Relay (in October).
Q&A with Legacy Project Coordinator Jerry Goshert
What do you consider the key accomplishment of your Legacy Project?
Through this project, Indiana dairy farmers were able to share their story of modern milk production with consumers.
Describe a highlight or most memorable moment related to your Legacy Project.
There are two. U.S. Rep. Jackie Walorski visited Knollbrook Farm in Goshen on June 18 and toured the dairy operation of John and Cynthia Adam. The second highlight was the torch relay celebration at Mybrook Farm in Middlebury on October 4. All of the participants lifted a bottle of milk in the air to toast the bicentennial!
How/where are you preserving information and artifacts related to your Legacy Project?
We produced commemorative bottles used for the torch relay celebration's milk toast. Mark Newman has one. I have a personal scrapbook filled with newspaper clippings and photos.
Total number of volunteers who participated.
Estimated total attendance.
Estimated dollar amount raised.
Estimated dollar amount spent.
NIDT Committee Members
Craig Blough
Deb Osza
Doug Leman
Kelly Heckaman
Jackie Barber
John Adam
Cynthia Adam
Doug Keenan
Robert Kelly
Larry Andrews
LuAnn Troxel
Mary Ann Lienhart Cross
Merrill Gingerich
John Newsom
Michelle Plummer
Jenni Browning
Dr. Robert Zell
Steve Engleking
Bob Yoder
Richard Thomas
Lisa K. Stoltzfus
Jeff Burbrink
John Woodmansee
Melanie Strait-Bok
Ali Aessa
P.J. Neff
Sonya L. Nash
Laura Coyne
Patrick McGuire
Phil Sutton
Host Farmers
Knollbrook Farms
Oneeda Farm, LLC
Phares Farm
Metzger Dairy, Inc.
Beer Dairy, Inc.
Gingerich Dairy, LLC
Nor-Bert Farms
Homestead Dairy
Perkins Twin Creek Farm, Inc.
Stutzman Dairy, LLC
T & K Hesters' Jersey Dairy
Mybrook Farm
Project Details
Organization: U.S. 6 Dairy Trail
County: Elkhart, Kosciusko, LaGrange, Marshall, Noble
Contact: Jerry Goshert, 574-535-3525, jerry@farmers-exchange.net
Type: Educational
Project Number: IBC-YE-65