Q&A with County Coordinator Curt Witcher
What do you consider the key accomplishment(s) of your county's Bicentennial celebration?
A key accomplishment of our bicentennial celebration was that the community was so involved and we engaged in so many different activities. There were seven (7) History and Celebration projects, five (5) Youth and Education activities, eight (8) Nature Conservation initiatives, and eight (8) Community Involvement events. Organizations included: Fort Wayne TinCaps, ArtLink, Fort Wayne-Allen County History Center, Fort Wayne Children's Choir, ACRES Land Trust, University of Saint Francis, United Way of Allen County, and Fort Wayne Parks and Recreation.

The Allen County Bicentennial Task Force was composed of 30 diverse community members. Expertise and professions included local government officials, educators, nonprofit professionals, lawyers, marketers, fundraisers, and business leaders. On the Task Force there was representation from the Miami Nation, Latino and Burmese communities.
What Legacy Project do you most like to tell people about, and why?
We are especially proud of two Legacy Projects.




First are the Bicentennial Memorial Benches installed at city parks.




Nineteen custom-made benches commemorating Indiana becoming the 19th state in 1816 have been installed at city parks as part of the local bicentennial celebration. The effort was organized by the Allen County-Indiana Bicentennial Task Force with the assistance of Historic Fort Wayne and Fort Wayne Parks and Recreation.




Eight corporate and philanthropic sponsors made tax-deductible gifts starting at $2,500 to sponsor the benches. The donors, number of benches each sponsored and locations include:





• Vera Bradley (1): Lakeside Park




• The Journal Gazette Foundation (5): Lawton Park, Weisser Park, Swinney Park, Nuckols Memorial Park, Johnny Appleseed Park




• PNC Bank (1): Solomon Farm Park




• PHP – Physicians Health Plan (1): Foster Park




• Parkview Health (2): Klug Park (installation pending), McCulloch Park




• Ash Brokerage (1): Rockhill Park




• Steel Dynamics (1): Historic Fort Wayne




• William and Bonnie Hefner Foundation (1): North Side Park




• Allen County-Indiana Bicentennial General Fund (6): Vesey Park, Seiling Park, Camp Allen Park, Bloomingdale Park, Moody Park, Reservoir Park

The six-foot-long benches were manufactured by Wabash Valley Manufacturing in Silver Lake, Ind. They are laser cut with an outline of the state of Indiana, the word Bicentennial and the dates 1816-2016. The powder-coated cast iron and steel commercial benches are mounted on concrete slabs and include a plaque honoring the donor.




We are also very proud of our collaboration to discover, confirm, and at last mark the grave of one of the original signers of the Indiana State Constitution who is buried in Fort Wayne, William Polke. We collaborated with the Indiana State Archives and the Mary Penrose Wayne Chapter National Daughters of the American Revolution to place a marker on the previously unmarked grave.
Describe a highlight or most memorable moment related to your county's Bicentennial celebration.
The All-In Block Party was an amazing key accomplishment for a number of reasons – (1) length of time (three consecutive day event), (2) number of volunteers from the community, (3) utilizing all of Allen County Public Library locations, (4) range of community members who participated in the event, (5) receiving our one and only grant from Indiana Humanities, and (6) it was unique.
How/where are you preserving information and artifacts related to your county's celebration?
Do you have a website and/or social media presence?
Total number of volunteers who participated.
Estimated total attendance.
Estimated dollar amount raised.
​Estimated dollar amount spent.
Allen County Legacy Projects
Allen County Facts
Occupied for thousands of years by cultures of indigenous peoples, Allen County was organized by European Americans on December 17, 1823, from Delaware and Randolph counties; and formed on April 1, 1824.
The county is named for Colonel John Allen, an attorney and Kentucky state senator who was killed in the War of 1812.
About the County Courthouse: Brentwood Tolan was the architect. The building was completed in 1902.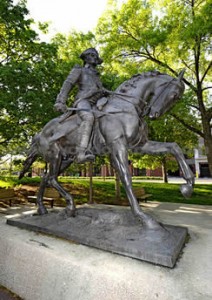 The History Center is home to the Allen County-Fort Wayne Historical Society, its museum and collections. When formed in 1921, the society's assets were few, consisting of some historical relics that had been preserved by the Mary Penrose Wayne Chapter of the Daughters of the American Revolution. Today it maintains a collection of more than 26,000 artifacts, photographs and documents representing the history of Fort Wayne and Allen County.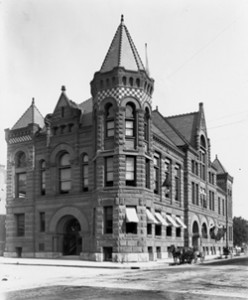 The largest of these is the very building in which the society has resided since 1980–the 1893 City Hall building was designed by Fort Wayne architects John F. Wing and Marshall S. Mahurin.
The History Center also oversees the historic Barr Street Market, the oldest public space in Fort Wayne, dating back to 1837, and the 1827 home of Miami Chief Jean Baptiste de Richardville.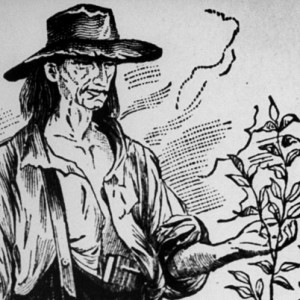 Johnny Appleseed is buried at Fort Wayne.
The first professional baseball game was played in Fort Wayne on May 4, 1871.
In Fort Wayne, Syvanus F. Bower designed the world's first practical gasoline pump.
The library in Fort Wayne, Allen County, houses one of the largest genealogy libraries in America.
Fort Wayne, Indiana's 2nd largest city, had its beginnings in 1794, after the Battle of Fallen Timbers, when General "Mad Anthony" Wayne built Ft. Wayne on the site of a Miami Indian village.
County Seat: Fort Wayne
Year Organized: 1823
Square Miles: 657.3
Allen County Bicentennial Task Force Members
Elise Alabbas
David Amen
Stephen Bailey
Megan Bell
Zack Benedict
Kathy Carrier
Cheryl Ferverda
Megan Flohr
Palermo Galindo
Brenda Gerber
Fred Gilbert
Tom Grant
Vickie Hadley
Randy Harter
Lettie Haver
Susan Heidenreich
Diane Hunter
Michelle Kearns
Gina Kostoff
Ryan Krueckeberg
Minn M. Nan Tin
Todd Maxwell Pelfrey
Susan Platt
Kate E. Riordan
Heather Schoegler
Amy Schreiber
Dan Swartz
Faith Van Gilder
Curt Witcher
Volunteers in addition to Task Force membrs
Bethany Beebe
Judy Cline
Katia Cook
Alison Corbrey
Tammy Eppler
Robin Falzone
Bill Falzone
Courtney Ferguson
Pat Harter
Pat Helmkamp
Sue Keller
Darin Line
Ed McClenahan
Linda McClenahan
Christian Nusbaum
Shelia Stahl
Barb Parker
Bev Peters
Bill Peters
Leahya Wells
Cindy Theis
Carl Theis