Q&A with County Coordinators Deborah Fleming
What do you consider the key accomplishment(s) of your county's Bicentennial celebration?
St. Joseph County had several key accomplishments in celebrating Indiana's Bicentennial including organizing a community-wide committee directed by several St. Joseph County government departments to plan and promote the Bicentennial. The committee organized a free community event at Bendix Woods County Park during the statewide Torch Relay; we organized a performing arts event at St. Patrick's County Park that highlighted the artistic heritage of the north central Indiana region working with an 8-week after school enrichment program at Dickinson Intermediate Arts Academy; we published a St. Joseph County Sites commemorative deck of playing cards featuring unique artwork depicting local sites; we coordinated a traveling photography exhibition compiled from the Louis Sabo Collection of traditional black and white photography; we developed a county-wide Geocache tour including 15 sites with prizes for completing all, and we hosted an ALL-IN Block Party which was a dedicated partnership with local organizations.
What Legacy Project do you most like to tell people about, and why?
St. Joseph County had 33 Legacy Projects, which makes it difficult to select just one. From tourism developments and public events to acquiring Bicentennial Nature Land Trust land in our county, and recognizing a star that is 200 light-years away, we are proud that so many projects were endorsed!
Describe a highlight or most memorable moment related to your county's Bicentennial celebration.
Our County Coordinator, Deb Fleming's, most memorable moment was forming our steering committee and the county committee to have the opportunity to develop relationships with citizens throughout our county. She also thought the Torch Relay party at Bendix Woods County Park was wonderful.
How/where are you preserving information and artifacts related to your county's celebration?
All information and artifacts accumulated by the St. Joseph County Committee have been delivered to the Indiana State Library. The Bicentennial Torch, one of our county's three Bison-tennial bison, and the Louis Sabo Photography Exhibit will be displayed in the lobby of the County City Building in South Bend.
Total number of volunteers who participated.
At least 30 members in the committee with dozens volunteering at the main events.
Estimate total attendance.
We estimate over 2,800 people in attendance at the three main events.
Estimated dollar amount raised.
Estimated dollar amount spent.
St. Joseph County Legacy Projects
Photos of St. Joseph's Bicentennial Activities and Events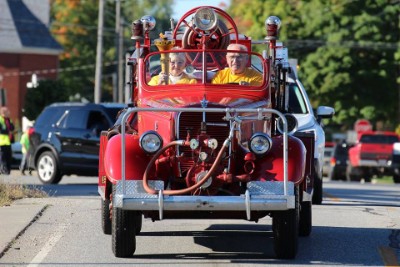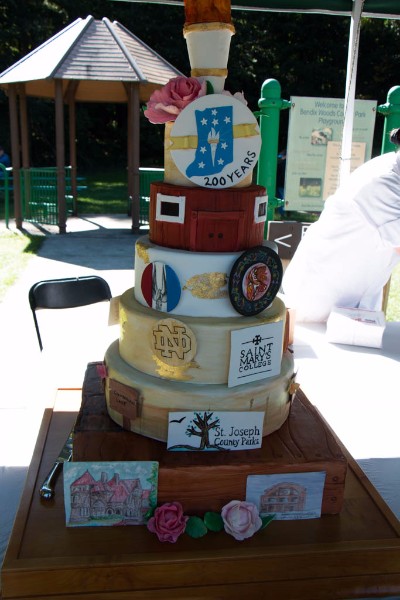 St. Joseph County Facts
Saint Joseph County was named for the St. Joseph River which flows through it toward Lake Michigan.
East Race Waterway, in South Bend, is the only man-made whitewater raceway in North America.
You can visit other county attractions, including Potawatomi Park Conservatories, where you will experience the lush jungle feel of the Morris Conservatory with its large rubber trees, bamboo and citrus trees and the relaxing sound of the small waterfall surrounded by bougainvillea, bird of paradise and many other exotic plants.
About the storied Notre Dame's early roots? The University of Notre Dame began late on the bitterly cold afternoon of November 26, 1842, when a 28-year-old French priest, Rev. Edward Sorin, C.S.C., and seven companions, all of them members of the recently established Congregation of Holy Cross, took possession of 524 snow-covered acres that the Bishop of Vincennes had given them in the Indiana mission fields.
A man of lively imagination, Father Sorin named his fledgling school in honor of Our Lady, in his native tongue, "L'Université de Notre Dame du Lac" (The University of Our Lady of the Lake). On January 15, 1844, the University was thus officially chartered by the Indiana legislature.
In 1934 Harold Urey, born in Walkerton, Indiana, St. Joseph County, won the Nobel Prize in chemistry for his discovery of deuterium.
At one time Studebaker Company of South Bend was the nation's largest producer of horse-drawn wagons. It later developed into a multimillion-dollar automobile manufacturer.
County Seat: South Bend
Year Organized: 1830
Square Miles: 457.85
St. Joseph County Steering Committee Members
Elicia Feasel
Deb Fleming
Sharon Forte
Evie Kirkwood
Jim Lopez
Carolyne Wallace