Q&A with County Coordinators Laura Coyne and Sonya Nash
What do you consider the key accomplishment(s) of your county's bicentennial celebration?
What Legacy Project do you most like to tell people about, and why?
The Quilt Gardens along the Heritage Trail and the Northern Indiana Dairy Trail both embody our past and future. Both connect hardworking Elkhart County families and volunteers who are building our communities, expressing community pride and fostering economic development.
Describe a highlight or most memorable moment related to your county's bicentennial celebration.
During the Torch Lighting Kickoff ceremony at MyBrook Dairy Farm, a tractor driving two flatbed trailers filled with Old Order Amish students and teachers from a neighboring Amish one-room schoolhouse (almost 100 Amish students ranging in age from 5-13) joined the celebration. This Amish school wanted to see the lighting of the historic torch in person so they closed the school down and brought them to the ceremony.
How/where are you preserving information and artifacts related to your county's celebration?
Do you have a website and/or social media presence (Facebook, Instagram, Twitter, etc.)?
Total number of volunteers who participated.
Estimated total attendance.
Estimated dollar amount raised.
Elkhart County Legacy Projects
Photos of Elkhart County's Bicentennial Activities and Events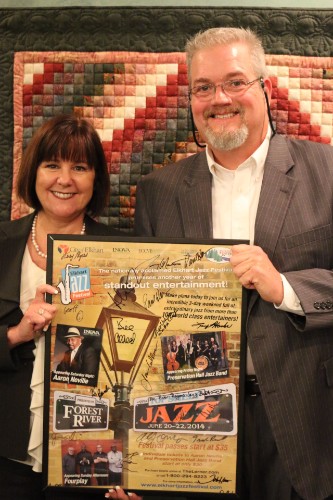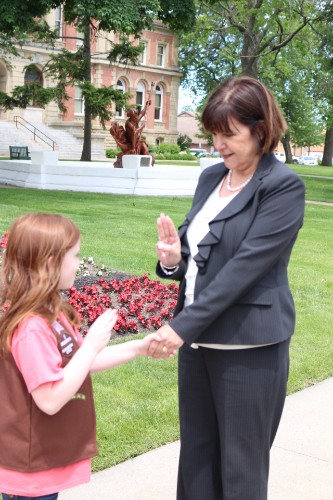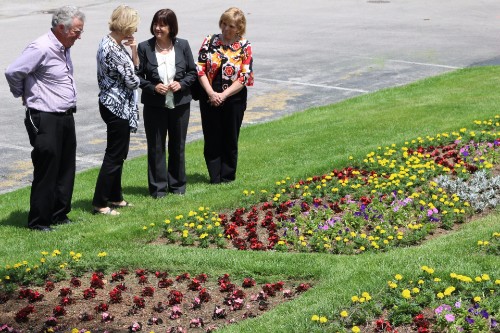 Elkhart County Facts
The first Elkhart County courthouse was completed in 1822. It stood on the site until it was demolished in 1869 to make way for a larger structure. The county brought architects J.H. Barrows and George O. Garnsey from Chicago to design the replacement courthouse for the Goshen site at the end of the 1860s.
The Elkhart County 4-H Fair draws in thousands of tourists every year. The fair is the second largest county fair in the United States.
Bonneyville Mill Park consists of 223 acres (0.90 km2) of rolling hills, marshes, and woodlands on the Little Elkhart River east of Bristol. The park offers hiking trails, fishing spots, shelters, and guided tours of Bonneyville Mill. The mill is still used to produce flour.
Elkhart County's rich history is captured in Victorian limestone, in the whirr of a working gristmill, in the aroma of apple butter bubbling in copper pots. It is located at the center of the very top of the state, where horses and buggies clop along county roads, often sharing space with a gleaming new camper on its way out west.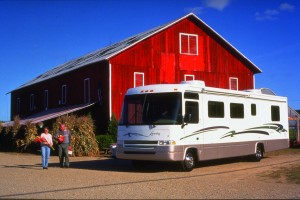 Buggies weren't invented in Elkhart County, but recreational vehicles were. So was the seedless watermelon, thornless rose and the ruffled gladiolus. Elkhart County made most of the musical instruments for America's marching bands. And it is the birthplace of Alka-Seltzer, that "plop-plop, fizz-fizz" remedy famously touted by little Speedy Alka-Seltzer.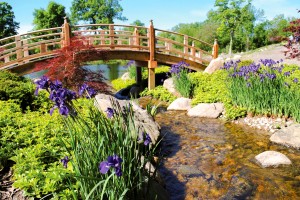 They say the measure of a community is how it was envisioned seven generations ago, and how it plans that far ahead today. The reason this county's past and future are accessible in the present is the deliberate care that residents have taken of its wondrous assets for 185 years.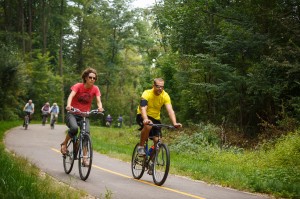 Here communities are linked by bike trails, scenic byways (the Heritage Trail), the 1913 Lincoln Highway, and two winding waterways – the St. Joseph and Elkhart rivers.
Goshen, the County Seat, has a lively vintage downtown where artisans, baristas, brewers and candy makers are flourishing. Vinyl records have an emerging marketplace, and performances are cozy affairs with national talent.
The largest city, Elkhart, has great eateries and ethnic fare, spectacular gardens and riverfronts, and an art museum that features Norman Rockwell and other American notables. A gorgeously restored Lerner Theater engages acts from Motown to Broadway.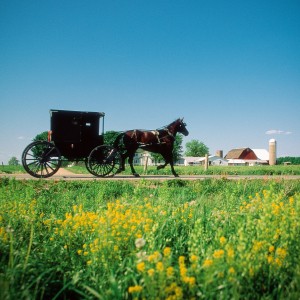 The city of Nappanee encourages its visitors to embrace the pace of a more rural lifestyle, as does Middlebury, sharing Amish cuisine, crafts and culture. The county hosts dozens of festivals and other events from a huge county fair to harvest celebrations, and monthly downtown street parties to an annual jazz festival. And behind each is a story or two!
Another Elkhart County asset— and a major one at that—is its proximity. Elkhart's railroad switching yard is the second largest in the nation, and major east-west highways travel directly through the county. US Highway 6 skirts the county to the south and Interstate 80/90 to the north. The four exits and entries from I-80/90 bring visitors within minutes of all there is to see and do. And with a leaner more efficient north/south highway system from the center of the state, Elkhart County is just an easy drive away.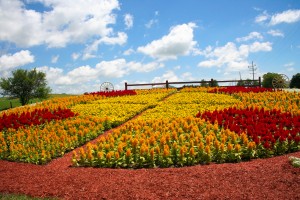 Quilt gardens along the Heritage Trail such as this one can be enjoyed at this spring-to-fall annual attraction in the seven communities of Bristol, Elkhart, Goshen, Middlebury, Nappanee, Shipshewana and Wakarusa.
County Seat: Goshen
Year Organized: 1830
Square Miles: 463.17
Elkhart County Bicentennial Task Force Roster
Franklin Beckenridge
Jeff Burbrink
Laura Coyne
Ron Davis
Arvis Dawson
Jovon Deal
Jose Elizalde
Craig Gibson
JoAnna King
Diana Lawson
Terry Mark
Sonya Nash
David Smith
Robert Taylor
Rita Taylor-Mallard
Virginia Munoz
Jennifer Novak
Nayo A. Ulloa
Brett Weddell
Mike Yoder
Lupita Zepeda
Elkhart County Indiana Bicentennial 2016 Torch Bearer Nominating Committee
Laura Coyne, County Coordinator
Sonya Nash, County Coordinator
Dr. Brett Weddell, O.D.
Trevor Wendzonka
Jeff Troxel
Larry Andrews
Rex Gleim