Q&A with County Coordinator Shirley Willard
What do you consider the key accomplishment(s) of your county's bicentennial celebration?
Reconnecting with the original residents of Indiana, the Native American Indians of Indiana.

We erected 2 new historical markers: Chief Kee-wau-nay and for William Polke's 1832 trading post. We got Loyal the buffalo painted and in the museum. We honored tribal chairman John "Rocky" Barrett of Citizen Potawatomi Nation, descendants of Potawatomi on 1838 Trail of Death.
What Legacy Project do you most like to tell people about, and why?
Potawatomi Trail of Death documentary titled "Like Birds in a Wind Storm," which tells of the forced removal in 1838 from Indiana to Kansas. This is a DVD and we sent over 300 free copies to schools, museums, libraries, churches, county historians and groups that will show it to the public as programs.

The Trail of Courage which re-creates frontier Indiana every year since 1976 and honors the Potawatomi and other Native American Indians. It is held at Fulton County Historical Society the 3rd weekend of Sept.
Describe a highlight or most memorable moment related to your county's bicentennial celebration.
We showed the video to the Potawatomi the night before the Trail of Courage Living History Festival Sept. 16. We honored John "Rocky" Barrett, tribal chairman of the Citizen Potawatomi Nation, at the Trail of Courage opening ceremonies Sept. 17.

The day of the Torch passing, Oct. 5, and carrying the torch along with many others. It brought us all together. The exhibit at the Rochester courthouse about Indiana's Bicentennial was great.
How/where are you preserving information and artifacts related to your county's celebration?
All the records of this event and the places where we sent free copies of the DVD Like Birds in a Wind Storm are preserved in the Fulton County Museum, Rochester IN

They are placed permanently in Fulton County Museum. It is located on US 31 about 4 miles north of Rochester, has a round barn and Living History Village of 14 old buildings.
Do you have a website and/or social media presence?
Total number of volunteers who participated.
Estimated total attendance.
Estimated dollar amount raised.
Estimated dollar amount spent.
Fulton County Legacy Projects
​Fulton County Facts
Fulton County was named for Robert Fulton, inventor of the steamboat.
About the courthouse: William and Edwin Rush were the architects and the building was completed in 1896.
There is a new word being used today: edu-tainment. It means educational entertainment. Fulton County's Trail of Courage Living History Festival is edu-tainment at its best.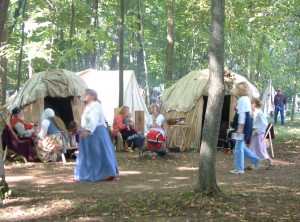 It is where Frontier Indiana comes alive with
Music and dance on two stages
Indian dances 2-3 p.m.
Pre-1840 crafts and trading
Foods cooked over wood fires
Contests
Muzzleloader shoots
Cannon demo
Canoe rides on Tippecanoe River
The annual Trail of Courage Living History Festival, which began in 1976, is held the third weekend of September. The festival is held on Fulton County Historical Society grounds on US 31 four miles north of Rochester.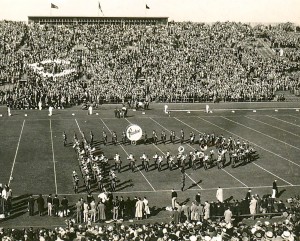 Band Inspiration With Purdue Ties
Paul Spotts Emrick, Purdue band director 1905-1954, was born in Rochester in 1884 and used his memories of the geese forming a V as they flew over Lake Manitou to create the first marching band forming letters in 1907. He originated the world's largest drum in 1919, illuminated formations at night in 1935, and other firsts. He was affectionately called "Spotts," which was his mother's maiden name. Emrick retired at Lake Manitou and was buried in Rochester's IOOF cemetery in 1965.
Rochester: Birth place of John Chamberlain, renowned sculptor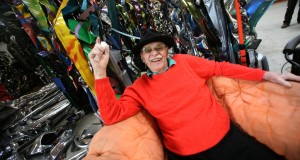 John Chamberlain, known as one of 10 best sculptors in the world, was born in 1927 in Rochester – which was founded and named by his ancestor, Alexander Chamberlain, in 1835. John's parents owned Chamberlain's Tavern, 128 East 8th Street.
Most of his sculptures are made of car metal in bright colors. His art has been featured in many famous museums in New York, Chicago, and Indianapolis. John died in 2011 while working on an exhibit at Guggenheim Museum, New York.
Fulton County: Round Barn Capital of the World
Round Barn Festival 2014 – June 13th and 14th. Festival goers will experience children's carnival rides, festival foods, arts, crafts and many activities, entertainment venues and a twilight parade.
Every spring the Redbud Trail Rendezvous is one of the first outdoor events of the season. This Fulton County event is full of frontier history and surprises for festival guests.
Over 100 historic re-enactors set up camps and live outdoors, demonstrating traditional crafts, frontier life ways, and pioneer skills such as cooking over wood fires, muzzle loading shooting and tomahawk throwing – a fun event with authentic history.
Fulton County Historical Power Show
Since 2003, the Historical Power Show showcases hundreds of antique tractors, hit–n-miss engines, vintage garden tractors, antique equipment and trucks, tractor games, demonstrations of many old-time machines, and steam engines to power a 1910 sawmill while sawing logs. Vintage Garden Tractor Clubs of America, and meetings of other antique tractor clubs are hosted during the show, f
eaturing a different tractor each year: John Deere, Farmall, MM, Massey, Ford, Cockshutt, etc. Each year the Fulton County Historical Power Assn. honors a different historic business, such as Wilson`s Elevator, Bailey Hardware, Craig Welding, Rochester Metal Products (foundry), and Ford New Holland of Rochester
Native Americans in the county believed that a terrible monster lived in Lake Manitou and for that reason they never lived around the lake. Early settlers called it the Devil's Lake and there were many reported sightings of a monster.
County Seat: Rochester
Year Organized: 1835
Square Miles: 368.39