Q&A with County Coordinators Elaine Peck and Phil Gick
What do you consider the key accomplishment(s) of your county's Bicentennial celebration?
Torch Relay

Restoration of the Putnam County Civil War monument.

Replacement and addition of clocks on courthouse.

Historic districting in smaller PC communities plus walking tour maps.

List of first 200 land patentees in county.

Courthouse assessment.

Speakers Bureau

Elementary school programs

James Madison lecture

Museum program -- How Corn Made Putnam County.

Progress on People Pathways multi-use trail utilizing a Bicentennial Nature Trust grant.

Indiana native tree planting.

Big Walnut Natural Heritage Canoe trip.

Capstone event on Dec 11, 2016 in county courthouse.

Putnam County Bicentennial Buttons.

Putnam County Fair Parades and booths.
What Legacy Project do you most like to tell people about, and why?
Putnam County small communities historic districting and walking tour maps.

This project recognizes the assets that these communities have to offer.
Describe a highlight or most memorable moment related to your county's Bicentennial celebration.
At the end of county Torch Relay, the land owner next to the covered bridge where the relay ended had fireworks and a picnic. The fireworks and community picnic created such a great experience for the community.
How/where are you preserving information and artifacts related to your county's celebration?
Total number of volunteers who participated.
Estimated total attendance.
Putnam County Legacy Projects
Putnam County
Putnam County's name is in honor of Israel Putnam, who was a hero in the French and Indian War and a general in the American Revolutionary War.
About the courthouse: The architect was John Gaddis and the building was completed in 1905.
The Fleenor Building is best known as the place where Eli Lilly opened his first drugstore in 1861. The then unknown pharmacist was about 13 when he moved to Greencastle with his family in 1851. In 1860, Lilly married Emily Lemon, and one year later he opened his modest drug store.
On U.S. 231 is Greencastle's Courthouse Square. Shopping and history combined for a memorable stop. John Dillinger staged his largest bank robbery here ($75,000) and Eli Lilly had his first drug store before starting the present-day pharmaceutical research firm.
DePauw University is home to the first sorority in the nation, Kappa Alpha Theta, established in 1870. The Alpha chapter of Alpha Chi Omega sorority was founded at DePauw.
DePauw was founded in 1837 by the Methodist Church. The original name, Indiana Asbury University, came from the first American bishop of the Methodist Episcopal Church, Francis Asbury. At its conception the school was to be an ecumenical institution of national stature. In fact, the college was "forever to be conducted on the most liberal principles, accessible to all religious denominations, and designed for the benefit of our citizens in general."
Greencastle was the chosen site because the community worked diligently to raise $25,000 — a huge sum in those days — to convince the Methodists to establish their college in the rough, frontier village. The General Assembly of the State of Indiana granted a charter for the establishment of the University on January 10, 1837, and the cornerstone of the first building was laid that year.
Little 5 Bike Race
DePauw's Little 5 bike race has been a campus tradition since 1956. The first race was sponsored by Union Board as a fund raiser for the American Cancer Fund. Fourteen teams of male riders from various living units competed. The race has changed some since 1956. Today, there are men's and women's races, and the race has been moved from the streets around East College to the track at Blackstock Stadium.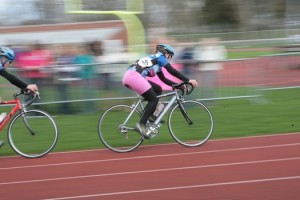 Even if you're not a fan of the race, Little 5 week offers a variety of special events, which include a blood drive, mud volleyball, a car stuff, tomato dodgeball, and the musical/comedy review, Cyc-Sing.
The memorial on the Greencastle court house lawn is one of two "buzz bombs" in the United States. The other is housed in the Smithsonian Institution in Washington, D.C. It is intended as a memorial to those from Putnam County who lost their lives while serving their country in World War II.
County Seat: Greencastle
Year Organized: 1821
Square Miles: 480.53
Putnam County Bicentennial Committee
Tony Barger
Jinsie Bingham, Historic Preservation Co-Chair
Sara Campfield, Nature Conservation Co-Chair
Brian Cox, Communications Co-Chair
Sue Crafton, Nature Conservation Co-Chair
David Gellman, Speakers Bureau Co-Chair
Phil Gick, County Co-Chair
Margaret Kenton
Joy Marley, Torch Relay, Co-Chair
Mike Murphy, Historic Preservation Co-Chair
Elaine Peck, County Co-Chair
Malcolm Romine
Rita Schendel
Ginger Scott, Capstone Event Co-Chair
J.R. Scott, Capstone Event Co-Chair
Jennifer Soster
Tami VanRensselaer, Torch Relay Co-Chair
Darrell Wiatt, Youth and Education Chair
Wes Wilson, Speakers Bureau Co-Chair
Eric Wolfe
Ellie Ypma