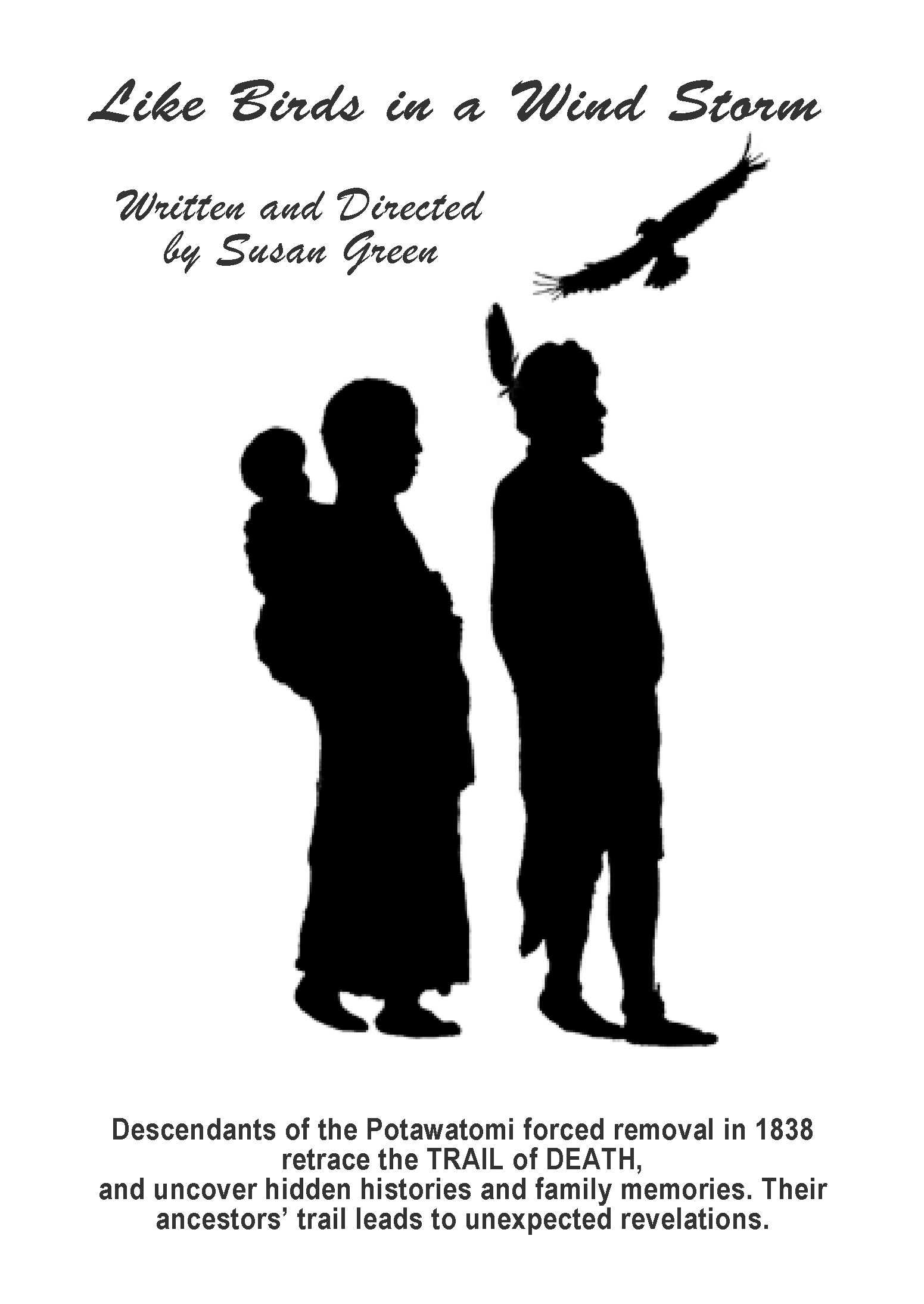 "Like Birds in a Wind Storm," is a documentary that draws from nearly 30 years of video footage made by volunteers on commemorative caravans retracing the Potawatomi Trail of Death. With the support of the Citizen Potawatomi Nation, Indiana filmmaker Susan Green explains the scattering and wandering of the Potawatomi during and after their removal from Indiana to Kansas. The film features Shirley Willard, Fulton County Historian, and Dr. George Godfrey, a descendant of the Potawatomi on the original trail. Several other Potawatomi descendants are also interviewed. The Potawatomi were marched at gunpoint down Rochester's Main Street on September 5, 1838. The story tells of hardship, sickness and death, but most importantly, it tells of survival of the Potawatomi to this day.
Q&A with Legacy Project Coordinator Shirley Willard
What do you consider the key accomplishment of your Legacy Project?
This documentary tells the story of the 1838 Potawatomi Trail of Death from Indiana to Kansas. DVDs are for sale and are being given to all 92 Indiana counties. This was made by Susan Green, YourStory Digital, and Shirley Willard, Fulton County Historian. We are planning Indiana Indian Day for April 22, 2017, to give everyone in Indiana the opportunity to tell the Potawatomi they wish it had never happened. 42 died on the Trail of Death, mostly children and elders.
Describe a highlight or most memorable moment related to your Legacy Project.
Meeting with the Potawatomi and hearing their heart-felt descriptions of events on the Trail of Death, many of which bring tears to our eyes. Also the music of George Schricker, Plymouth, who wrote the song "Menominee."
How/where are you preserving information and artifacts related to your Legacy Project?
At Fulton County Historical Society museum, 37 E 375 N, Rochester IN 46975. Also at Citizen Potawatomi Nation museum, Shawnee, OK.
Total number of volunteers.
Estimated total attendance.
About 30 attended the premiere showing but many more will be viewing the video as itis being sold and sent to all Indiana counties.
Estimated dollar amount raised.
Sales of the DVD and $1,500 grant from Citizen Potawatomi Nation, Shawnee, OK.
Estimated dollar amount spent.
Project Details
Organization: Potawatomi Trail of Death Association
County: Fulton
Contact: Shirley Willard, 574-223-2352, wwillard@rtcol.com
Type: Non-Profit
Project Number: IBC-HC-165
Website: www.potawatomi-tda.org