The Indiana Bicentennial Marketplace is an opportunity for artisans to create and sell Bicentennial-related products. Click on any of the images to see the product in more detail.
Are you looking for a Bicentennial-themed product that is not in our marketplace? Email info@indiana2016.in.gov to request a particular item. We will then reach out to our Marketplace partners to see if they can accommodate your request!





Product Categories
Art & Prints | Clothing & Accessories | Home & Living | Souvenirs & Collectibles
Indiana at 200: A Celebration of the Hoosier State
Various Authors compiled by Indiana Bicentennial Commisssion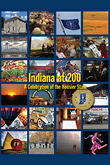 With the state's 200th anniversary quickly approaching, we are pleased to announce the publication of the official bicentennial book, Indiana at 200: A Celebration of the Hoosier State. This collector's book celebrates our milestone in words and images that reflect a variety of experiences and reveal the special character of Indiana. The book reflects on Hoosiers' lives today and how our 200-year history informs our present and shapes the future. The limited edition 248-page coffee table book includes an introduction and 14 chapters, each opening with a short essay by a noted Hoosier, followed by photographs; quotes and anecdotes from Hoosiers of diverse ages, backgrounds and experiences. Sidebars that highlight unique and surprising facts about Indiana and its 92 counties are also incorporated.
9 x 12 inches, hardbound
248 all color pages
Color Dust Jacket
Indiana Bicentennial Medal
Commemorative medal available for purchase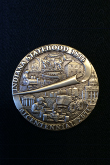 The specially commissioned Indiana bicentennial medal, sponsored by the Indiana Bankers Association, honors the 200th anniversary of Indiana statehood. Designed by an Indiana artist, the obverse side features iconic Hoosier imagery, and the reverse is inscribed with the Indiana state seal.
Available in diameters of 1 ¾" or 3
Both keepsake sizes are available in antique bronze or silver
Discounted pricing available for bulk purchases of 10+ medals
Prices include tax and standard shipping to the continental US states
Indiana Bicentennial Flags
Official flag available for purchase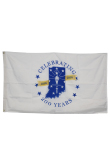 The official flag honoring Indiana's Bicentennial is now available for purchase. The Indiana Bicentennial Commission is also providing the white flags that feature the commemorative logo to all cities and towns throughout the state.
Available in 4" x 6" and 3' x 5' sizes
4" x 6" size has option of single or double base
The INdiana 200 | A Grand Tour
200 Hours to Celebrate the State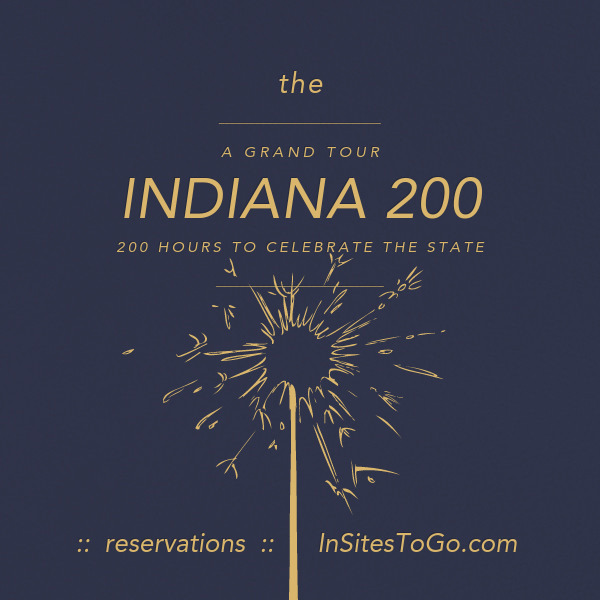 There's the 500. And then there's The INdiana 200 a bicentennial grand tour of Indiana in 200 hours – happening at the height of Fall Colors – Saturday, October 8 - Sunday, October 16, 2016. : And! Tickets are now available for the 200.
The 200 will visit beloved places + out of the way spots. There will be Fall Colors + architecture, music, sports, history, forests, arts, the Ohio, the Wabash and Lake Michigan. : EVERY AFTERNOON | the 2:00 toast in honor of Indiana :
The INdiana 200 is a trip 200 years in the making : 200 hours of Hoosier discoveries, exploration and celebration!
The INdiana 200 is presented by InSites, renowned for excellent adventures, tours and events, for those tall or small. InSites is celebrating Indiana's Bicentennial all year with Hoosier Discoveries, events scheduled in increments of 200: 200 seconds, 200 minutes, 200 hours. Their details will be posted at InSitesToGo.com and on Facebook / Twitter at InSitesToGo. For more information or to plan a custom event, contact InSites at InSitesToGo@gmail.com
The INdiana 200 is a grand tour of Indiana | Celebrating Indiana in 200 hours

: Fall Colors!
: EVERY AFTERNOON | the 2:00 toast in honor of Indiana
: architecture, music, sports, history, forests, arts
: the Ohio, the Wabash and Lake Michigan
: a sunrise breakfast aboard the Hoosier Train
: historic inns, contemporary hotels, reimagined landmarks
: the Bicentennial Torch Hoosier Homecoming Celebration in Indianapolis

The INdiana 200 will travel from...
: Hammond to Pokagon
: Fort Wayne to Muncie
: Richmond to Rising Sun
: Clifty Falls to Corydon
: French Lick to Tell City
: Evansville to New Harmony
: Vincennes to Terre Haute
: Bloomington to Indy
: Turkey Run to Prophets Town
: Crown Point to Marquette Park
: with stops in between, and the occasional route variation

Indiana Torch Display
Torch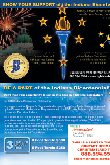 8 foot tall torch with LED rope lighting and ground mount. Also option of a 5 foot pole or wall mount, no lighting.
Made in Indiana
Great wat to show your support of the Bicentennial
Made of steel and is powder painted
8 Foot torch has LED lighting
Indiana Bicentennial Birthday Star Ornament
Ornament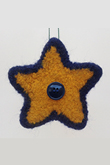 Celebrate Indiana's 200 years of statehood with an Indiana Bicentennial Birthday Star Ornament. Designed and made by Indiana Artisan Jennifer Berger of Zionsville. Each star is made from 100% wool and a navy blue button.
Size: Approximately 3" diameter
Handmade in Indiana
Limited Availability
3-3" IN 1816 Vinyl Sticker Pack
Sticker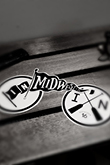 We all love stickers and what better way to commemorate 200 years of Indiana becoming a state.
You'll receive three different 3" vinyl stickers in a pack (as shown in the picture - Midwest • IN Flag, IN Circle Flag & 1816 Patch Sticker)
The stickers are 100% weather proof...can go on windows, folders, bumpers, etc.
3" Stickers
1816 Patch Sticker
IN Flag
Stickers
Vinyl Stickers
Muncie IN 150
Book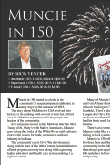 The book is a look at Middletown USA, now and then, some tell all and hope for the future. Muncie just celebrated its sesquicentennial and some of those defining moments are captured in this work.
Read about a Cowan farm boy mentored by Oscar Hammerstein and sang opera in New York, London and Paris.
Enjoy the tails of that cat from Albany and Garfield's recent travel to China in search of lasagna.
There's the Ball State legacy of a community and college coming together to build a gathering place for all.
The state of Muncie is strong with a new $100 million DWNTWN
Indiana Bicentennial Commemorative Plate
Proceeds Support Riley Hospital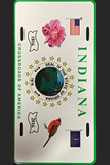 Since the great state of Indiana is celebrating it's bicentennial in 2016, the Auburn Kiwanis Club members of DeKalb County are selling the attached plates to help commemorate Indiana's 200 years. It shows the official seal, the American and State flags, the cardinal (state bird), the peony (State flower), and has the slogan "Crossroads of America" at the bottom. This plate is 6" x 12" in size that can be put on the front of vehicles or you can hang it up in a special place of your liking as a great souvenir for years to come.
The proceeds from this project are going to benefit Riley Children's Hospital in Indianapolis. The plates sell for $10 per plate, plus shipping and handling of only $1.50.
Interested buyers can send $11.50 and make out checks to:
Auburn Kiwanis Club
PO Box 183
Auburn, IN 46706
Please be sure to include where to mail your plate (no PO Boxes please).
Proceeds Support Riley Hospital
Size: 6" x 12"
Indiana Home Ornament
Holiday Ornament/Keepsake
Our Indiana ornament is made from lightweight aluminum, and strung on gray and white striped jersey knit. It makes a great gift for newlywed couples who are new to the area or those who have lived here many years.
Aluminum ornament
Approx. 2" x 3"
Customization available
Includes a gift box, ready for giving!
Indiana Area Code Keyring
Keychain
This adorable Indiana is the perfect way to show off your Hoosier pride. It is hand stamped with the 317 area code (if you need 812, 765, 219, 260, 930, or 574 instead, that's fine too!) and hangs on a metal key ring.
Aluminum Pendant on base metal keyring
Approx. 1.25" long
Includes a gift box, ready for giving!
Can be personalized
Giant Indiana License Plates
John Bickel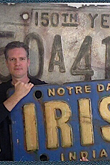 Can custom make to your liking: Color, Date, Phrase. All hand made from wood. No two are alike. I'm holding a 2' x 4' plate. The one behind me is 3' x 6'. They are light in weight and easily hang on the wall (interior only). Prices start at $400 for a 2' x 4' plate (shipping not included). Email: johnbickelsigns@yahoo.com what you want and I'll get back with you with a price and timeline. Thank you !!!
Giant Hoosiers License Plate
John Bickel
Custom made to your liking. This is an example of one that I made for a customer. 2' x 4'. Hand made from wood. No two are alike. Email with what you want and I'll get back with you with a price and timeline. Thank You !!!
Giant Purdue License Plate
John Bickel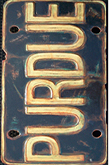 All license plates are hand made from wood. No two are alike. This example of a 2' x 4' plate was $350. Add INDIANA and a DATE and it would be $450. Email with what you want and I'll get back with you on a price and timeline. Thank You !!!
Your College ? Colts ? Pacers ? Your Name ? Whatever you want on a giant hand made license plate.
Giant South Bend Cubs License Plate
John Bickel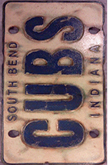 Here is an example of one that I did for the South Bend Cubs. Can custom make to your liking. Email me with what you want and I'll get back with you on a price and timeline. Thank You !!!
Giant Indiana 200th Year License Plate
John Bickel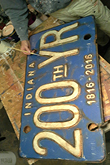 Just finishing up this one. 2' x 4'. $450 (shipping not included). All license plates and signs are hand made/painted with raised letters and numbers just like the old-school plates.
Custom made to your order.
Indianapolis Arrow
John Bickel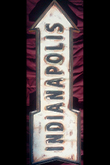 This is an example of my vintage looking arrows. Hand made from wood. Arrows can range from 2' wide to 8' wide. Let me know what you want and I'll get back with you with a price and timeline. Thank You !!!
Indiana Bicentennial Commemoratives
Wooden Tea Light Box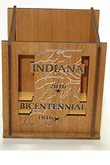 To celebrate Indiana's Bicentennial we created a wooden, laser engraved Tea Candle Box. Each face is engraved with an images depicting Indiana. The front show the two state capitols with the major rivers that aided the settlement of Indiana. One side shows the state bird and the leaves of the state tree. The other side depicts the Woods Bison that populated Indiana in the early days. The back panel is the logo for the Indiana Bicentennial Commission.
(Please note: this item is not suitable for use with a real candle. Please use LED tea candles for illumination.)
Indiana Torch and Stars Bevel Ornament
Ornament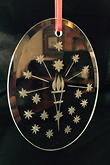 Warsaw Cut Glass has designed an Indiana pattern depicting the Torch and Nineteen Stars on an oval bevel ornament. The bevel's dimensions are 3.75" x 2.75" and it hangs on a red ribbon. Each come boxed and includes a Warsaw Cut Glass Company history sheet
Ornament is hand cut on belt driven stone wheels by our master glass artisan
Free hand design makes each piece an original
Warsaw Cut Glass is one of the last American facilities that practices the craft of hand cutting crystal.
Indiana Love Recycled Rainbow Crayon
Indiana Shaped Recycled Crayon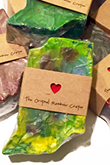 There is certainly more than corn in Indiana! Show off your Hoosier handmade pride with this colorful, Rainbow Crayon™ creation!
Indiana Love Rainbow Crayons are made from recycled crayons
From a handmade artisan that was the first to ever sell a recycled crayon on Etsy.com
Indiana Love Rainbow Crayons make a perfect gift for kids or artists!
Measures 2.5" x 1.5" x 1"
Indiana Bison-tennial Bison Ornament
Ornament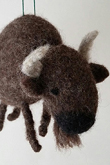 Celebrate Indiana's Bison-tennial with an Indiana Bison-tennial Bison Ornament. Designed and made by Indiana Artisan Jennifer Berger of Zionsville. Each Bison is knitted and felted in 100% wool.
Size: Approximately 5" long x 2" wide x 4" high
Handmade in Indiana
Limited Availability
"The Indiana Years & Between Friends"
Book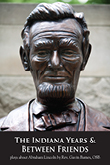 72-page softcover book featuring two plays about the life of Abraham Lincoln, written by Fr. Gavin Barnes, a Benedictine monk of Saint Meinrad Archabbey.
"The Indiana Years" is about young Abe's life (ages 7-21) growing up in Indiana – working with his father, grieving the deaths of his mother and sister, and encountering slavery for the first time. The play was performed during a 1959 sesquicentennial celebration at Lincoln Boyhood National Memorial in Spencer County, Indiana.
The play "Between Friends" describes the developing friendship, through a series of letters, between President Lincoln and his Civil War generals, Ulysses Grant and William Sherman. The play was featured during the 2012 season at Lincoln Amphitheatre in Spencer County.
Softcover book, 72 pages
$5.99
Two plays about Abraham Lincoln's life
"The Indiana Years," about growing up on the Indiana frontier
"Between Friends," about his friendship with Civil War generals Ulysses Grant and William Sherman
Ouabache
Book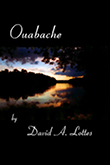 Ouabache is the old French spelling of Wabash, the Algonquin word Waapaahšiiki, the name the Miami Indians gave to the river that runs through Ohio, Indiana and Illinois. Based on a mix of facts and folklore Ouabache is the story of a boy and his mother struggling to find their place on the frontier of French Colonial North America. Featuring actual events and characters from history the story follows Charlotte and her son La'Havre from the Mississippi Delta to the Wabash River Valley painting a vivid picture of life among the French and Native people who occupied the land in the eighteenth century.
O'er the Land of the Free
Book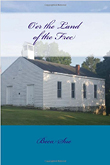 Historical fiction book with a setting of Southern Indiana during the 1860's. The book begins with a family who owns a general store being involved in the Underground Railroad and continues through the Civil War. The book speaks of the Battle of Corydon, the only Civil War battle to take place in Indiana, and Morgan's Raid which followed. It also tells about Thomas Hines, a Confederate spy, crossing into Indiana with 60 Confederate soldiers dressed in Union uniforms in search of Copperheads.
Underground Railroad in Indiana
Civil War
Rural Indiana during the 1860's
Indiana Bicentennial Commemorative Beverage Koozie
Indiana Elements Beverage Holder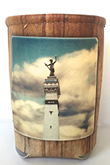 A can sized holder, celebrating Indiana's bicentennial year! Each one is handmade (stitched up by me) in my Indianapolis studio after the photo image has been transferred to recycled leather. On one side is the image of beautiful Soldiers and Sailors Monument, located on the famous circle in downtown Indianapolis. The other side is graced with the official bicentennial logo. And what could be better for our background than an image of barn wood?! These feel plush and nice to hold, while keeping your beverage of choice nice and frosty!
Beverage cooler
Hand made in Indiana
Official Bicentennial logo
Image transferred to recycled leather
Plush feel
Ralph's Indiana Bicentennial Coloring and Activity Book
Book
On the state's 200th birthday, Ralph the raccoon tells Indiana's story. Navigating through pictures to color, activities to complete and puzzles to solve, Ralph teaches Indiana history, from pioneer times to today. Individual copies may be purchased through the accompanying link. For multiple copies, contact the author at drawingsmiles@yahoo.com and a discount price may be arranged.
46 pages
Includes dot-by-dot drawings, crossword puzzle, word search and a maze
Upper elementary level
Written and illustrated by Indiana author/illustrator Lee P. Sauer
Indiana Stained Glass Ornament
Ornament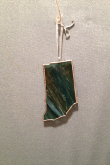 This unique and colorful piece of history, formed in the shape of the State of Indiana, commemorates the 2016 Indiana Bicentennial. Each ornament is one-of-a-kind and hand crafted with stained glass (circa 1910) rescued from the former Angola Christian Church.
Size: Approximately 2 1/2" X 4"
Hand Crafted in Indiana
Limited Quantity Available
$20.00 each - includes shipping
Contact Email: historicgatekeeper@gmail.com
Email historicgatekeeper@gmail.com to order
Blue's Road Trip Through Indiana
Book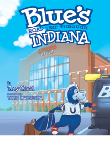 Join the Indianapolis Colts mascot, Blue, on a road trip as he shares some of his favorite places around Indiana. From A to Z, readers will explore several of the state's hidden treasures and well-loved attractions.
Audience: elementary-aged children (Preschool - 6th grade)
Currently available on colts.com\blue, Colts ProShop, Amazon, Barnes and Noble and Meijer
Indiana State Flag Sticker
Sticker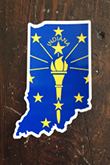 Combining the most beautiful state flag and the most beautiful state borders, this 3x5 vinyl sticker is simply, well, beautiful.
Durable
Weatherproof vinyl sticker
Awesome Indiana!
Book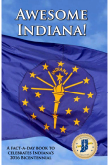 A fact-a-day book to celebrate Indiana's Bicentennial
Created by Book Group of Bloomington
A roster of people, places, incidents and inventions that celebrate the Hoosier Bicentennial in calendar format
Proceeds will benefit the historic and renovated Tivoli Theater in the quaint town of Spencer
Bicentennial Ornament
Ornament
The Indiana Bicentennial Ornament is made by Indiana Metal Craft.
2 1/4" diameter ornament
Cast unleaded pewter
Blue ribbon attached
Gift boxed
Indiana historical information etched on reverse
Bicentennial Ornament
Ornament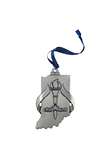 The Bicentennial Ornament is made by Indiana Metal Craft
2 7/8" x 3.5" ornament
Cast unleaded pewter
Blue ribbon attached
Gift boxed
Indiana historical information etched on reverse
Reflections of Orange County
A Pictorial Journey Through Orange County, Indiana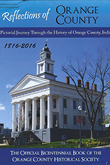 Beautiful hard cover pictorial book celebrating Orange County, IN (1816-2016)
Official Bicentennial Book of the Orange County Historical Society
More than 200 pages of historic images (many never before published)
Only limited number available
To order email info@historicorangecounty.org
Coloring Book
Coloring Book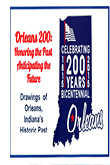 Coloring Book of Orleans, Indiana's Historic Past
Collection of drawings of historic places and people of Orleans, Indiana
To order email historicorleans@netsurfusa.net
"A Town Born of Victory: 200 Years of Triumph"
Orleans, Indiana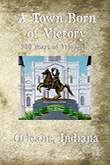 An original film, a project spanning three years of filming and preparation, tells the story of historic Orleans through new and vintage photos and old film footage, as well as through verbal stories presented by local residents and former residents.
Orleans 200 Committee Chair Robert F. Henderson said, "This documentary like movie is something very special. Years after the bunting is down, the fireworks displays have ended, and the bands have quited, this piece of film will serve as a treasured icon of Orlean's historic past and bright future."
"A Town Born of Victory: 200 Years of Triumph" has been designated as an Official Bicentennial Legacy Project by the Indiana Bicentennial Commission in recognition of its relevance to Indiana and the way in which it tells the story of so many rural communities throughout the Hoosier State.
DVD
82-Minute Documentary style Movie
200 Year History of Orleans, oldest town in Orange County, IN
*Official Bicentennial Legacy Project
To order email historicorleans@netsurfusa.net
Celebrating Indiana Puzzle
Main Streets Across America
This 500 pc. puzzle celebrates many of the communities that make Indiana a wonderful place to live and to visit. From college and agricultural towns to tourist centers and industrial hubs, the illustrated map depicts over 100 places in Indiana.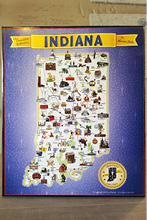 500-piece jigsaw puzzle
Illustrated by Hoosier native, Liz Maginity Woods
Officially Endorsed Indiana Bicentennial Legacy Project
Finished size is 19.25" X 26.5"
Box size is 10 X 12 x 2.6"
Indiana Bicentennial Pin
Wa-Pe-Ke-Way Chapter, National Society Daughters of the American Revolution
In celebration of the Indiana State Bicentennial, the Wa-Pe-Ke-Way Chapter, National Society Daughters of the American Revolution (NSDAR) is selling Bicentennial Pins. What a wonderful way to show your Hoosier pride by wearing this pin depicting the State of Indiana in Indiana state colors blue and gold with the state bird (cardinal). The word Bicentennial appears diagonally across the state symbolizing a statewide celebration. This pin can be easily stored and passed on for generations.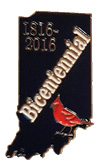 Size: 1.25" x 1/2 "
Clasp: Tie Tack Clasp
Cost: $10 plus $2.50 shipping
Contact Wa-Pe-Ke-Way Chapter, National Society Daughters of the American Revolution at wpkwregent@yahoo.com to order.
Swimming in the Shallow End
Philip Raisor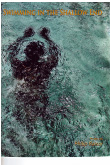 Swimming in the Shallow End (Turning Point Books, 2013) is about a town which many Indiana natives could recognize as their own. Specifically located in Muncie, this full-length collection of poems evokes, as one commentator observes, "the experience of living in and coming from this quintessentially American Community—its joys and sorrows, its characters, its feel—in a way no social survey could."
Narrative poetry at its best. A verse memoir that examines the archetypal American conflict between the desire to stay and the passion to go.
Take any community; every street, in and out, is crowded with the dreams and frustrations of characters who seek their identities on the road or in their favorite diners.
In an exchange of stories between the narrator who returns like the prodigal son and his wayfaring friend, the worlds of the Bronx and Paris and Hanoi are not far from Muncie, Indiana.
Like William Carlos Williams' Rutherford, New Jersey, and B. H. Fairchild's Liberal, Kansas, Philip Raisor's Middletown is a neighborhood pool that never seems long or deep enough, but grows large in memory and the imagination.
Hoosiers the Poems
Philip Raisor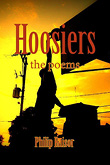 Hoosiers the Poems (Palooka Press, 2013) is a chapbook, which one reviewer observed, "Once you get over the shock of reading a collection about basketball, you find smaller, subtler surprises: a strong voice, a firm grasp of imagery, a slowly developing narrative." In Hoosiers the poems, Raisor turns to one of America's great passions: basketball. Fans in the stands, kids on playgrounds, last-second shots, old-timers remembering glory days. Who has not seen 'Hoosiers'?" Raisor asks, recalling the 1986 movie often identified as one of the sports world's all-time favorites. Having played in the Indiana state championship game that inspired the movie, and later a teammate of Wilt Chamberlain at Kansas, Raisor reviews that youthful time with a temperate but somewhat jaundiced eye. He replays the humor, drama, and spiritual sustenance of the athletes' world of the 1950s, but he cannot erase from his mental map the injuries, racism, war, and unfulfilled dreams that girded the social and personal outrage eventually released in the 1960s.
Outside Shooter: A Memoir
Philip Raisor
"It is the kind of narrative that gives memoir a good name. A story of such honesty and humor and directness that the reader is made to feel as if he has not merely read about experience but lived through its pulse beat. It is a story that only a few individuals in America could tell this well and with the authority of such details: a coming-of-age story about facing loss and finding love; about the ugliness of racial discrimination and the necessary courage to stand against it; about basketball and dreams; about what divides us and makes us whole. It is a chronicle not only of Phil Raisor's coming of age but America's as well." Michael Pearson.
A close analysis of the 1954 state championship game between Milan and Muncie (I was in the game).
Remembering Oscar Robertson and Wilt Chamberlain
Sports and civil rights in Indiana and Louisiana in the 1950s and 60s
Growing up in Indiana, finding love, holding on to midwestern values.
Our Hoosier Heritage and Its Foundation 1680-1820
M.T. Publishing
Authored by Lawrence County Historian Ron Bell, Our Hoosier Heritage and Its Foundation gives a short review of the Indian culture, individual Indian naming habits and tribal units found in the old Northwest Territory. Included in the book is a review of the early and little known men who helped determine the development of Indiana, their language peculiarities and recollections of early events in their lives. It contains a short review of the entry dates of the first Indiana counties and some time sensitive maps of the county boundary as development occurred.

Also included are comments on the life style of the settlers and how the term 'Hoosier' evolved.
6" x 9"
Soft cover
96 pages
Indiana's Wabash River Valley
M.T. Publishing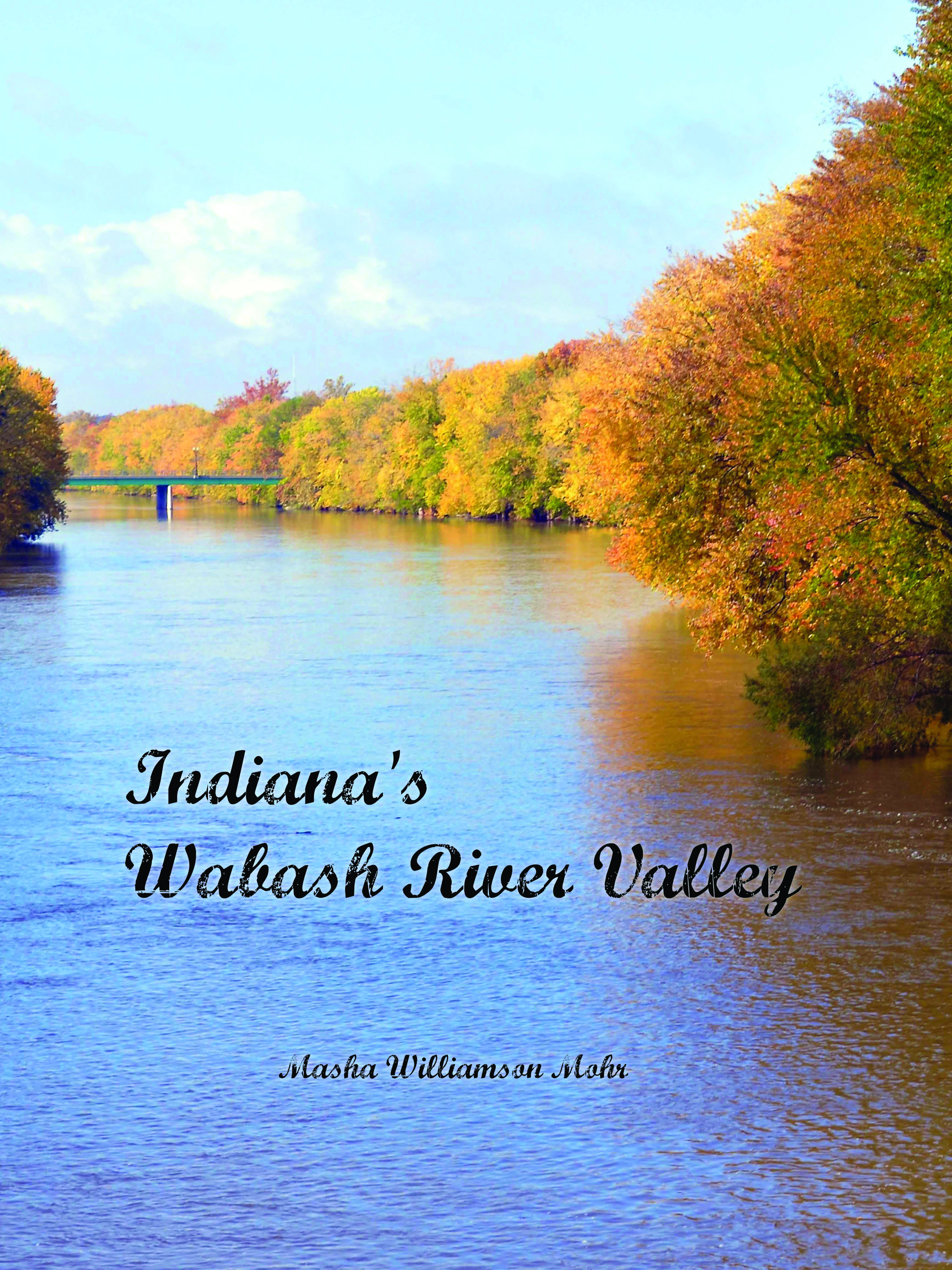 Marsha Williamson Mohr has been photographing for close to 30 years. Her fourth book, Indiana's Wabash River Valley, is currently underway. Two of her previous books on Indiana have won the prestigious IPPY Awards. Marsha's photos have been published in national magazines, on post cards and in calendars as well as in Indiana at 200: A Celebration of the Hoosier State, the official book of Indiana's Bicentennial. Living in West Lafayette, IN since the age of nine months, she has enjoyed the Wabash River. It made sense for her to pursue a project on the Wabash and its valley.

Taking miles to collect the library of approximately 500 images, this book will be highlighting the whole river from it's beginning in Fort Recovery, Ohio, to it's terminus at the Ohio River.
9" x 12" Coffee Table Size
Hardbound
Approx. 192 all color pages
Authored and Photography by Marsha Williamson Mohr
DVD - Video Highlighting Bicentennial Torch Relay through Perry County & Fireworks Finale
Lily Road Aerial Photography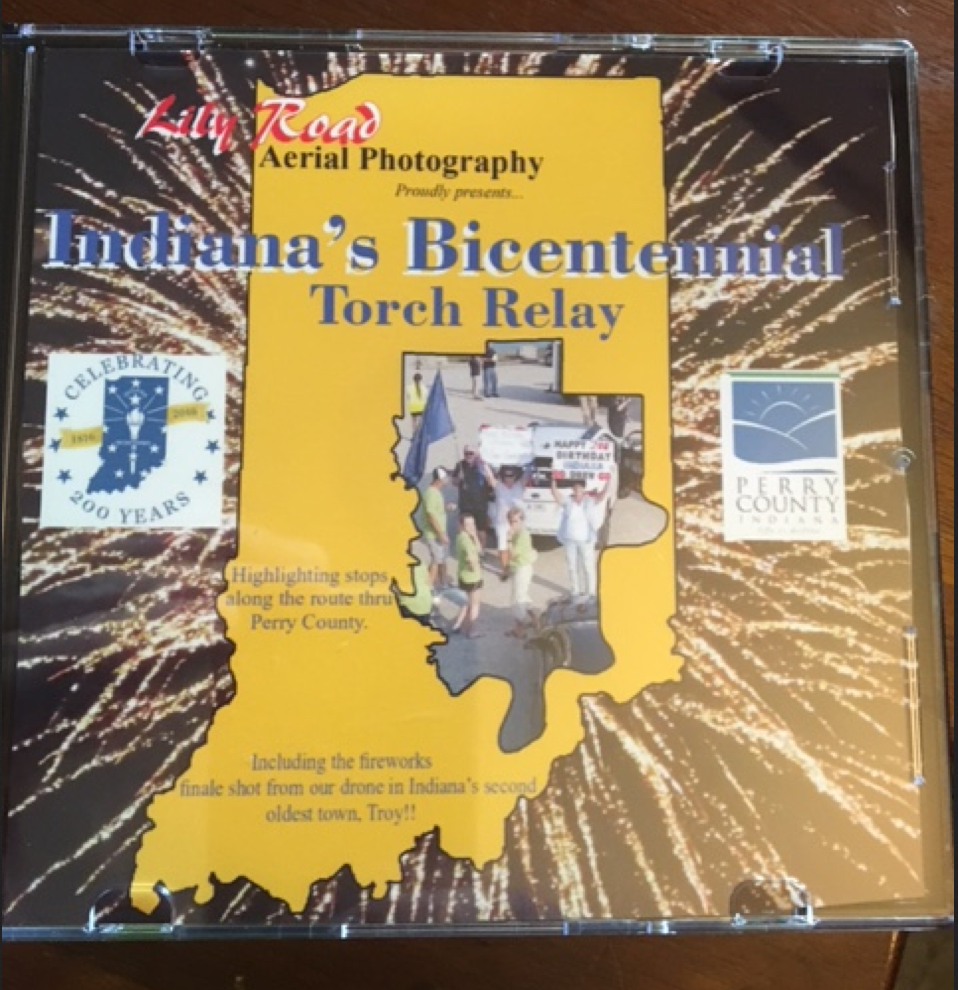 This DVD highlights the stops and many torch bearers along the route thru Perry County shot from our drone. It contains amazing footage of the advancing motorcade shot from the air in a cinematic presentation unlike any other. It also includes the closing ceremony's fireworks show almost in it's entirety, also shot from the air with our fantastic drone. You have never seen fireworks like this before!!
DVD video of Torch relay thru Perry County
Shot from the air with our drone
Derby, Rome, Rocky Point, Camp Koch, Cannelton, Tell City & Troy
Closing ceremony's fireworks finale from the sky (drone coverage!)
Boone County
Images of America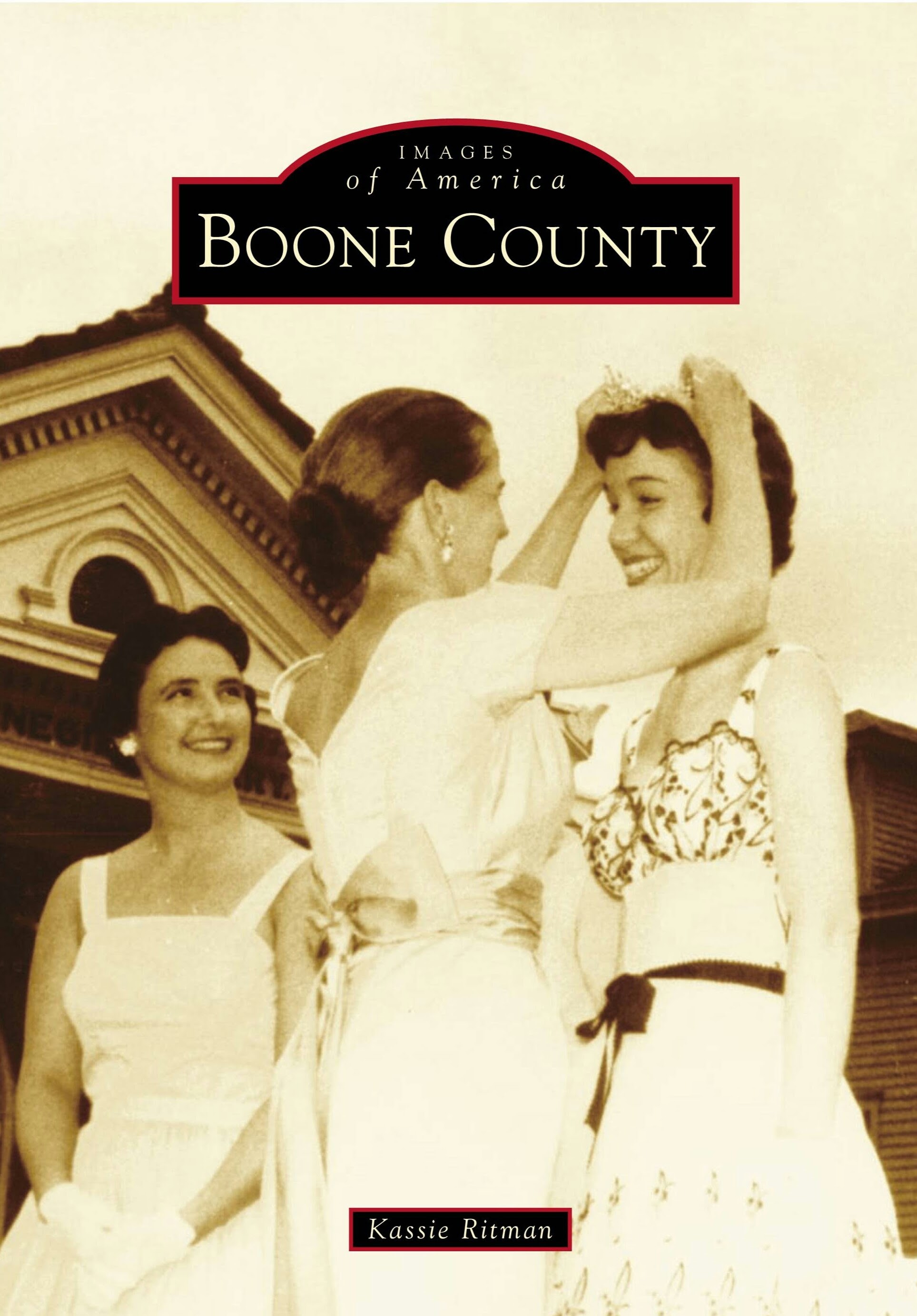 From Arcadia Publishing's popular Images of America series, Boone County is loaded with more than 200 old photo images. Written to coincide with Indiana's Bicentennial Celebration, even life-long residents will find a surprise or two between the covers. Author Kassie Ritman grew up in Boone County with deep roots reaching back to the earliest settlers. Her love and admiration for her home county shines through in every info-rich caption
128 pages
More than 200 vintage and historic photos--many from private collections, never published before
An entertaining "history-in-hand"
A treat for anyone with the thinnest connection to Boone County
Appropriate for all age-levels
Covers 1830-1980
The State of Boone
The tales we tell, the ones we've been told & the stories we should never forget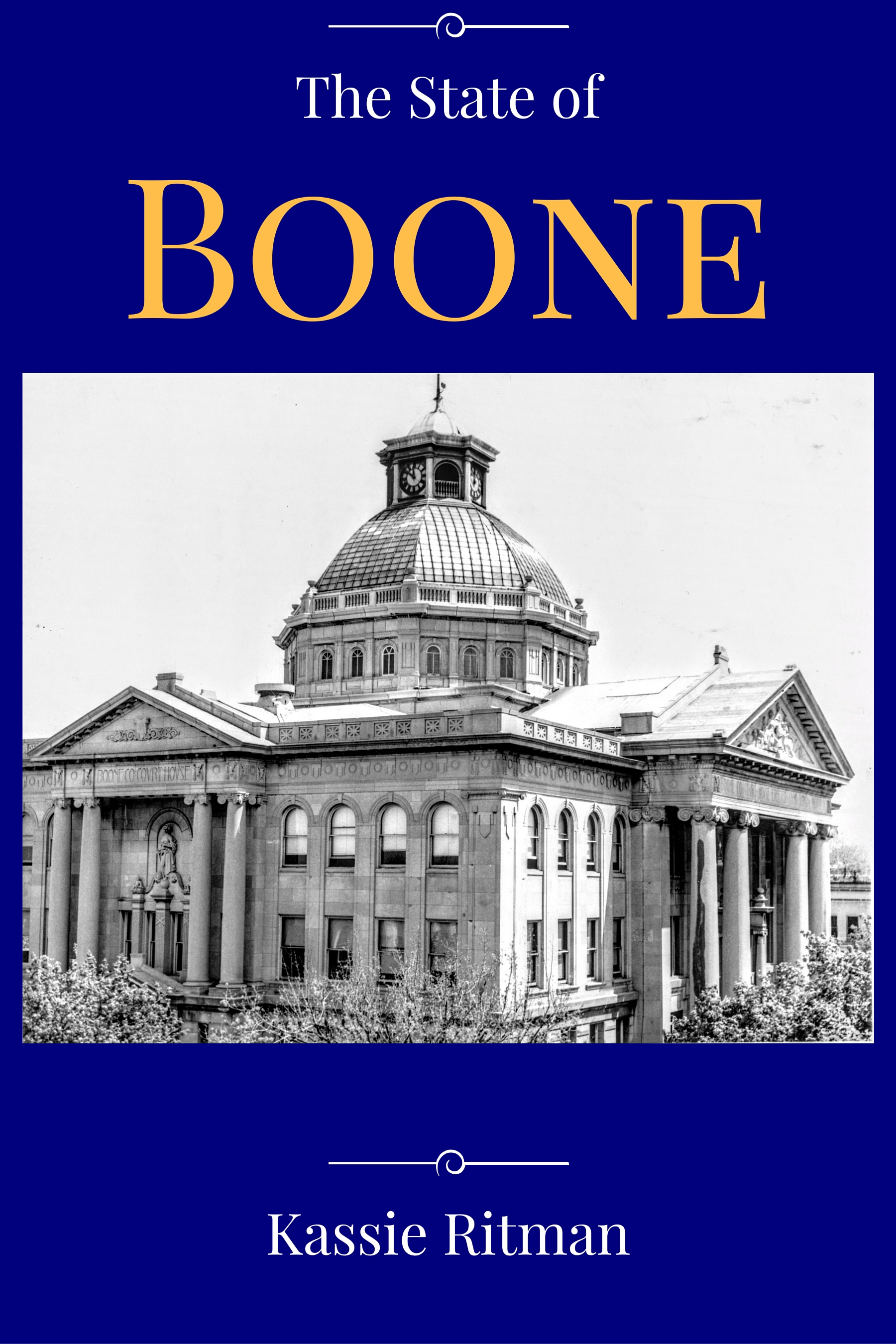 The State of Boone is the companion to Boone County. Here you will find the tales, legends and people who are on the brink of being forgotten. Told with a storyteller's flair, The State of Boone explores the true events behind many legends all Boonites have grown up accepting at face value. If you know someone who loves Boone County, loves history or good stories--this book is a must-have.
Many lists of names, extinct towns, cemeteries and defunct schools--a family historian's delight
Stories of Forgotten Graveyards, Madstone Cures, Tall Tales, Lynchings, Crimes, Characters, Gorillas, High Hopes and Low Morals--and lots of Stuff that makes us laugh until we cry.
Unique, and good-hearted, just like Boone County and all of its citizenry over nearly 200 years
Bicentennial Playing Cards
L & D Mail Masters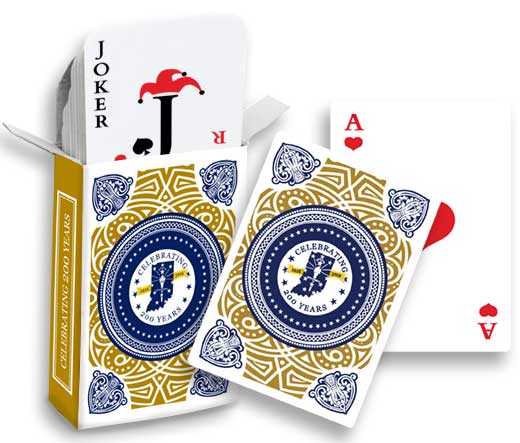 Celebrate Indiana's bicentennial year with this deck of playing cards.
Deck of 52 playing cards + 2 jokers and 1 "fun-fact" card.
Features the Indiana Bicentennial logo on the box and the cards.
Reflections
Leader Publishing Company of Salem, Inc.
A Bicentennial history of Washington County written by local author and historian, John Hughes.
More than 500 pages of fascinating facts, folklore, photographs and history for every township in Washington County.
Indiana Ornament
Legacy Images, LLC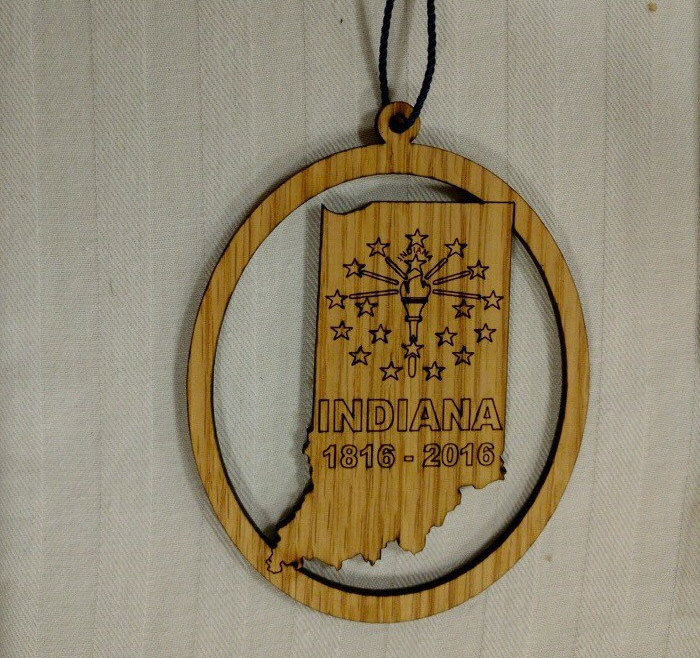 Celebrate the Indiana Bicentennial 2016 with these beautifully engraved Indiana Ornaments! This only comes around once, so grab yours now.
Does Indiana have your heart? You will love these Indiana State Ornaments. Each ornament is beautifully laser engraved and is approximately 3.5"x4".
Oak
Laser Engraved
approx 3.5x4
Made in Westfield, IN
Indiana Bicentennial 2016 Paperweight
Prestige Art Glass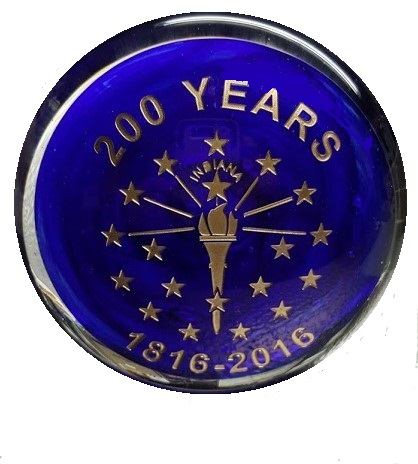 Cobalt Blue, Hand Blown Glass Bicentennial Paperweight - 2016
Hand Blown Glass
Made in Elwood, IN 46036
Cobalt Blue
Lettering is Gold Engraved
Approximately: 4-1/2" Diameter
Approximately: 4-3/8" H x 1-7/8" W x 4-1/2" L
PRICE: $65
Will ship anywhere
To order, email michelle.prestigeartglass@gmail.com.