The specially commissioned Indiana Bicentennial Medal honors the 200th anniversary of Indiana statehood.
Design and Minting Process
The Indiana Bicentennial Commission, assisted by the staff of the Indiana Arts Commission, sought an artist to create the obverse (heads) for the Indiana bicentennial commemorative medal. The work was to be reflective of Indiana's 200 years of history. The Indiana State Seal would be represented on the reverse side of the medal. The winning artist would receive a $5,000 cash award for their deesign. You can view the Indiana Bicentennial Medal Design Contest Guidelines here.
Nearly one hundred designs from fifty artists across the state were submitted to the six independent bicentennial medal judges who evaluated the designs on their historical and artistic qualities. It was Donna Weaver, a Vevay, Indiana resident who was chosen from the competition to design the official commemorative Indiana bicentennial medal.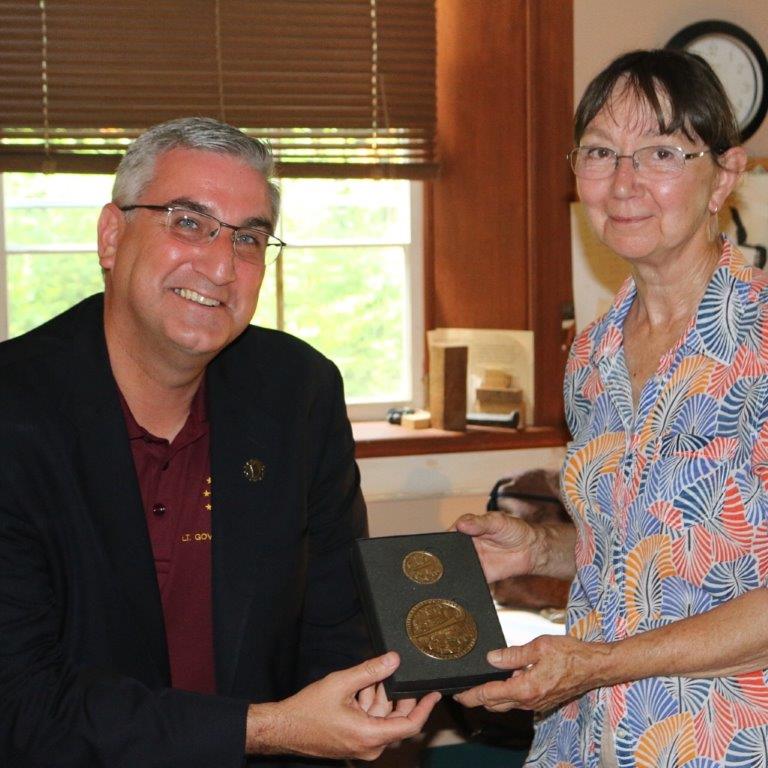 About the Artist
Weaver is an Indiana Artisan and was named as one of Early American Life magazine's best artisans in 2010. After receiving a Fine Arts degree from the Art Academy of Cincinnati in 1966, Weaver worked with Kenner Toys and Hasbro, sculpting children's toys. In 2000 Weaver began working as a sculptor-engraver with the United States Mint. Although she retired in 2006, Weaver continues designing specific coins as a part of the Artistic Infusion Program at the Mint. Weaver is credited with more than seventy designs, but some of her most notable projects were sculpting the new nickel design and twelve commemorative state quarters.
Weaver mostly sculpts miniature wax portraits in bas relief, preferably of early American figures, well-known or not, who helped develop Indiana. Bas relief is an art form originally popular in the mid-18th century and Weaver believes she is the only person in the United States currently creating it. Weaver told Indiana Artisan that her portraits "appeal to the person who loves history and wants to see a beautiful, traditional piece of sculpture on their wall or to give as a special gift."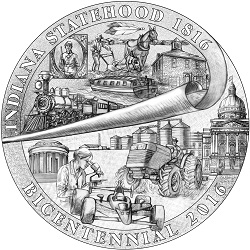 About the Design
Weaver's preliminary design "Indiana Revealed" shows how Indiana has changed and evolved since it was first established.
When looking for references for her bicentennial medal design, Weaver said she looked at an Indiana history book, and then winnowed the design down to what she felt was more significant. Weaver's design centers on a page being turned in Indiana history showing both formative years and modern achievements.
Weaver said she made a special effort to include references to the Civil War because of the state's significant connection by way of James F.D. Lanier's financial support. The design also includes references to farming, medical research, industry and depictions of the the first capital in Corydon and George Rogers Clark National Historic Park in Vincennes.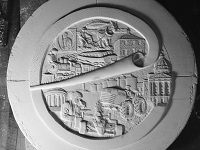 "The work of Donna Weaver is exemplary of the artistic talent and dedication to the craft that we see throughout Indiana," said Randall T. Shepard, former Chief Justice, Indiana Supreme Court and member of the Bicentennial Commission.
Minting
Donna Weaver worked with Bloomington, Indiana minting company, Indiana Metal Craft, to develop the final design of the commemorative medal. Indiana Metal Craft was chosen due to its expertise in creating lasting works of medallic and emblematic art in cast pwter, cast brass, and die struck brass and nickel silver.
Bronze Medals
Available in diameters of 1 ¾" or 3", both keepsake sizes are available in antique bronze.
Finish:
Antique
Composition:
Die Struck Brass
Content:
Coin
Medal
Diameter (in):
1.75
3.00
Weight (oz t.)*:
1.39
6.25
Run:
Edge:
Smooth, not numbered
Mint:
Indiana Metal Craft
Sterling Silver Medals
The Indiana Bicentennial Commission created limited-edition sterling silver bicentennial comemorative medals. These limited-edition medals were numbered and accompanied by a certificate of authenticity. A very limited number of medals were minted, and sets of two received priority numbering.
Finish:
Antique
Composition:
Sterling Silver
Content:
0.925 Silver, 0.075 Copper
Coin
Medal
Diameter (in):
1.75
3.00
Weight (oz t.)*:
1.49
6.53
Run:
140
61
Edge:
Smooth, numbered
Mint:
Indiana Metal Craft
*Because of the blank, strike, and trim process used for both medals, we cannot guarantee an exact gross weight of the finished product.
Sponsor
The development and production of the Indiana Bicentennial Medal is being underwritten by the Indiana Bankers Association. Indiana's bankers also participated in the 1916 commemorative medal for Indiana's Centennial.
"We are proud to be the presenting sponsor of the Bicentennial Commemorative Medal," said Joe DeHaven, Indiana Bankers Association President and Chief Executive Officer. "The medal will serve as a lasting reminder of this special moment in Indiana History."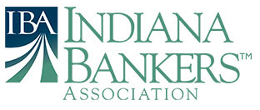 Order Information
Discounted pricing is available for bulk purchases of 10+ medals. Call 888-263-4702 for details.
You can order the Indiana bicentennial medals by visiting: http://mtpublishing.com/index.php/default/medal-sets.html#.WFlDzFMrJph