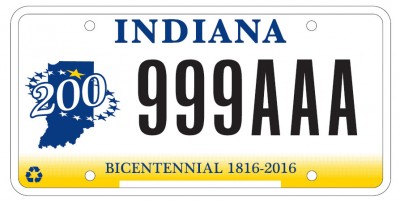 On October 11, 2012, the Indiana Bicentennial Commission and Bureau of Motor Vehicles unveiled the state's new license plate, which featured a bicentennial theme.
The bicentennial license plate replaced the former plate containing an image of the torch from the state flag. The new bicentennial plate had a white background with "Indiana" printed at the top in large blue capital letters and "Bicentennial 18-16-2016" printed in small blue type on a yellow-colored strip along the bottom of the plate.
To the left of the black registration numbers in the center of the plate is a blue image of the state's shape with a large "200" printed diagonally across the middle. The state is surrounded by 18 blue and white stars and a single yellow star, marking Indiana's spot as the 19th state to join the union.
At the unveiling, Indiana Bicentennial Commission Co-Chair, Becky Skillman stated, "We can't think of a better way of raising the awareness and preparing all of our people for the bicentennial than having millions of vehicles traveling our streets and our highways advertising this bicentennial."