The Indiana Bicentennial Marketplace is an opportunity for artisans to create and sell Bicentennial-related products. Click on any of the images to see the product in more detail.
Are you looking for a Bicentennial-themed product that is not in our marketplace? Email info@indiana2016.in.gov to request a particular item. We will then reach out to our Marketplace partners to see if they can accommodate your request!





Product Categories
Art & Prints | Clothing & Accessories | Home & Living | Souvenirs & Collectibles
Featured Products
Indiana Bicentennial Book
Commemorative book available for purchase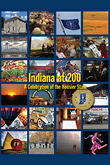 With the state's 200th anniversary quickly approaching, we are pleased to announce the publication of the official bicentennial book, Indiana at 200: A Celebration of the Hoosier State. This collector's book celebrates our milestone in words and images that reflect a variety of experiences and reveal the special character of Indiana. The book reflects on Hoosiers' lives today and how our 200-year history informs our present and shapes the future. The limited edition 248-page coffee table book includes an introduction and 14 chapters, each opening with a short essay by a noted Hoosier, followed by photographs; quotes and anecdotes from Hoosiers of diverse ages, backgrounds and experiences. Sidebars that highlight unique and surprising facts about Indiana and its 92 counties are also incorporated.
9 x 12 inches, hardbound
248 all color pages
Color Dust Jacket
Indiana Bicentennial Medal
Commemorative medal available for purchase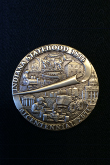 The specially commissioned Indiana bicentennial medal, sponsored by the Indiana Bankers Association, honors the 200th anniversary of Indiana statehood. Designed by an Indiana artist, the obverse side features iconic Hoosier imagery, and the reverse is inscribed with the Indiana state seal.
Available in diameters of 1 ¾" or 3
Both keepsake sizes are available in antique bronze or silver
Discounted pricing available for bulk purchases of 10+ medals
Prices include tax and standard shipping to the continental US states
Indiana Bicentennial Flag
Commemorative flag available for purchase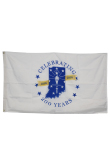 The official flag honoring Indiana's Bicentennial is now available for purchase. The Indiana Bicentennial Commission is also providing the white flags that feature the commemorative logo to all cities and towns throughout the state.
Available in 4" x 6" and 3' x 5' sizes
4" x 6" size has option of single or double base
Indiana Statehood Stamp
Commemorative stamp available for purchase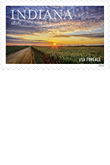 The Indiana Statehood stamp is being issued as a Forever® stamp. This Forever stamp will always be equal in value to the current First-Class Mail® one-ounce price. This stamp celebrates the 200th anniversary of Indiana's statehood. Known as the Hoosier State, Indiana became the nineteenth state of the Union on December 11, 1816.
Made in the USA

Issue Date: June 07, 2016