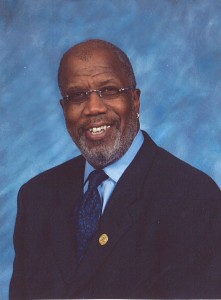 Indiana State Representative Charlie Brown grew up in Philadelphia. He moved to Gary upon completion of his undergraduate studies in education at Cheyney State Teachers' College (now Cheyney University) in Cheyney, Pennsylvania.
State Rep. Brown served as an educator in the Gary Community School Corporation from 1961 to 1968. From 1968 to 1988, Charlie served as Youth Coordinator, Mayor's Assistant on Youth Activities, Director of the Youth Services Bureau, Affirmative Action Officer and Risk Manager for the City of Gary.
Following his work in municipal government, Rep. Brown assumed the duties of CEO of the Gary Community Mental Health Center from 1988 to 1993.
Rep. Brown currently serves as a consultant providing health and management services to entitites seeking to foster positive interaction between governmental entities and the community. He has worked to bring together the best efforts of private and public organizations to improve social, educational and economic opportunities for Indiana's young people.
As a long-time champion and advocate on behalf of youth- and health care-related issues, Rep. Brown has successfully worked to enact a wide range of legislative initiatives in the Indiana General Assembly.
First elected to the Indiana House of Representatives in 1982, Charlie has served on a number of influential legislative committees. Perhaps his most prominent leadership role has been as chairman of the Indiana House Standing Committee on Public Health; even when not serving as chairman, he has played a key role as a member of this panel for many years.
His work on the Public Health Committee has given Rep. Brown the opportunity to work diligently toward one of his primary legislative goals: to provide affordable, accessible and high-quality health care for all Indiana citizens.
Among the most recent of Rep. Brown's legislative achievements was the key leadership role he played in 2007 in enacting a new statewide effort to promote improved health care for Hoosiers. Known as the Healthy Indiana Plan, Rep. Brown's House Enrolled Act 1678 (Public Law 218-2007) is one of the most innovative health care initiatives in the entire nation. The program provides expanded health insurance availability, improved prenatal care for expectant mothers and a bipartisan effort to encourage establishment of wellness programs among Indiana employers of all sizes.
As a community leader, Charlie has served as a board member for groups such as the National Civil Rights Museum, the Council for State Health Policy Leadership, the Coalition on Health Care in Gary, Indiana University School of Medical Education and Brother's Keeper of Gary. He has also served as a trustee for Saint Timothy Community Church. Rep. Brown is a charter member of the National Council on Black Child Development and was the founder of Mayor Hatcher's Youth Foundation.
Rep. Brown's accomplishments have been recognized by awards from many groups, including the National Association for Equal Opportunity in Higher Education, Indiana University Northwest School of Public & Environmental Affairs, the Alzheimer's Association of Indiana, Gary Community Mental Health Center, Boyhay Institute Legislative Leadership Development Fellowship, the Indiana Optometric Association, the Indiana AFL-CIO, the Indiana Council of Community Mental Health Centers, the Indiana Black Expo, the Mental Health Association of Indiana, and the Calumet Council of the Boy Scouts of America. He is also the recipient of the Cheyney University National Alumni Association Award, the NAACP Mary White Ovington Award, the Indiana Hospital Association's "Award of Merit," and the Lake County Medical Society Award, and was inducted into the Cheyney University Sports Hall of Fame.
Rep. Brown and his wife, Angela Baker Brown, reside in Gary. He is the father of a daughter, Charlisa L. Scott; and grandfather of two: Landon Charles Douglas Scott and Cole Nathaniel Scott.
When time permits, Charlie is an avid sports fan and music aficionado.