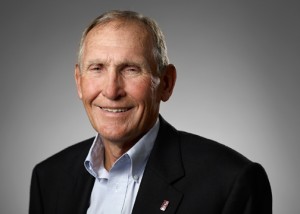 Stephen L. Ferguson is Chairman of the Board of Cook Group Incorporated of Bloomington, Indiana, the parent company of companies worldwide involved in the research, development, manufacture and sale of medical devices. Cook Group manufactures a variety of medical devices, products and components for radiology, neuro-radiology, cardiology, urology, obstetrics/gynecology, gastroenterology, and critical care.
A former partner in the law firm of Ferguson, Ferguson & Lloyd, 1966 to 1990, he remains of-counsel with the firm Ferguson & Ferguson. Mr. Ferguson is admitted to practice in the Supreme Court of Indiana, U.S. District Court, Southern District of Indiana, Indiana Court of Appeals, and the United States Supreme Court. He served four terms in the Indiana House of Representatives from 1967 to 1974.
Mr. Ferguson is active in a number of Indiana University, community, state and national organizations and has served or presently serves on the Indiana Bicentennial Commission, Indiana Chamber of Commerce (former Chairman of the Board), Indiana Chamber Foundation, Indiana Chamber Executive Committee, National Endowment for the Humanities, Clarian Health (now IU Health), Midwest Proton Therapy Institute, Indiana University Statewide Medical Education System, Indiana Health Industry Forum, Medical Technology Leadership Forum, Medical Device Innovation Consortium, Central Indiana Corporate Partnership (current Secretary), Regenstrief Foundation, Indiana Technology Partnership, Indiana Economic Development Corporation, 21st Century Research Fund, Center for Human Growth, Monroe County YMCA, Commission for Downtown Bloomington, Drum Corps International Foundation, Sycamore Land Trust, Hoosier Trails Council of Boy Scouts of America and Bloomington Parks and Recreation Foundation. He served on the Indiana Education Roundtable, is a former member and past Chairman of the State of Indiana Commission for Higher Education, 1992-98, and was appointed by Governor Frank O'Bannon in 1998 to the Indiana University Board of Trustees. He was re-appointed to the Board of Trustees by Governor Frank O'Bannon in 2001, Governor Joseph Kernan in 2004, and Governor Mitch Daniels in 2007, serving as President of the Board for three years.
Mr. Ferguson received his A.B. from Wabash College in 1963 and a J.D. with distinction from Indiana University School of Law in 1966 (Order of the Coif). He was also honored by Wabash College in 2014 with an Honorary Doctorate of Humane Letters. He has received numerous awards and honors including Business Leader of the Year in 2013 from the Indiana Chamber of Commerce, Lifetime Achievement Award in 2002 from the Bloomington Chamber of Commerce, selection as a 2011 Law Alumni Fellow by the Indiana University Maurer School of Law, selection as a 2005 Laureate of the Central Indiana Business Hall of Fame, and election to the Indiana Academy. Mr. Ferguson is a five-time recipient of the State of Indiana, Sagamore of the Wabash award.
A Cook Group legacy that Mr. Ferguson has been heavily involved with is building restoration. These projects began locally in Bloomington in the 1970s. The crowning jewel would come in 2007 with the return to glory of the West Baden Hotel and creation of the French Lick Resort.
A personal interest and an inherited family enterprise is the raising of Hereford cattle. The Ferguson Herefords farm in Lawrence County has been in the family for 200 years. Mr. Ferguson also derives much pleasure from a good game of golf and always loved coaching basketball at the Boys and Girls Clubs.
Mr. Ferguson is married to his wife, Connie Ferguson. Together, they have five children and ten grandchildren.