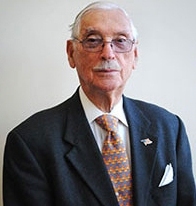 Mr. MacAllister is a prominent businessman and civic leader and is chairman of the board of MacAllister Machinery Co., Inc. He has been with MacAllister Machinery Co., Inc. since 1945. He is a past president of the Capital Improvements Board in Indianapolis as well as the Indianapolis Opera Company. He is a former Executive Director of the "Council on Cities" and was a Presidential elector in 1976, 1980 and 2000.
He is knowledgeable in Greek and Roman history; is especially familiar with the Florentine Renaissance; wrote a series of essays in 1976 for AED's monthly publication on the Bi-Centennial and a second series in 1987 on the Constitutional Convention; is a member of the Board of the American Schools of Oriental Research, which monitors and authenticates archaeological excavation in the Middle East (this includes Syria, Jordan, Israel, Iraq, Cyprus, and sporadic digs in Egypt). He has received a Doctor of Laws Degree, Honoris Causa, from Indiana State University; a Doctor of Public Service Degree, Honoris Causa, from Christian Theological Seminary; and a Doctor of Humane Letters, Honoris Causa, from Carroll College.
Mr. MacAllister has been awarded the prestigious Sagamore of the Wabash by four Indiana governors, and in 2014 he received Indiana's highest honor, the Sachem Award, from Governor Mike Pence.
Along with C. Richard Petticrew, the two have created "The MacAllister-Petticrew Chair" of Old Testament Studies at Christian Theological Seminary. Mr. MacAllister has created "A Chair in Old Testament" at Carroll College.