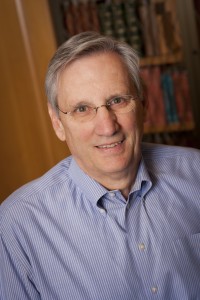 James H. Madison is the Thomas and Kathryn Miller Professor Emeritus of History, Indiana University, Bloomington. Jim has received several teaching awards, including the James P. Holland Award for Exemplary Teaching and the IU Student Alumni Association "Student Choice" Award.
He has also taught, as a Fulbright Professor, at Hiroshima University, Japan, and at the University of Kent, Canterbury, England. He currently serves as a member of the Board of Indiana Humanities, a trustee of the Indiana Historical Society, and a member of the Indiana Bicentennial Commission.
Jim is the author of several books, including Eli Lilly: A Life; A Lynching in the Heartland; Slinging Doughnuts for the Boys: An American Woman in World War II; World War II: A History in Documents, and The Indiana Way: A State History.