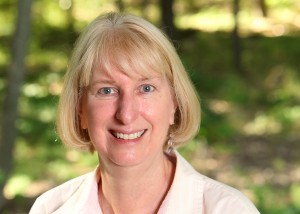 Mary has been State Director for the Indiana Chapter of The Nature Conservancy for the last 14 of her 22 years with the organization.
Under Mary's leadership, the Indiana Chapter of The Nature Conservancy has pioneered cutting edge conservation strategies that have been replicated around the world. Since their founding in 1959, the Indiana Chapter has helped to establish over 200 nature preserves in Indiana, protecting 100,000 acres of land. Their work along the Wabash, Muscatatuck and Tippecanoe Rivers is creating the template for finding
win-win solutions for fresh water conservation in the Midwest.
In 2010, The Indiana Chapter moved into their new headquarters in downtown Indianapolis. The building is widely recognized as the most sustainably constructed office in Indiana – at a cost that is comparable to regular construction. It is the first building in Indianapolis to receive a LEED Platinum rating from the US Green Building council, the highest rating attainable.
Mary has traveled extensively with the Conservancy to Central & South America, Australia, Asia and Europe. In 2004, she helped to represent the Conservancy at the World Conservation Congress in Bangkok, Thailand. In 2006 she led a global assessment of the world's forests for the Conservancy. In 2009 she led an international team to develop global strategies for sustainable forestry and agricultural production. She is currently leading a 13 state initiative for fresh water conservation on the Ohio River.
Mary has been appointed to a number of gubernatorial boards and commissions including the Indiana Heritage Trust, the Indiana Land Resources Council, the Sustainable Natural Resources Task Force and the Bicentennial Commission. She sits on the boards of several other non-profit organizations.
Mary is a graduate of the Kelley School of Business at Indiana University and spent the first 15 years of her career in industrial sales and management. She lives in Hancock County.