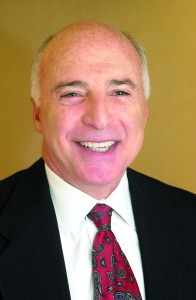 Michael S. ("Mickey") Maurer's career as an attorney and entrepreneur has included cable television, film production, radio broadcasting, newspaper publishing, real estate and banking. An Indianapolis native, Mickey graduated from North Central High School. He attended the University of Colorado and graduated with a B.S. in accounting. He is a member of Beta Alpha Psi accounting honorary society. Mickey attended Indiana University School of Law where he received a Doctor of Jurisprudence. He was a writer and an editor of the Law Journal. He successfully completed the CPA examination. Mr. Maurer is admitted to both the New York and the Indiana Bars.
Mickey serves as Chairman of the Board of IBJ Corporation. IBJ owns and publishes The Indianapolis Business Journal, Court and Commercial Record, and The Indiana Lawyer.
Mickey serves as Chairman of the Board of Directors of The National Bank of Indianapolis, the largest locally owned financial institution in central Indiana.
Throughout his career Mickey has been involved in a number of other industries. His film, "Diving In" enjoyed a national release and showings on HBO and Cinemax.
In 2001, Mickey established "Mickey's Camp," a charitable endeavor that has raised more than $2 million for central Indiana charities.
In 2005, Mickey was named President of the Indiana Economic Development Corp. and in 2006 Mickey was named Indiana Secretary of Commerce by Governor Mitch Daniels.
Mickey hosted an Emmy award winning program on Fox 59, "Mickey's Corner" in which he interviewed Indiana luminaries.
Mickey enjoys leadership through active participation as a director of numerous businesses, civic, educational and philanthropic organizations. He has served as President of the Jewish Community Relations Council and Chairman of the Board of the Indianapolis Zoological Society and the United Way of Central Indiana.
In 2008, in recognition of Mickey's longtime service and generosity to his alma mater, Indiana University School of Law — Bloomington was renamed Indiana University Maurer School of Law. He serves on its Board of Visitors.
Mickey currently serves on the Indiana Bicentennial Commission.
Mickey is a published contributor to the New York Times crossword puzzle. His hobbies also include skiing, biking, mountain climbing, woodworking and underwater photography. His woodworking has won a blue ribbon at the Indiana State Fair. In 1999, he successfully summitted Mt. Kilimanjaro, the highest peak in Africa. His underwater pictures have won numerous awards and have been displayed in the Waters Building at the Indianapolis Zoo, The Hilbert Circle Theater, The National Art Museum of Sport, The Indianapolis Art Center and The New York Hall of Science. Mickey has authored six books: Water Colors (2003), 19 Stars of Indiana – Exceptional Hoosier Women (2009), 19 Stars of Indiana – Exceptional Hoosier Men (2010), Ten Essential Principles of Entrepreneurship You Never Learned in School (2012), 50 Crossword Puzzles with playful narrations (2015) and Cinderella Ball (2017). Mickey is married to Janie Maurer, and they have three children and nine grandchildren.