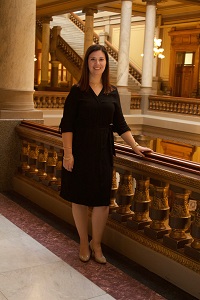 Valeri Beamer is the Communications Coordinator for the Indiana Bicentennial Commission.
She has the rewarding responsibility of processing all the Legacy projects the Commission receives for approval. With this assignment, she is able to see how Hoosiers are celebrating the Bicentennial across the state and share in their enthusiasm. Valeri facilitates all communication with the 16 Bicentennial Commission members, plans and organizes the Commission meetings, and assists with Bicentennial projects and events. Valeri was awarded the Sagamore of the Wabash by Governor Mike Pence for her work on the Bicentennial Commission.
Her love for Indiana brought her back home after receiving a bachelor's degree from Utah Valley University, where she studied Public Health. While at UVU, Valeri was selected to travel to Ghana, Africa for a study abroad program where she taught groups of children and adults about preventative health.
Valeri worked in her hometown of Muncie as a Health Educator and then in Indianapolis in the long term care industry as a Director of Admissions before joining the Bicentennial Commission staff in 2015.
In her free time Valeri enjoys reading, camping, traveling and walking her dog, Tracer.