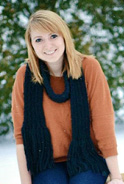 Jylian is the Communications Specialist for the Indiana Bicentennial Commission. In that role, she has the opportunity to share the story of the Bicentennial with Hoosiers across the state. She does this through press releases, media advisories, newsletters, social media and more!
Prior to joining the Bicentennial team full-time in May 2016, Jylian was the Public Relations Associate for the Commission starting in September 2015. Other previous roles included internships in both the public relations and journalism fields with Pickett & Associates, Lucky B Boutique and Current in Carmel. She also worked for the student-run Butler University newspaper, The Butler Collegian, as a reporter, news editor and managing editor.
Jylian holds bachelor's degrees in journalism and strategic communication from Butler University. A native Hoosier, she grew up in Peru, Indiana – the Circus Capital of the World, home to Cole Porter and the Miami Nation of Indians. She is a graduate of Maconaquah High School.
When she's not working Jylian enjoys spending time with family and friends, exploring local restaurants and coffee shops, traveling and cheering on the Butler Bulldogs.
Key Responsibilities
Develop press releases, newsletter copy, Op-ed and targeted letters
Develop and execute marketing campaigns across traditional and digital platforms
Work on earned media; schedule Executive Director for targeted media opportunities
Participate in and present at county and local meetings
Work with third-party event planners on Bicentennial gala and special events
Be actively involved in promoting keystone bicentennial projects
Write and edit dignitary remarks for Bicentennial events
Support for website and social media outlets (Facebook, Twitter, YouTube, Pinterest)
Develop and maintain "Indiana Bicentennial Marketplace," initiative that matched Indiana artisans and companies producing Bicentennial promotional items with buyers in a web-based market platform
Track media mentions and social media reach and engagement
Favorite Memory
It's difficult to pick just one memory as a favorite. One of the best things about my job with the Bicentennial Commisison is the pride I've seen and heard from Hoosiers. I am proud to have been part of something that generated so much excitement about our state!
If I did have to pick one story, it would be from the the summer of 2016 when I traveled back home to celebrate the Bicentennial. For me, one of the best aspects of the Bicentennial was the way each community could use its unique characteristics for the foundation of its celebration. Every July we go back to our roots and celebrate our circus heritage – it's the most exciting week of the year in Peru, Indiana. The community harnessed that excitement to celebrate the state's 200th birthday in a way only Peru could.
Perry and I were invited to be part of the Circus City Parade. Later in the day we attended the circus performance, which was also Bicentennial themed! The circus band played songs by Hoosier greats like Cole Porter and the Jackson 5 as the performers juggled, leapt, flew and balanced through three hours of circus magic under the big top.