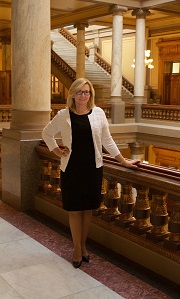 René is the Deputy Director for the Indiana Bicentennial Commission.
She spent 2.5 years traveling to all 92 counties, coordinating statewide engagement.
René was awarded the Sagamore of the Wabash by Governor Mike Pence for her work on the Bicentennial Commission.
René is also the project manager for the following:
• Governor's Arts Awards
• Bicentennial Commemorative Medal
• Hoosier Homecoming
• Bicentennial Gala
• Ignite the Future
• INDIANA2016 – Bicentennial Instagram
As the owner and photographer for her own business, she was able to stay home for 20 years with her children. She has spent a lifetime volunteering in Boone County, where she is a lifelong resident.
René is a seventh generation Hoosier, with a passion for her family, our great state of Indiana, gardening, gemology, and anything that allows her to be creative.