Former Indiana Governor Mike Pence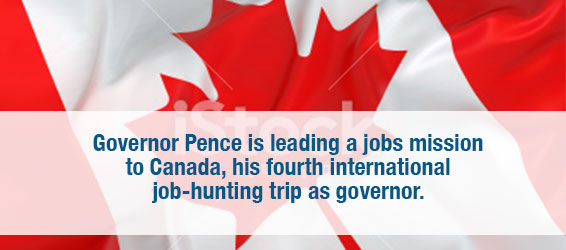 Canada 2014
"Canada is already the destination for billions of dollars' worth of Hoosier-built products. This trip will be dedicated to boosting bonds with existing partners in Toronto and supporting new relationships as we pursue every opportunity to win more Hoosier jobs." -Governor Mike Pence
Governor Pence will lead a Hoosier delegation on a jobs and economic development mission to Toronto on October 8, 2014 to strengthen Indiana's economic ties with Canada and market Indiana's business development success story. During the day-long trip, he will meet with business and government officials, including Ontario Prime Minister Kathleen Wynne, and host a business recruitment event for site selection consultants and companies considering investment in Indiana.
Trade Mission Resources
Newsroom
Files
Photos
Video
October 8, 2014: Governor Mike Pence joins Skjodt-Barrett General Manager Mike Brannan at the company's global headquarters in Brampton, just outside of Toronto. Skjodt-Barrett announced today they plan to invest $43.9 million to expand its U.S. headquarters in Lebanon, Indiana, adding nearly 100 new jobs.