Note: This message is displayed if (1) your browser is not standards-compliant or (2) you have you disabled CSS. Read our Policies for more information.
Gov. Eric J. Holcomb
Governor
Eric J. Holcomb
Visit His Homepage »
Former Governor Mike Pence
Former Indiana Governor Mike Pence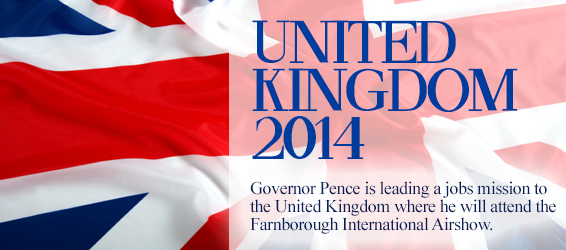 United Kingdom 2014
"Like our trips to Japan and Germany, our mission in the United Kingdom will be focused on sharing why Indiana's business environment propels growth, lifts potential and engineers flight into the future of aerospace innovation. Indiana's story is one of a state that works, and from its world-class workforce to its economical cost of doing business, I look forward to sharing our story across the Atlantic."
-Governor Mike Pence
Governor Pence will lead a delegation of Hoosier business and community officials on a jobs and economic development mission to the United Kingdom from July 12 to 16, which will include attending the Farnborough International Airshow. During the job hunting trip, he will attend the inauguration of the Indiana booth at the airshow and meet with executives from some of the world's most influential aviation and aerospace companies, highlighting the many advantages of doing business in Indiana.
Use the drop-down menu at right to find a daily record of events:
Trade Mission Resources
UK Photos
Day 1: Video