Note: This message is displayed if (1) your browser is not standards-compliant or (2) you have you disabled CSS. Read our Policies for more information.
Gov. Eric J. Holcomb
Governor
Eric J. Holcomb
Visit His Homepage »
Former Governor Mike Pence
Former Indiana Governor Mike Pence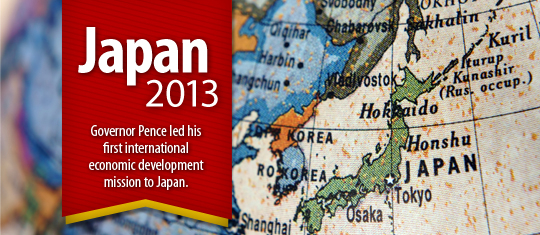 Japan 2013
"This is a moment of opportunity and excitement, both here in Japan and back home in Indiana. Indiana stands to capitalize on our strong relationship with Japanese companies, many of which already have thriving operations in the Hoosier State. During this trip, I took the opportunity to thank them for their investment and share why Indiana is a state that works for what's next."
-Governor Mike Pence
Governor Pence led a delegation of Hoosier business leaders and elected officials on a jobs and economic development trip to Japan from September 5-14, 2013. This was the Governor's first gubernatorial overseas trade mission. As part of the trip, he traveled to Tokyo, Nagoya and Tochigi Prefecture, Indiana's Japanese sister-state, and met with government, business leaders and potential investors to discuss the steps Indiana is taking to be the state that works.
Use the drop-down menu at right to find a daily record of events plus video and photo archives:
Trade Mission Resources
Photo Gallery