Note: This message is displayed if (1) your browser is not standards-compliant or (2) you have you disabled CSS. Read our Policies for more information.
Gov. Eric J. Holcomb
Governor
Eric J. Holcomb
Visit His Homepage »
Former Governor Mike Pence
Former Indiana Governor Mike Pence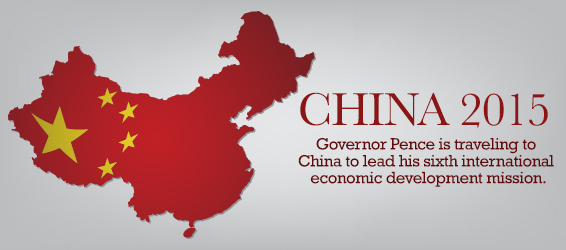 China 2015
"Outside of the United States, China represents the largest economy in the world. Today we see immense potential for the creation of more great jobs for Hoosiers through the strengthening of ties with our Chinese partners. Our universities and our communities already boast a thriving friendship with China, and we're looking forward to strengthening this relationship on our jobs mission." - Governor Mike Pence
Governor Pence will lead a delegation of Hoosier business leaders on a jobs and economic development mission to China from May 9-16. During the trip, he will travel to Beijing, Shanghai and Zhejiang Province, Indiana's Chinese sister state, to meet with top business and government leaders and potential investors, strengthening cultural and economic ties between China and Indiana.
China 2015 Home Page
Day 1: May 11 | Day 2: May 12 | Day 3: May 13 | Day 4: May 14 | Day 5: May 15
China Photos
Trade Mission Resources
Photo Gallery