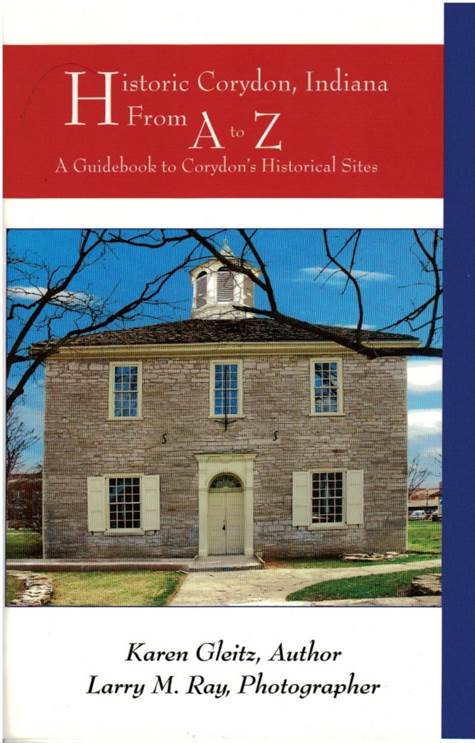 The information booklet "Historic Corydon, Indiana from A-Z" features 26 historically significant sites in Corydon, Indiana. Each entry features a color photo along with additional "Who? What? When? Where? And Why" information about each site. A map of downtown Corydon pinpointing each of the 26 significant sites is included. The booklets are accompanied by a 104 question short answer quiz with answer key. A booklet will be distributed to every 4th grade student and Indiana History educator in Harrison County. Historic Corydon, Indiana A-Z Walking Tours are also offered periodically by the Historical Society of Harrison County.
Q&A with Legacy Project Coordinator Karen Schwartz
What do you consider the key accomplishment of your Legacy Project?
One thousand copies of the informational booklet "Historic Corydon, Indiana from A-Z" were delivered to all 4th graders in Harrison County public and private schools and homeschool students.
Describe a highlight or most memorable moment related to your Legacy Project.
The highlight of this preservation project is sharing information with 4th grade students as part of their Indiana History experience.
How/where are you preserving information and artifacts related to your Legacy Project?
Historic Corydon A-Z has been distributed to teachers to use with their 4th grade students during the Bicentennial year.
Total number of volunteers.
Estimated total attendance.
Project Details
Organization: Historical Society of Harrison County funded by Harrison County Bicentennial Committee
County: Harrison
Contact: Karen Schwartz, 812-736-2373, karengleitz@hotmail.com
Type: Non-Profit
Project Number: IBC-YE-215