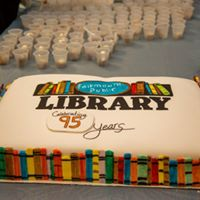 Fairmount Public Library celebrates its 95th anniversary in 2016, Indiana's Bicentennial year. The Library will feature Indiana author's displays, including titles courtesy of an Indiana Humanities Next Indiana Bookshelf award. Quilt raffle tickets will be available to raise programming funds. In April, to kick off National Library week, Bloomington author Skila Brown will visit to read and discuss her works. The Library hopes to host an ALL-IN community challenge day. In May at the Library's Open House, Grant County Historian Bill Munn will speak about Grant County during the 1920's. Exploring Indiana will be the Summer Reading theme.
Q&A with Legacy Project Coordinator Linda Magers
What do you consider the key accomplishment of your Legacy Project?
We had over 200 people come for our party on a Sunday afternoon, May 1. We promoted our local organizations and Indiana history and the local fire department showed off their new truck.
Describe a highlight or most memorabe moment related to your Legacy Project.
We had over 70 family recipes submitted and compiled into a cookbook that the Library is selling.
How/where are you preserving information and artifacts related to your Legacy Project?
We have a scrapbook of all the activities; pictures were posted on FACEBOOK; and we had a Photo booth album created for us.
Total number of volunteers who participated.
Estimated total attendance.
Photos of ALL-IN Block Party
Project Details