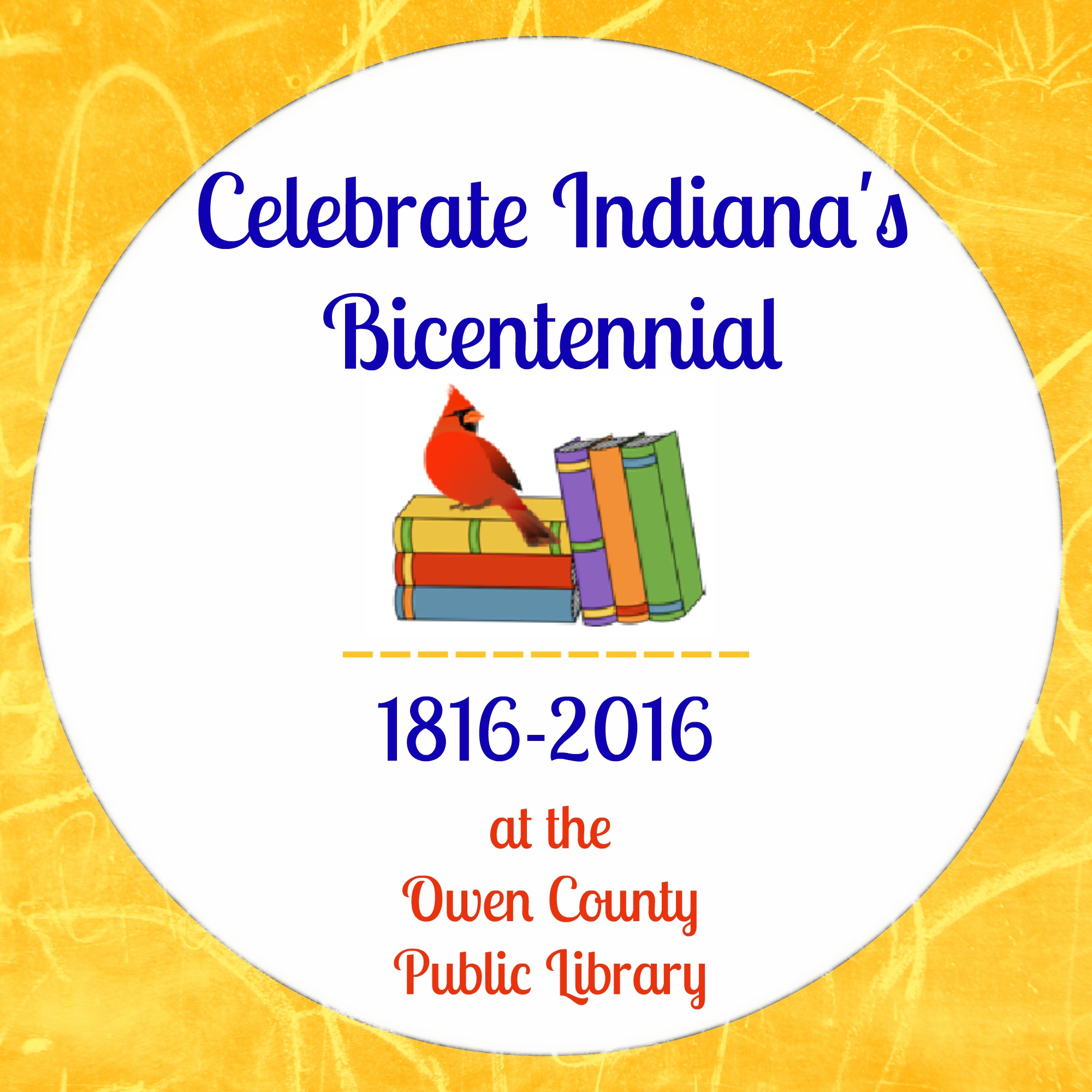 The "Bicentennial Summer Reading Bash" is the 2016 Summer Reading Program of the Owen County Public Library. In celebration of Indiana's 200 years of statehood, the OCPL will provide the people of Owen County with events, information, reading picks and more involving Indiana and its history. Beginning in June 2016, Owen County residents can sign up for the Bicentennial Summer Reading Bash and record weekly what they have read in order to get prizes. In addition, there will be weekly programs tailored to children and teens as well as a series of Fantastic Friday's.
Q&A with Legacy Project Coordinator Brooke Truax
What do you consider the key accomplishment(s) of your Legacy Project?
Owen County Public Library was able to engage with our community on the subject of Indiana and educate our patrons in entertaining ways for all ages. Through weekly programs for children, a special field trip for our Book Club members, highlighting Indiana authors and books, and entertaining the public with Indiana-themed events, we were able to celebrate Indiana's Bicentennial and further foster a love of reading and our home state.
Describe a highlight or most memorable moment related to your Legacy Project.
There are many things our library did to celebrate the Bicentennial via our own summer reading program, but there are a couple I am particularly proud of. For our adult patrons in the OCPL Book Club, we encouraged books with an Indiana theme to be read, and so in July 2016 we chose a biography of pharmaceutical legend Eli Lilly to read. The ladies loved the book so much and were fascinated with his life, so we orchestrated a special field trip to see the Lilly House and Gardens at the Indiana State Museum. Another thing I found memorable during our project was a particular week where homeschool families gathered at the library for a special program. The program taught children about Pioneer times in Indiana and they were able to play pioneerthemed games as well as making toys from that era to take home with them. On both occasions, it was a great way to teach and share Indiana history with patrons of all ages.
How/where are you preserving information and artifacts related to your Legacy Project?
This is something we have yet to develop due to our current renovation project at the library. Once the renovation is done and we have everything out of storage, we can proceed to planning a record keeper of sorts concerning our summer Legacy Project.
Total number of volunteers who participated.
Estimated total attendance.
Program Details