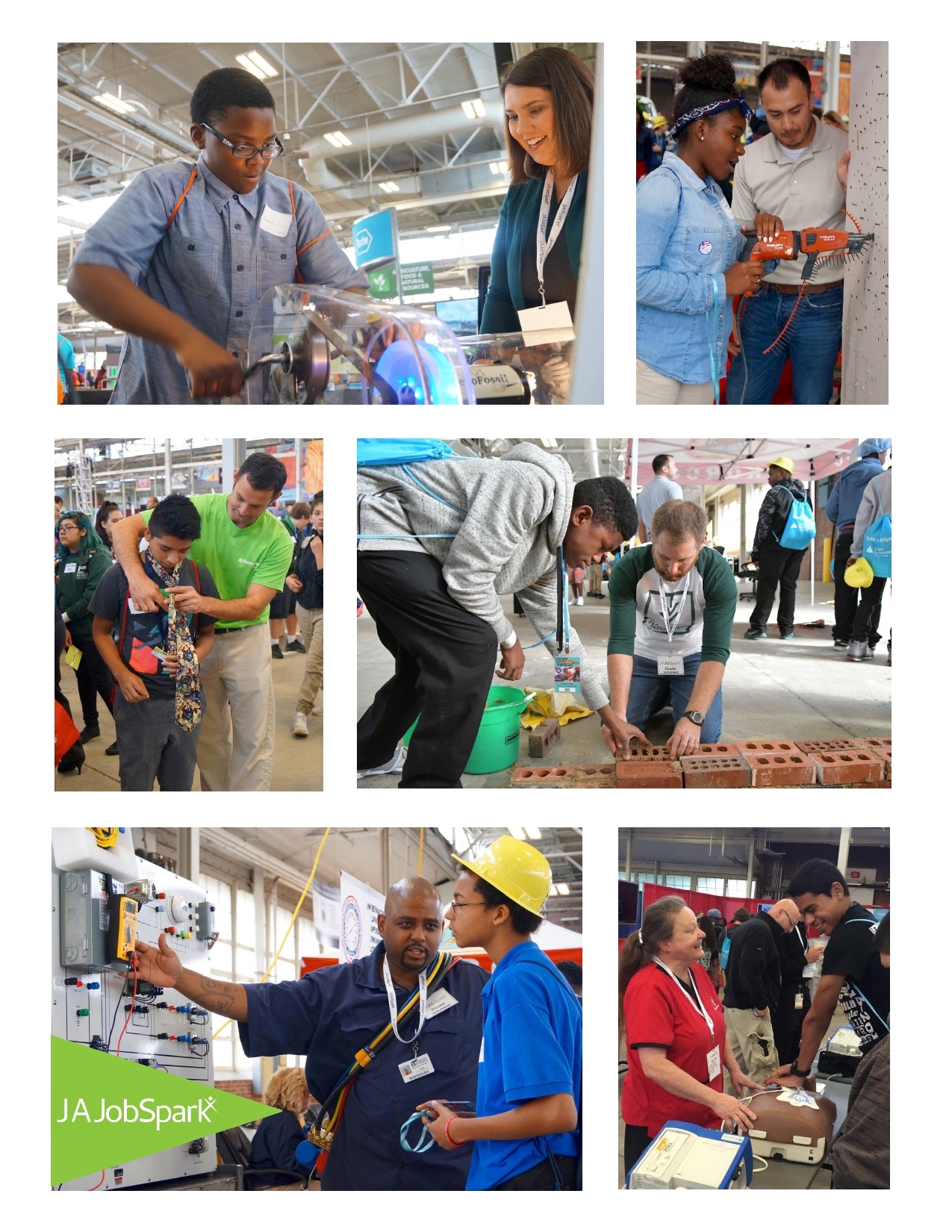 Junior Achievement of Central Indian is leading a partnership of companies, organizations and school districts to empower young people to own their future success. The goal of the partnership is: students will graduate from high school with an understanding of their interests, talents and strengths, a belief in their potential for success and a personalized post-secondary action plan for college, career or military. An effective plan for post-secondary success will result from repeated and meaningful exposure to careers, professionals and learning opportunities.
Q&A with Legacy Project Coordinator Jennifer Burk, Junior Achievement of Central Indiana
What do you consider the key accomplishment of your Legacy Project?
In its first year, JA JobSpark – held September 29 and 30, 2016 at the Indiana State Fairgrounds – involved over 7,000 eighth grade students (as well as some 7th and 9th graders) from nine school districts in Marion County. A coalition of central Indiana educators, organizations and representatives of more than 100 companies working in partnership on Junior Achievement of Central Indiana's Career Success Initiative, helped to plan and facilitate the JA JobSpark program and event (more than 7,500 planning hours). Approximately 3,000 volunteers from companies throughout the Indianapolis area engaged with students throughout the two days. More than 40 schools and 400 educators participated. One of the biggest accomplishments was the significant collaboration between the Indiana business and education communities working together to create more than 100 hands-on experiences for the students to help them connect the importance of what they are learning and how it relates to their career choices. JA JobSpark helped inform students of career pathways that will help guide their plan for their academic future.
Describe a highlight or most memorable moment related to your Legacy Project.
The most memorable moment for the volunteers was looking down the nearly 175,000 square feet exhibit hall, seeing scores of students among airplane simulators, tractor trailers, emergency and utility vehicles and a simulated emergency room (to name just a few), all fully-engaged in hands-on career experiences.
What was the coolest thing you learned from going to JA JobSpark? From Students:
• I have learned to explore more jobs and try new things to see what suits me the best. I want to continue learning and trying new thing to better improve myself.
• The coolest thing I learned from going to JA JobSpark was that you can be anything you want to be, there are more jobs out there than you think.
• I learned that education was necessary for all kinds of jobs depending on how much salary you want and that maybe your dream job is something important.
• The coolest thing I learned from going to JA job spark is that there are a lot of cool jobs out there that you can do but they all take a lot of hard work and great grades.
• I think the coolest thing I learned from JA JobSpark was that they gave you courage to be whatever you wanted to be and gave you ideas.
• I learned that any job that you do can influence your life.
• The coolest thing for me was learning what you need to do to get your dream job.
• The coolest thing I learned was that there are a lot of different jobs and you are not always going to stick to the same one.
• I learned a lot about the medical field. The coolest thing I learned is how to look at your DNA. It is so cool. I got to look at my DNA and look at my cells.
• The coolest thing I learned was how much a job can impact a person's life. I thought it was really cool how each job cluster helped people in a very unique way.
• I learned you can be anything you put your mind too.
How/where are you preserving information and artifacts related to your Legacy Project?
We update the JA JobSpark website on a regular basis. www.jajobspark.org All of the documents are stored and preserved on the Junior Achievement server.
Total number of volunteers who participated.
Estimated total attendance.
JA JobSpark Steering Committee
Alyssa Andis, Junior Achievement of Central Indiana
Sherri Bossung, Eli Lilly and Company
Shannon Bradley, Octive
Jennifer Burk, Junior Achievement of Central Indiana
Erika Cheney, EmployIndy
Jennifer Gillespie, Eli Lilly and Company
Glen Goedde, Eli Lilly and Company
Joyce Hertko, IU Health
Kathy Hudson, Eli Lilly and Company
Cindy Kicinski, Junior Achievement of Central Indiana
Todd Markley, JPMorgan Chase
Jennifer O'Shea, Indiana Department of Workforce Development
Wayne Schmidt, Schmidt Associates
Bryon Silk, Indiana Department of Workforce Development
Clarissa West, Eli Lilly and Company
Project Details
Organization: Junior Achievement of Central Indiana
County: Marion
Contact: Jennifer Burk, 317-252-5900, jennifer@jaindy.org
Type: Non-Profit
Project Number: IBC-YE-127
Website: www.jaindy.org