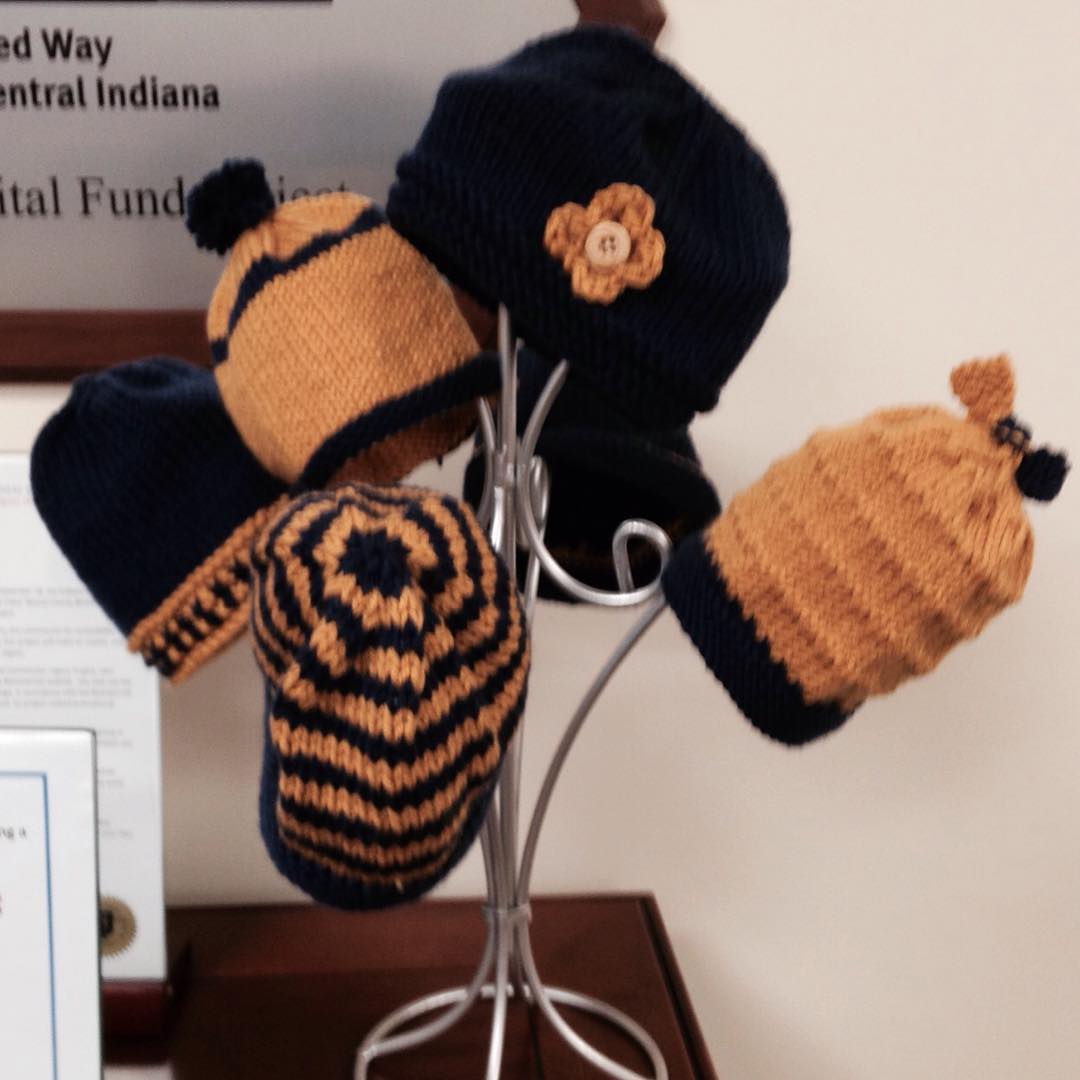 Project Description
Through the Boone County Bicentennial Committee, Boone County Senior Services, Inc. (BCSSI) has received funding from Witham Health Services (WHS) to provide the WHS Maternity Department with baby caps for the projected number of 500 newborn babies expected to be born at WHS in 2016. With the funds, BCSSI has partnered with a local yarn shop to purchase and package kits which will include all the supplies needed to make up to 500 baby caps including a badge which designates the Bicentennial year and Legacy Project status. Any individual in the community will be invited to participate as well as local service groups, scout troops, church groups, school groups, etc.
Q&A with Legacy Project Coordinator Judy Brower
What do you consider the key accomplishment(s) of your Legacy Project?
Our agency, Boone County Senior Services, Inc, engaged more than 100 volunteers of
all ages in the community to knit and crochet 500 baby caps for the newborns expected
to be born at our county hospital, Witham Health Services.
Describe a highlight or most memorable moment related to your Legacy Project.
As the knitters would bring the completed baby caps to BCSSI, each were so incredibly
different and unique. It was then that we realized they reflected the uniqueness of child
who would one day wear the cap.
How/where are you preserving information and artifacts related to your Legacy Project?
Boone County had a Centennial time capsule from 1916 which they opened this year.
We were told that a child born in 2016 could possibly live to celebrate the Indiana
Tricentennial and therefore we placed a baby cap in the Bicentennial time capsule at
the Boone County Courthouse.
Total number of volunteers who participated.
Estimated dollar amount raised.
Estimated dollar amount spent.
Project Details
Bicentennial Baby Cap Committee
Judy Brower
Joni Jones
Harriett and Terry McNabb
Karen Maier and Terry McCain