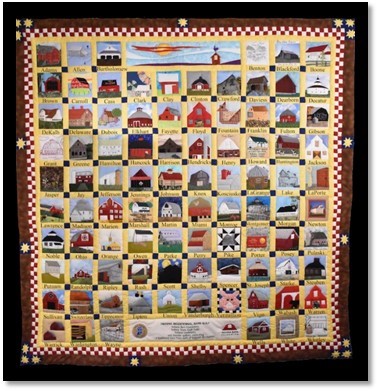 The non-profit Indiana Barn Foundation and its two non-profit partners, Indiana Landmarks and the Indiana State Quilt Guild, are creating an Indiana Bicentennial Barn Quilt consisting of a quilt block featuring 92 squares, each depicting a traditional barn from an Indiana county. This is a lovely opportunity to marry the traditional crafts of quilting and barn building in this project. When completed, the barn quilt will be publicly displayed across Indiana, raising awareness of the demise threatening our historic barns. At 2016's end, Indiana Barn Foundation will auction this commemorative quilt to help endow its mission of barn preservation.
The Indiana Bicentennial Barn Quilt was awarded Outstanding Bicentennial Collaborative Project by the Indiana Historic Society, and received endorsement as a Bicentennial Legacy Project. The quilt features 92 squares, with a barn from each of Indiana's 92 counties represented as a quilted image. During Indiana's Bicentennial, 2016, the quilt traveled across Indiana to over 50 different locations and has been admired by thousands of people.
Each quilt block was made with loving thoughts of a barn in one of Indiana's 92 counties by a number of different artists and donated to the project. The quilt was assembled by the Indiana State Quilt Guild and quilted by Ruby Borkholder.
A Note from Mauri Williamson, The Pioneer Village of the Indiana State Fair Founder
The Magical Warmth of a Quilt
I am old enough to remember the cold, cold houses and icy bedrooms of those old farmhouses. The wood stoves of those times did little to ease the pain of those frigid dwellings without insulation. Our mothers would pile several layers of comforters, blankets, and then on the very top a handmade quilt. Sometimes we had heated flat irons placed underneath all of this to keep our toes warm and cozy.
The beautiful quilts were masterpieces of usually cotton, but sometime wool, pieced together in various designs handed down for generations. The mothers, grandmothers, aunts, and sometime uncles would piece by hand the beautiful top of these covers. Then quilting parties were held at churches and homes to put several layers of batting and a plain back together with more beautiful quilting designs. These quilts have survived through many generations, my wife's family had one that was carried by a Civil War Veteran, it now resides in a historic museum.
This book honors those strong and patient architects of our heritage. The built magnificent barns and homes and scripted the heritage that exists for all to enjoy to this day. It is appropriate that those of us who love the memory of our past have banded together and taken action to preserve these items and the memories of that most wonderful time in rural Indiana and America.
A Note from Carolyn Meyer Rahe, Indiana Barn Foundation Founder
I've often wondered whose idea it was to create a quilt featuring images of barns from each county in Indiana. We know how the idea came to be, but we may never know who shared it with me one August day in 2014.
Indiana Barn Foundation had a booth at the Indiana State Fair, and hundreds of visitors stopped and shared stories of their love and admiration for old barns. I realized once again that there is something special about a barn that gets lodged in our memories as something good, sound, and timeless; a legacy passed on which reminds us that life wasn't always easy, that quality took time, skill, dedication and foresight, as these barns were built to last hundreds of years and were needed for survival.
People of all ages and lifestyles have visited our display at the Indiana State Fair and have shared their memories and their barns' stories. One elderly woman shared her vision of the quilt, which has now come to fruition. As we looked for a way to celebrate Indiana's bicentennial with a project that could be a lasting legacy, the idea for this quilt came back to me. We think the Bicentennial Barn Quilt is an ideal reflection of Indiana's 200-year-old heritage, as it celebrates our people who have come together offering time, talents, and dedication to create a piece that so beautifully ties our past to our future.
This quilt and the barns they represent will last well beyond 2016, and it is our hope that the Bicentennial Barn Quilt will inspire everyone whose lives it touches.
Project Details