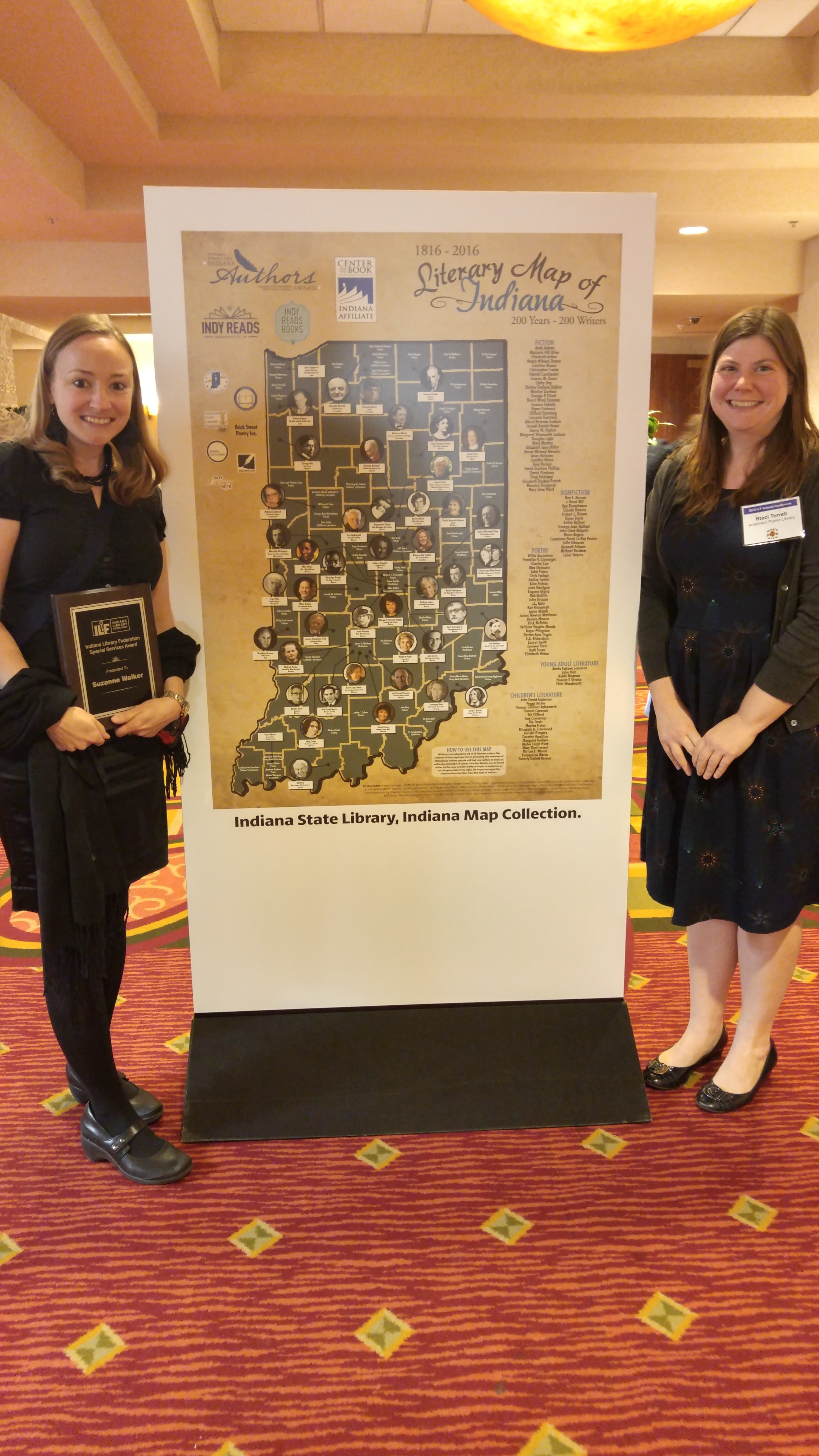 The Indiana Literary Map will be a digital and printed map of 200 Indiana authors, located on the map using GIS coordinates for one specific place for each author or writer. For example, Kurt Vonnegut would be represented at the Kurt Vonnegut Memorial Library in Indianapolis; Ernie Pyle would be represented at the Ernie Pyle WWII Museum in Dana, etc. A committee of literary enthusiasts would select the 200 authors.
Q&A with Legacy Project Coordinator Suzanne Walker
What do you consider the key accomplishment related to your Legacy Project?
The key accomplishment of this Legacy Project was the publishing of 25,000 copies of
the poster-sized literary map and distribution of over 17,000 of those maps to libraries,
schools, private citizens, and literary organizations all over the state of Indiana.
Describe a highlight or most memorable moment related to your Legacy Project.
The highlight of this project was the fact that six Indiana literary organizations (Indiana
State Library, Indiana Humanities, Indiana Writers Center, Brick Street Poetry, Indy
Reads, and the Eugene and Marilyn Glick Indiana Authors Award) all worked together
to select the 200 names who appeared on this map. We worked so hard!
How/where are you preserving information and artifacts related to your Legacy Project?
The Indiana State Library has a permanent map collection of our project. Also, a copy
was sent to ever library in the state.
Total number of volunteers.
Committee Members
Laura Wills, Indianapolis Public Library Foundation, Funder
Suzanne Walker, Indiana State Library/Indiana Center for the Book, Editor
Nancy Conner, Indiana Humanities, Contributor
Barb Shoup, Indiana Writers Center, Contributor
Joyce Brinkman, Brick Street Poetry, Contributor
Travis DiNicola, Indy Reads, Contributor
Project Details