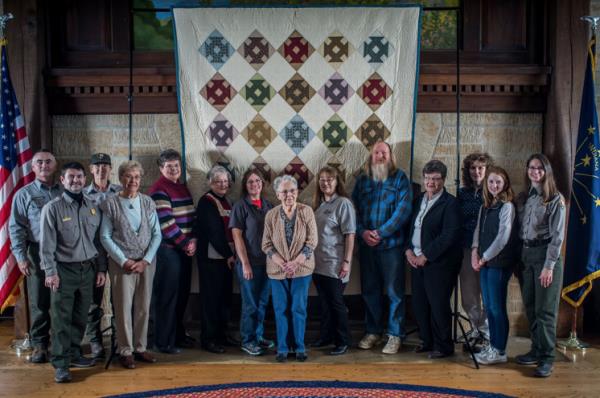 This project is culturally inclusive in that sewing, making quilt blocks and quilting were daily activities performed by pioneer women in 1816. The quilt will celebrate Indiana's Bicentennial and the year that Abraham Lincoln arrived in Indiana by focusing on the creative process of pioneer women. The Bicentennial Quilt will be made completely by hand using fabric and a design that was common in 1816. The quilt blocks and quilt will be sewn by local quilters and park volunteers who are interested in learning how to make a quilt. Quilt block pieces will be provided to area women, churches and schools. The pieces will be put together and quilted at Lincoln Boyhood Memorial and will be on display at local libraries and public buildings.
Q&A with Legacy Project Coordinator Paula Alexander
What do you consider one of the key accomplishments of your Legacy Project?
The volunteers that were involved with creating the quilt (in Spencer County) and the number of people they communicated with while working on it at Lincoln Boyhood National Memorial. They passed along not only how quilts were made and the people who created them, but also the reason for making the quilt - the Bicentennial of Indiana celebration. The quilt was on display throughout businesses in Spencer County throughout 2016. It was also brought to Indianapolis display in the State House and during the Torch Relay event.
Describe a highlight or most memorable moment related to your Legacy Project.
When the words, "the quilt is done", echoed down the halls of the Memorial Visitor Center at Lincoln Boyhood National Memorial. Doris Pfaff put in those last stitches. A few weeks later we brought the group of quilters together for a picture with the finished quilt. The pride showed in the eyes of everyone there.
How/where are you preserving information and artifacts related to your Legacy Project?
The quilt will continue to be on display in the Memorial Visitor Center of Lincoln Boyhood National Memorial for all visitors to the park to enjoy.
Total number of volunteers who participated.
Photos of Quilting like its 1816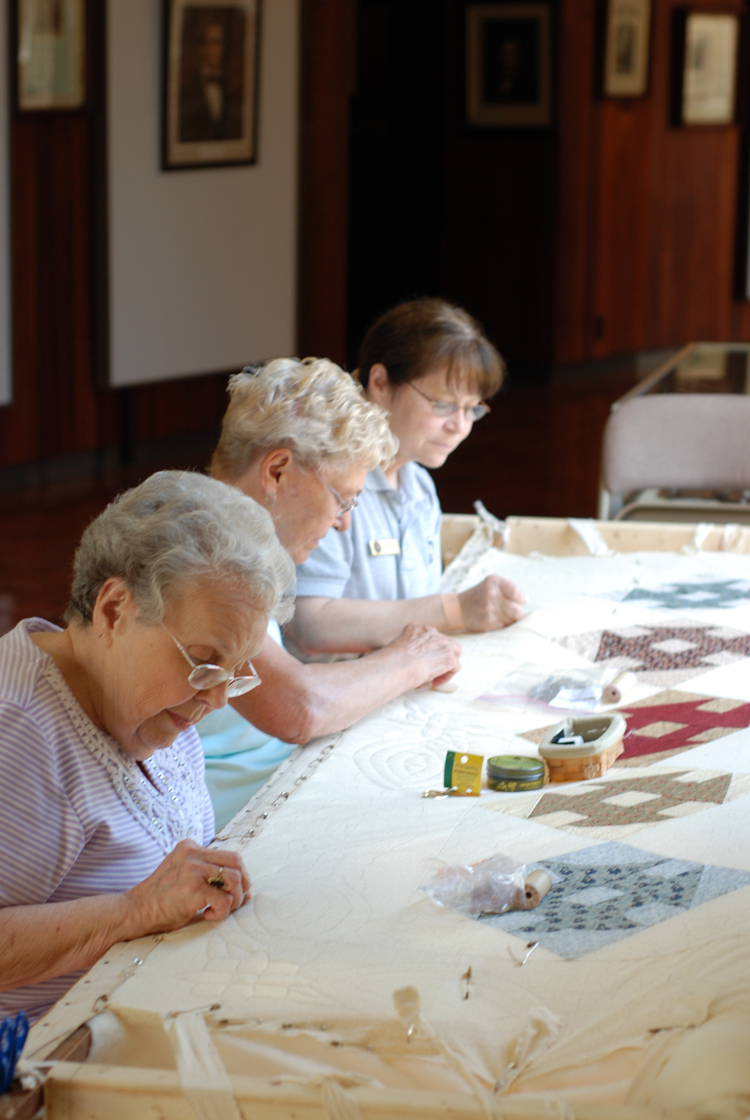 Project Details
Organization: Lincoln Boyhood National Memorial
County: Spencer
Contact: Paula Alexander, 812-937-4541
Type: Government/Municipal
Project Number: IBC-CI-104
Website: www.nps.gov/libo