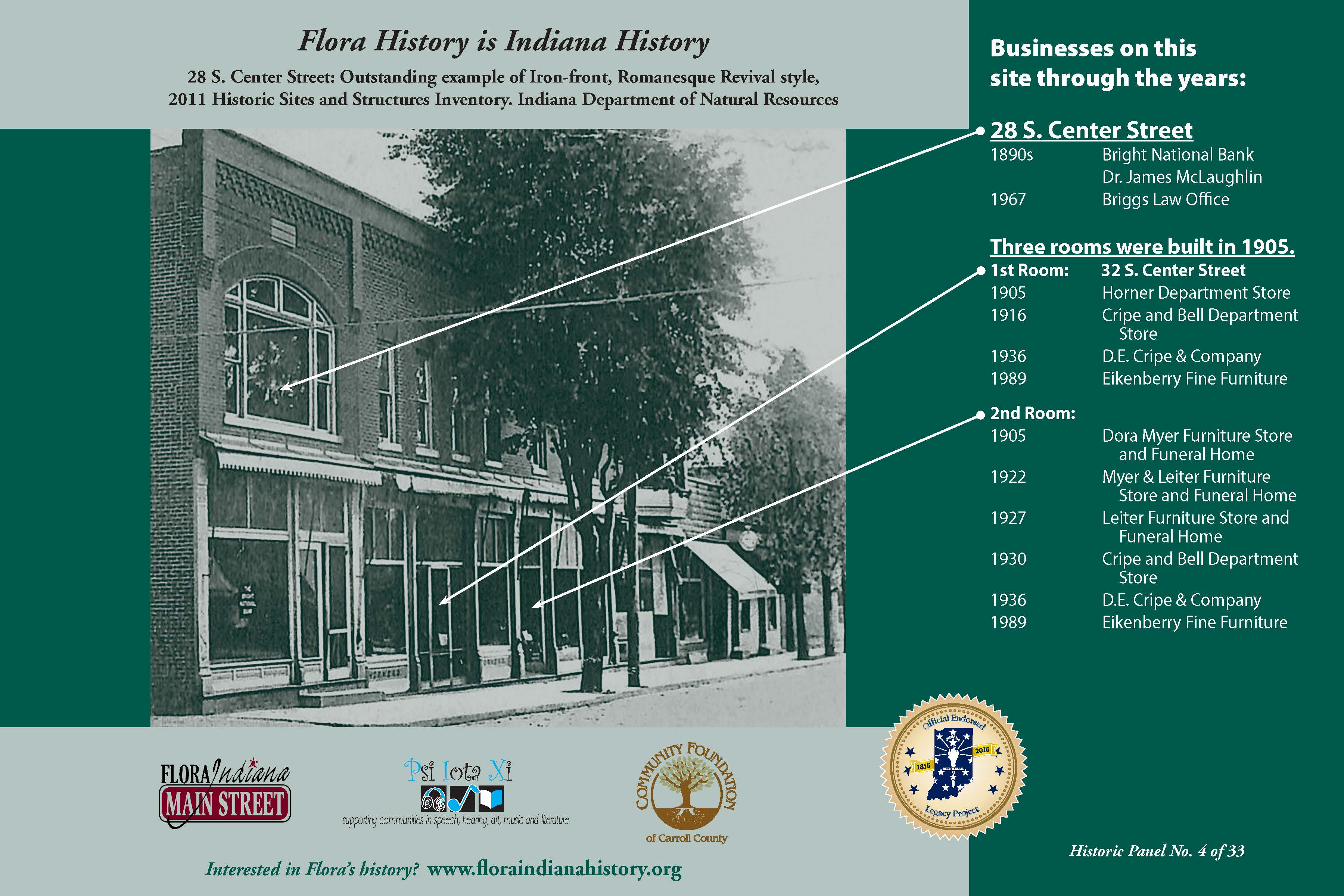 "Flora History is Indiana History" Pop-Up Galleries put items of local interest in downtown storefront windows. The changing displays have season/historical themes. Display items are loaned by local residents and from the Carroll County Historical Society and Museum. During 2016, displays will celebrate local historical events and how they were connected to state events of the same time period. The galleries will promote a greater awareness of Flora's place in the settlement and development of Carroll County and state and put the political and social events of the town in context with similar events in Indiana's history.
Q&A with Legacy Project Coordinator Melissa Bishop
What do you consider the key accomplishment of your Legacy Project?
By collaborating with the Carroll County Community Foundation and Flora Psi Iota Xi, we were able to add history panels to storefront windows in downtown Flora. Each panel shows historic photos of the downtown building where it is displayed, and lists the businesses on that site through the years.
Describe a highlight or most memorable moment related to your Legacy Project.
Every town has its nay-sayers and Flora is no exception. After the history panels were installed, an individual who is notoriously against any type of effort to promote and improve the town said "Well, someone finally came up with a good idea." Beyond that it was also gratifying to see people walking around the downtown, and stopping to read the panels.
How/where are you preserving information and artifacts related to your Legacy Project?
Images of the panels have been digitized and uploaded to the Flora History website (www.floraindianahistory.org). The images are also being archived by the Carroll County Bicentennial Coordinator, Bonnie Maxwell.
Total number of volunteers who participated.
Estimated dollar amount raised.
Estimated dollar amount spent.
Committee Members
Susie Dyke, Chairman
Theresa Brown
Melissa Bishop
Project Details
Organization: Flora Main Street
County: Carroll
Contact: Melissa Bishop, 574-967-3912, mbishop@flora.lib.in.us
Type: Non-profit
Project Number: IBC-HC-15