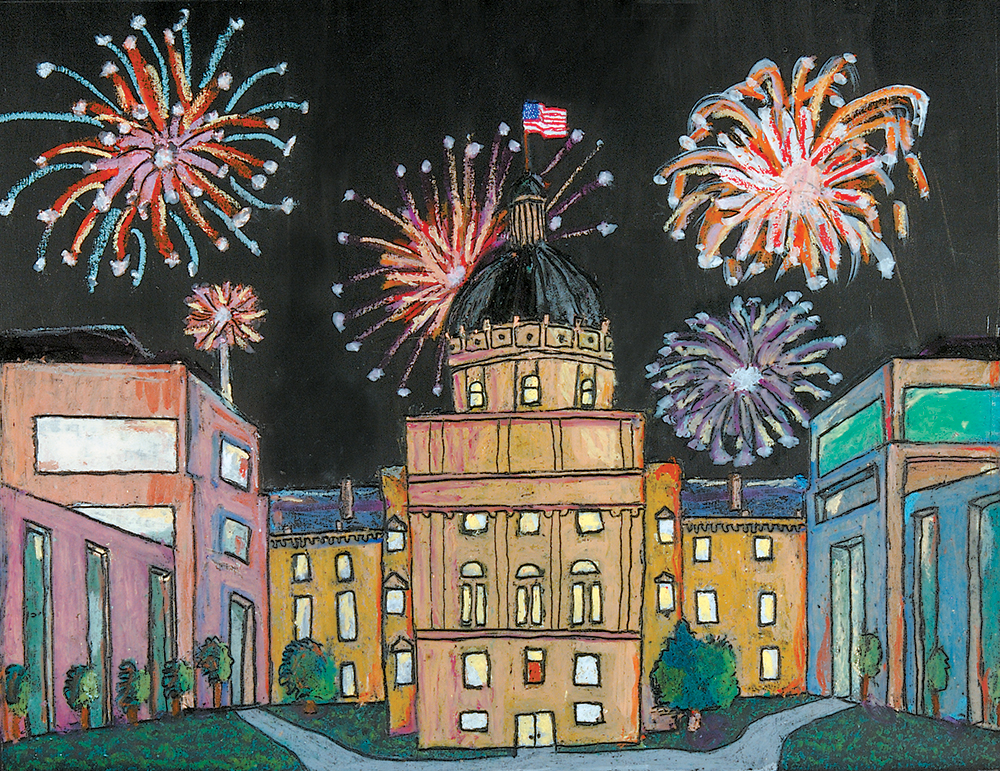 The Student Art Contest/Cooperative Calendar of Student Art 2016 will be the 18th annual showcase of award-winning works by Indiana students. The contest and calendar project celebrates and encourages Indiana student artists in grades K-12. The art is used to illustrate the following year's wall calendar produced for Indiana's not-for-profit, consumer-owned electric cooperatives, by their statewide publication, Electric Consumer.
For the contest, each grade is assigned the corresponding month of the year: first graders are assigned January, second graders have February and so on through high school seniors who are assigned December. The art should reflect the month: its holidays, weather, etc. Kindergartners may illustrate whatever they wish, and their art is used on the cover of the calendar. First place is selected for each grade by a panel of judges; winning works are used to illustrate the calendar. The calendar is sponsored and distributed free of charge by participating electric cooperatives around the state. Winners are awarded prize money. Contest details, rules and entry forms are available to download on our website: ElectricConsumer.org.
Q&A with Legacy Project Coordinator Richard G. Biever
What do you consider the key accomplishment of your Legacy Project?
Connecting our annual student art contest/calendar project for Indiana students K-12
for the 2016 calendar to the Bicentennial by adding to the judging criteria that the
artwork submitted for each month must also reflect an aspect of Indiana history,
events, activities, places or people. We feel this was accomplished well. The calendar
requires each grade, 1-12, depict the month of the year associated with their numbered
grade (first grade: January; second grade: February; etc., until 12th grade: December).
Kindergartners created art for the cover. Students creatively connected various Hoosier
things to each month:
Cover — Farming (Tractor pulling a large Indiana flag, surrounded by 200 stars in the
artwork and in the border)
January — State bird cardinal in a snowy tree
February — Abe Lincoln's boyhood home
March — Hoosier basketball hysteria
April — cardinals, statehouse, flowers and Robert Indiana's iconic "Indiana" and "Love"
sculptures
May — State tree, tulip poplar, in bloom
June — Meriwether Lewis meeting up with William Clark at the Falls of the Ohio River
in Clarksville
July — Child celebrating the Fourth at New Pekin's Fourth of July celebration
August — Pigs at the state fair
September — Indiana's colorful autumn trees
October — the Conner House at Conner Prairie surrounded by autumn trees and
pumpkins
November — Indianapolis' Circle and Soldiers' and Sailors' Monument for Veterans
Day
December — Statehouse with a bicentennial banner
Describe a highlight or most memorable moment related to your Legacy Project.
Almost 1,800 entries were received for the contest. A highlight was just opening each
package or envelope of entries and seeing what each student came up with. We even
learned things about Indiana: the first professional baseball game was played in Fort
Wayne between the Fort Wayne Kekiongas and a team from Cleveland; Raggedy Ann
and Andy were created by an Indianapolis illustrator. Artwork included West Baden,
Carole Lombard, Amelia Earhart, the Peru circus, James Dean, David Letterman,
James Whitcomb Riley, and so much more.
How/where are you preserving information and artifacts related to your Legacy Project?
We have the printed 2016 Cooperative Calendar of Student Art in which 13 winning
works (and nine additional honorable mentions) were published. The calendar was
distributed statewide by participating electric cooperatives from Sept. 2015 through the
beginning of 2016. We delivered a box of calendars to the Bicentennial Commission in
early 2016 and have more if the Legacy Project Coordinator would need or like more.
We returned the original artwork to the winning students after having it displayed during
the opening of the Hoosier Salon's 2015 exhibition (Hoosier Salon have helped Indiana
electric cooperatives promote the contest for several years by hosting a reception for
our winners in conjunction with the opening of its annual exhibition). Winning works will
remain on our website along with other past winning works from our annual contest.
Estimated total attendance.
Almost 1,800 contest entries from students, K-12, from all over Indiana.
Project Details
Organization: Indiana Electric Cooperatives/Electric Consumer Magazine
County: Marion
Contact: Richard G. Biever, 317-487-2242, rbiever@indianaec.org
Type: Non-profit
Project Number: IBC-YE-57
Website: ElectricConsumer.org
Photos of Electric Cooperative Student Art Contest Calendar